Once pristine Rambakan Oya waters made unfit for consumption
By Tharushi Weerasinghe
Toxic algae bloom in reservoir raises questions; NWSDB performs costly clean-up
View(s):
Athick layer of toxin-fueled algae that covered the Rambakan Oya last month has been attributed to pesticides and fertiliser used when the catchment area above the reservoir was cleared for maize farming.
Dangerous levels of cyanobacteria, algae, and cyanotoxins were deteriorating the water of the reservoir bordering the Badulla, Monaragala and Ampara Districts, said a study by Prof Padmalal Manage, Director of the Centre for Water Quality and Algae research at the University of Sri Jayewardenepura, in collaboration with the Centre for Environmental Justice (CEJ).
Cyanobacteria were a result of high amounts of cyanotoxins that bloom in algal form on water bodies containing high levels of phosphate, also found in MPK fertiliser. The substance is cancerous, and one of 14 hypotheses behind the rise in chronic kidney disease (CKD). Water samples from the reservoir revealed that the density of cyanotoxin cells was at 40,000 cells per ml in certain parts.
"The standard practice is that when the cyanotoxin level in a water body exceeds a density of 20,000 cells per ml, human consumption must be stopped immediately," Prof Manage told media this week. "It has no smell or taste, and cannot be purified through boiling," he continued, noting that water with cyanotoxins require special filtrations before they are safe for drinking.
The study found that Rambakan Oya was so phosphorous that it would be classified as a 'eutrophic' water body – referring to when water becomes enriched in dissolved nutrients (such as phosphates) that stimulate the growth of aquatic plant life usually resulting in the depletion of dissolved oxygen. As phosphate levels in water rise, cyanobacteria formation increases, resulting in the algal blooms that were seen on the surface of the water.
District officials of the National Water Supply and Drainage Board (NWSDB) monitored the water since January this year – after maize plantations came into being – in order to prepare for any issues. "We stopped our pre-chlorination practices to curb the incoming blooms," said Eng Kapila Perera, District Chief Engineer.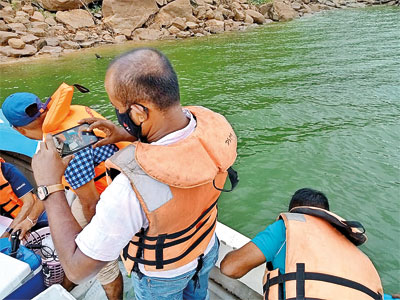 As the Rambakan Oya dam is a relatively new reservoir, the water quality was initially pristine enough to not require excessive filtration. Therefore, the NWSDB had been unprepared for a cleanup of this scale. As they didn't have the necessary resources to mitigate the water toxicity, powder-activated carbon had been released.
"This method is 10 times more expensive than our usual filtration methods, and it's a cost that has been ongoing since the issue arose," Eng Perera said. When the algae started to come off, this had then clogged the NWSDB filters which had to be replaced at an even higher cost. "The water is safe now, though," he assured, adding the reservoir was under regular monitoring to ensure quick responses in the event of another flare-up.
"We didn't have water for a week," said Ananda Weerasuriya, Vice President of the Farmers Association in Ampara, referring to when the filters were clogged. The reservoir provides water to 7,000 families, or approximately 28,000 people. Since it feeds into the earth, even well water was unsuitable for consumption at the time. "We had water bowsers come in to give us water," he said.
Large parts of the Galwala Oya Reserve have been cleared for maize and mung bean farming. The deforestation which took place last year was halted when locals and CEJ took legal action against the Mahaweli Authority for allocating reserve lands without the necessary environmental impact assessments (EIAs). The action was led by indigenous community leader Wannila Aththo who claimed to the Sunday Times that people in his community were now experiencing a rise in kidney-related illnesses. Mahaweli Authority officials, however, insist that the situation is being exaggerated and refute claims that fertiliser caused pollution of the Rambakan Oya.
"We can't claim these things unless a proper situational analysis connecting the pollution to the fertiliser is conducted," said M K B Attanayake, Director of Environment at the Mahaweli Authority. "A few pesticides can't cause this much damage. "The possibility of another ongoing cause must also be explored. He also claimed that these were areas where 'chena-cultivations' had taken place and shut down.
Lands under the Authority can be distributed for development purposes, provided they fall within the parametres set out by the Central Environmental Authority (CEA), Mr Attanayake insisted. Asked whether EIAs were conducted before land allocation, he said CEA guidelines were followed. He could not comment further, he said, since the case against them was yet ongoing.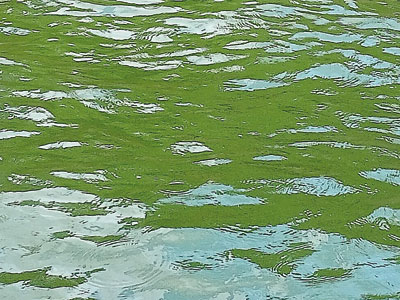 "That's an absolute lie," countered W M Wimalasena, the Deputy Chairman of the Maha Oya Pradeshiya Sabha. The area above the reservoir had been "osu uyana" and the land under it used to contain a village inside which people farmed. The area that was "bulldozed off" contained large, ancient trees. The villagers have video proof of these activities. "We weren't consulted at all, this was an absolutely arbitrary decision," he insisted.
While most work on the disputed land had stopped, a private party was still farming on the land, Mr Wimalasena said: "Each of his workers sprays 4,800 litres of pesticides into the land. He has 28 people spraying pesticides and fertiliser and there are three cultivations like this."
The Irrigation Department has conducted preliminary studies, but lacks laboratory resources for a thorough investigation. Ampara District Engineer P H Gamage noted that they often share resources with the NWSDB for serious inquiries.
"We want to know why this happened," he said, claiming that his "practical knowledge" told him a one-time application of fertiliser could not cause this much damage. But he said NWSDB conducts expert studies that were often reliable. The Director of Agriculture was contacted to determine whether the toxic water could affect cultivation in the area through the irrigation, but he hasn't responded.