Indo-Lanka fishing conflict surfaces again
By S. Rubatheesan
View(s):
In a tit-for-tat move, the Indian Navy arrested two Sri Lankan fishermen from Jaffna on Friday night for allegedly trespassing into India's territorial waters following ongoing protests in India condemning the death of an Indian fisherman in Sri Lankan waters on Tuesday.
The two Lankan fishermen were taken to Indian naval custody for allegedly crossing the International Maritime Border Line (IMBL) along the Palk Strait together with their vessel, according to a senior official attached to the Department of Fisheries in Jaffna. Steps have been taken with relevant authorities to secure the early release of the two fishermen, who are attached to the Aadikoviladi Fishermen Union in Valvettithurai.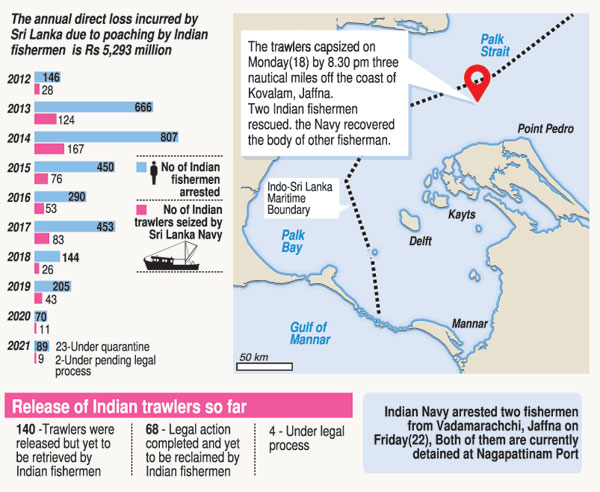 Both of them are being detained at Nagapattinam in South India and are expected to be produced before a magistrate's court.
After a long gap of more than seven months, the Sri Lankan Navy has resumed arresting Indian fishermen who enter Sri Lanka's waters after Northern fishermen had staged massive protests against Indian fishermen's bottom trawling which damages their fishing nets and other equipment.
Last Sunday, Sri Lanka's Northern fishermen staged a mid-sea protest in their fishing boats from Mullaithivu to Point Pedro, demanding the authorities to take action to ensure their livelihood. They alleged they were being robbed of their livelihood by hundreds of Indian trawlers which use bottom trawling, an Illegal, Unreported and Unregulated (IUU) fishing method that is also banned in Sri Lanka.
An Indian trawler engaged in fishing three nautical miles off the coast of Kovalam in Jaffna capsized on Monday around 8.30 pm during the Navy chase. Two Indian fishermen on board were rescued. The next morning, the Navy recovered the body of another Indian fisherman.
According to the Navy, patrol units were engaged in chasing away Indian fishing trawlers poaching in Sri Lanka's waters.
As the mission was put into practice, one of the Indian fishing trawlers allegedly adopted aggressive manoeuvres to resist the chase by Sri Lanka Navy, and try to flee from Sri Lanka's waters, but it collided with a Navy craft. In the process, it capsized in the the rough sea condition, the Navy said.
Navy spokesperson Indika De Silva told the Sunday Times the body of the Indian fisherman was handed over to the Indian authorities yesterday morning at mid-sea.
In the Puthukottai district where the arrested fishermen are from, Tamil Nadu fishermen have been on a  hunger strike demanding a full probe over the death of the fisherman and release of the fishermen.
On October 13, 23 Indian fishermen were taken into custody by Sri Lanka Navy for engaging in bottom trawling off Point Pedro and Vettilaikeni. Two of their trawlers were also seized. The last arrest was made on March 24, where 54 Indian fishermen were taken into custody along with five trawlers.
Earlier, the Navy avoided arresting Indian fishermen or seizing their vessels citing COVID-19 concerns but only directed them towards Indian waters.