UWL MBA for Finance & Accounting Professionals Lead to Career Success Worldwide
CIMA/ACCA/CA Passed Finalists get up to 50% Exemptions
View(s):

Edge Required for PR applications & Multinational job opportunities.
Highly sought-after and cutting-edge Master's degree programmes from University of West London offers the General MBA and MBA pathways for CIMA/ACCA/CA professionals to gain globally recognised skillsets and expertise to reach the next level in their careers. The World-Class reputation of UWL coupled with the career-focused curriculum driven by latest teaching techniques offer an unmatched learning experience for hundreds of postgraduates in Sri Lanka to standout in the global market place, land a rewarding job in Sri Lanka and overseas and migrate for better career opportunities.
ANC School of Postgraduate Education in partnership with University of West London has opened this exclusive opportunity for CIMA/ACCA/CA qualified students to offer a unique tailor-made MBA pathway allowing them entry into a World-Class MBA with up to 50% exemptions from University of West London (UWL). With exemptions, CIMA/ACCA/CA completed students will have the unique advantage of completing the MBA in 8 months with a significant financial cost saving.
UWL is officially the highest ranked UK MBA Programme Directly offered from the University of West London in Sri Lanka:
Ranked 34th in the UK- up 23 places (Guardian University Guide 2021)
Ranked the No.1 Modern University in London (GUG2021)
Top 5 University for Teaching Quality in The Times and Sunday Times Good University Guide (2021)
The University of the Year for Student Experience in The Times and Sunday Times Good University Guide 2021.
Business School of the Year – The Claude Littner Business School (Times Higher Education 2019)
Highest Ranked British University Operating in Sri Lanka (Guardian 2022)
A host of career opportunities opens up to graduates with a UWL MBA under their belt. It is the knowledge you possess and how well you can help businesses move forward that will forge a better career path for you with an MBA.
ANC – UWL postgraduates have achieved career advancement into senior management positions, migrated for career opportunities overseas and achieved success as entrepreneurs and business owners. 
Taniya Perera, Former Manager Senior Auditor at Aitken Spence – I was working for a well reputed conglomerate in Sri Lanka and I am happy to say that after completing my UWL MBA pathway for CIMA professionals my employer recognised my qualification and I was offered a promotion to managerial level. Few years later I decided to migrate to Canada and I was fortunate to receive the highest number of points in the Canadian point system for PR because I had a Master's degree from UWL, which is one of the well-recognised universities in the evaluation process. In 2020 I received my PR and moved to Calgary, Canada and in less than 3 months I landed a very good job in a well-recognised non-profit organisation as Intermediate Accountant.
"When it comes to choosing an MBA it is important to evaluate the opportunities that you will gain from that MBA programme. For me in Sri Lanka I was able to excel in my career and when I moved to Canada, I was able to secure a very good and recognised job."
Lasantha Kumara Manamperi, Group Financial Controller at LIMRA Holdings (Pvt) Ltd "Although my knowledge in taxation, cash management and finance is solid the UWL MBA came highly recommended in meeting the expectations of a demanding senior management role; in terms of understanding and gaining insight into marketing strategies, people management, and digital platforms which are closely linked to the diverse organisation that I represent. The MBA really helped me to apply the theory in the real business environment and gave me the exposure that I lacked to learn new skill sets that led to new opportunities in my career".
"I had a great advantage of choosing the UWL MBA pathway for financial and accounting professionals which offered subject exemptions, reduction in my overall cost and shortened the duration of the MBA to only 8 months".
The UWL MBA Programme is a tailor-made route that enables students to convert their CIMA, ACCA & CA qualification to a UK Master's degree in Business- a fast track to enhanced career opportunities. It will allow you to gain practical and hands-on knowledge in a range of subjects that are pivotal in the global business world such as Managing People, Business Ethics, Global Marketing and Digital Business + MBA project that will enable you to bridge the skills gap to meet the industry demands.
It has been observed that a recognised MBA is by far the most lucrative path to pivot your career in the field of Finance or Accounting to gain higher earnings and career progress. CIMA/ACCA/CA qualification equips you with the adequate knowledge of Finance and Accounting and skills to land a rewarding job and the MBA will allow you to progress further in your career to a top managerial job role. In this light, your CIMA/ACCA/CA qualifications complemented by the MBA will help you have a successful and rewarding career.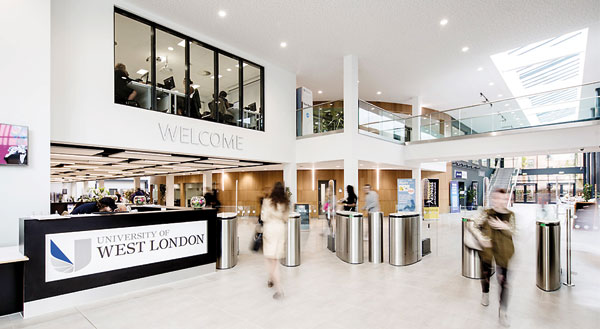 UWL General MBA
MBA (Master of Business Administration)
7 Modules + Dissertation
Duration 12  Months
UWL MBA for CIMA/ACCA/CA
Degree – MBA (Master of Business Administration)
Entry      – up to 50% Exemptions from MBA
Modules – 4 Modules + Dissertation
Duration – 8 Months
Applications are open for October 2021 intake
At ANC, we also help students take student loans funded by supportive banks that offer
financial solutions for those who need financial assistance for their studies. The banks facilitate
students to pay the loan in installments (up to 60 months) with a minimum monthly
commitment starting from *LKR 15,000. 12 Month Credit Card payment plans are also
available. *conditions apply.
Students can contact us on 077 67 67 837 to book a counselling session online. For more Information,
visit www.ancedu.com or follow us on Facebook: https://www.facebook.com/ANCpostgraduate/ and "ANC Education" on Instagram.