Awarding of IT & English Scholarships for Schoolchildren
View(s):

This scholarship programme was launched as a collaboration between the Ministry of Youth and Sports, the State Ministry of Digital Technology & Enterprise Development, and ESOFT Metro Campus, with the blessings of the Hon Minister Namal Rajapaksha.
The scholarship is awarded to 30,000 students (10,000 full scholarships and 20,000 half scholarships) with the objective of improving their knowledge and skills in IT and the English Language as well.  The programme consists of 5 levels, starting with a foundation programme, professional qualifications, and ultimately leading to a degree.  The value of all five levels of full and half scholarships is 1.7 billion rupees.
As the first stage of the scholarship, 10,000 students are receiving full scholarships to learn IT and English.  5000 Students that complete the assessments for this level and pass with the highest marks will receive the full scholarship for the second level which consists of the Diploma in Information Technology.
The third and fourth level consists of the British Computer Society (BCS) professional qualifications in IT (Certificate Level and Diploma Level) and the top 250 students who complete the programme will receive a full scholarship to read for their degree in IT at ESOFT, with the degree being awarded by London Metropolitan University UK, which is a UGC recognised University.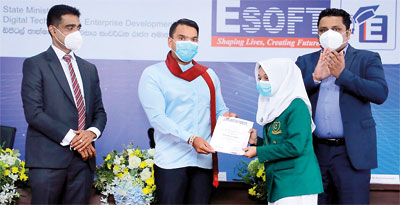 Stages 1 to 4 are to be learnt online using a smartphone, tablet, or a personal computer, and stages 1 and 2 can be learnt in Sinhalese, Tamil, or English languages.  By the time students reach stage 3, they would have acquired the required English language skills due to the full scholarship that is provided for the English language programme.
As part of the scholarship process, students aged between 13 and 19 were invited to apply.  They sat for an online selection test based on general knowledge and basic skills, from home (due to the current health situation of the country), and the students with the highest marks were selected for the full scholarship.  Considering the hardships faced by rural students, a higher priority has been given to select students from these areas as well.
In accordance with the health guidelines published by the Government, the ceremony today (19th of October) was organised in a simple way with a symbolic representation of 70 students and their parents who volunteered to be present.  We are thankful to the Hon Minister Namal Rajapaksha for being present to award the scholarships to all of these students.
The other scholarship awardees have been sent SMS and email notifications with further instructions, and they can visit any ESOFT branch to receive their scholarship and complete the registration process.
We earnestly hope that all scholarship recipients will make the maximum use of this opportunity to gain a recognised qualification at a young age so that they may become IT professionals who contribute to the economy and to the upliftment of this country.