Olympian Matthew Abeysinghe's FINA World Championship appearance doubtful
By Pranavesh Sivakumar
SWIMMING
View(s):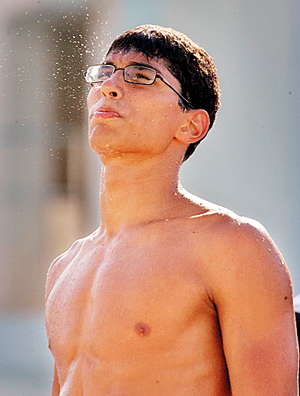 Following last week's cancellation of the trials for this December's 15th FINA World Swimming Championship, Sri Lanka Aquatic Sports Union (SLASU) has now resorted to select the four swimmers to represent the nation in Abu Dhabi, based on 2019 performances.
SLASU's president, Nethru Nanayakkara, speaking to the Sunday Times on Friday said given that there was a deadlock to hold the trials as pools reopened only yesterday, the technical and the selector's committee handling this process have decided the way forward would be to filter and field a four-member team considering performances of 2019, the last active period.
However, the setback for Sri Lanka would be, the four-member team comprising two from each gender, won't see island's supreme swimmer, Matthew Abeysinghe, taking part due to sponsorship and finance seeking barriers.
"He was training under a scholarship and is dealing with a problem in finance. Through the High-Performance Programme of the Ministry of Sports, he is getting US$1,500. There is an Olympic scholarship vying for worth US$1,000. He is still in need of another $2,500 because he needs at least US$5,000 monthly to keep on training," Nanayakkara explained of Abeysinghe's situation. With the latter, the only prospect of a gold medal, at the 2023 South Asian Games, according to the SLASU president, the union and the athlete are now in a quest to find sponsorships to clear him to participate.
"We can't be holding trials because we are tight with time. We've checked the FINA regulations, and they also permit timings from 2019. The selection committee is looking at the FINA-qualified competitors and will name the four swimmers, whose names would be out in due course," Nanayakkara said. One such approving process and procedure would be submitting the final four names to the National Sports Council and getting their green light.
In the fixtures set for December and January, nationals are slated for December, and the union is looking at an event of two days, and Sugathadasa as a possible venue. Since there were no nationals last year too, Nanayakkara was confident the time till December would give plenty of time to prepare for the D-Day in December.
However, a request had come in to postpone the selections for Asian Games, Commonwealth Games and High-Performance Selections to the end of January next year, though the dates are subject to confirmation.