E-sport driver and athlete training programme by Mandarin Reid
A session on mentorship and sportsmanship conducted by two star sportsmen
View(s):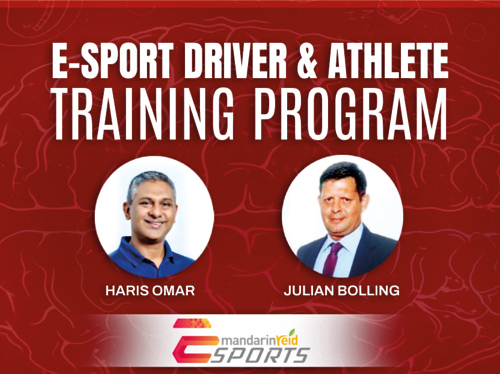 Globally, eGaming is considered a whopping $2.4 billion USD industry. In Sri Lanka, eSports are now taking centre stage, with the country being estimated to have approximately 3.2 million gamers; true numbers, however, extend far beyond that. Meanwhile, enriching and uplifting the gaming community has only just begun.
Mandarin Reid eSports is the newest subsidiary of the fast-growing Mandarin Reid (Pvt) Ltd, a fully integrated content agency that develops brand content across traditional, digital, and ground activations. An early mover into the gaming sphere, they have already been involved in gaming tournaments hosted by Red Bull, spearheading Sri Lanka's entry into console-based GT simulation championships.
However, nurturing the Sri Lankan gaming community involves more than tournaments. Budding players are in need of mentorship, established hierarchies, and strong support. Mandarin Reid eSports is working to fill this gap, connecting gamers with the training systems they require.
The company recently hosted 'E-sport Driver and Athlete Training Programme', an enriching online webinar session for seniors in the eSports arena to unlock their potential as a future leader in sport. The webinar featured two distinguished guest speakers from the world of international sports — Harris Omar and Julian Bolling.
A corporate sports personality who has represented Sri Lanka in rugby as a player and captain, with over 15 years of experience in the corporate world, Omar is a deeply passionate speaker and motivator. Sri Lanka's award winning swimmer, Bolling, is a spokesperson, motivational coach, and inspirational personality as well.
The duo held an enlightening session on sports, character building, conversation skills, mentorship, and coaching for Sri Lanka's budding eSports mentors in the field of motor racing.  Having engaged in a 12-week long international session on the power of coaching and its value, both speakers addressed the audience with their unique perspectives.
Bolling spoke on the power of stories and conversations amongst mentors and their mentees, citing a valuable lesson he learnt, "Now, we tend to coach with the heart as well, because of the training we have followed. I have learnt to be unconditionally loving to my athletes, and that transformation is slowly happening in my life today, enabling me to be a better coach. I want to bring that discipline into this forum as well".
Speaking on the importance of sports and the current juncture the world finds itself in, Omar commented, "Sports is an experience beyond education. The sweat and hard work of it matters beyond winning. I think this is one of the greatest opportunities we have to reflect and restart our lives".
Omar further posed his audience with questions that may have not occurred to them prior to the session.
"What kind of traditions and cultures do you have in eSports? What brings you all together?," he asked.
The duo introduced the audience to unique coaching strategies, imparting invaluable mentorship advice.
"If you are a coach, understand the importance of your role as one of the most powerful people in society and your community," Omar added.
"Sports are all about building character, not just about waiting to coach somebody in all dimensions of their being, their body, their mind, and their spirit."
The first of many to come, the session hosted by Mandarin Reid eSports proved to be an enlightening one for its audience; the future of sports in Sri Lanka. The company hopes to build a strong network of mentors, who are on the journey to recognising the athletic aspect to eSports, working to nurture their fast-growing and enthusiastic communities.