A 'Pandora's box' that releases open secrets and other oddities
View(s):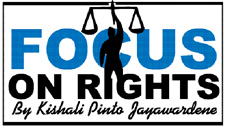 First the Panama Papers, then the Paradise Papers, now the Pandora Papers, next will we have the 'Pappadum' Papers, a wag may well cynically question?
Cold logic of 'tip of the iceberg' disclosures
That passing query has hidden meaning in Sri Lanka, given that the 'pappadum', a flamboyant looking and delicious tasting puff lends little nutritional value to the meal that it accompanies. Likewise, the continuing exposes of 'politically exposed' Sri Lankans, caught in the net of the global elite who stash their money in tax havens, shell companies and offshore accounts, have all the sensational flavour of a 'pappadum.' But why do they have no real 'bite' in the unmasking?
Such disclosures in a land once acclaimed as a 'paradise isle' but now more a 'parasites isle' are typically greeted with weary shrugs and momentary excitement. This soon fades as another juicy scandal occupies public attention. Much of these 'open secrets' are familiar, told and retold in the style of cosy firewood chats, each time with a little bit more colourful embellishment as it were. Even so, captured in the cold logic of meticulously documented reports released by a global investigative journalists forum, such 'tip of the iceberg' disclosures should shock, stun the country and its long suffering people.
Prime Ministers and Ministers have resigned and investigations take place into multifarious firms and individuals in other countries as a result of information revealed in the Panama Papers. Here however, no great reactions were evidenced. This time around, the Pandora Papers brought in their wake, a spectacle of absurdities concerning businessman Thirukumar Nadesan and his politician wife Nirupama Rajapaksa whose holdings have been prominently featured in the exposures. Initially the Commission to Investigate Allegations of Bribery and Corruption (CIABOC) proclaimed that it could act on the matter only if a complaint was lodged.
'Going forward to the past'
This was a case of 'going forward to the past' with a vengeance. For years, the CIABOC had conveniently trotted out this excuse of the enabling law not giving it powers to act of 'its own motion' as a good cover to refrain from investigating many corruption scandals. Reversing that trend in 2015, the 19th Amendment to the Constitution laudably (as opposed to political agendas underlying the constitutional text elsewhere) conferred 'suo motu' powers on CIABOC. True, CIABOC's 'yahapalanaya' record was chequered, ranging from filing indictment with technical defects later thrown out of court to the messy embroiling of its Director General in public controversies.
But at least theoretically, a newly grafted Article 156A 2) gave that very much needed interventionist power to act of its own accord. That was peremptorily done away with by the 20th Amendment to the Constitution (2020) which indeed, took away constitutional recognition to CIABOC intoto. Thus, we have returned to the past where CIABOC can once again complain that it has no authority to take matters into its own hand. From that melancholy state, we then proceed to President Gotabhaya Rajapaksa 'directing' CIABOC to  investigate the matter regardless of the superb irony of a Presidential directive to a purportedly independent commission. Accordingly we now have investigations ongoing with the usual media fanfare.
Meanwhile disclaimers ranging from the sublime to the ridiculous are issued with aplomb. Indeed, one inventive soul went so far as to scornfully ask as to why the rich should bring their gains (ill gotten or not) back to Sri Lanka as the rate of the rupee against the dollar was plummeting to unfathomable depths? Of course, the truth of the matter goes far beyond these unbearably banal superficialities. Each time there is a global financial scandal, names of Sri Lanka's wheeler dealers, as we may call them with some kindness, surface at some point or the other.
Discerning the 'beneficial interests' in issue
By itself, that tells a tale of some sorts. The presumption of innocence must apply to this as to any other case where criminal action is alleged. Even so, conformity of those 'implicated' to the laws of the land must be firmly established. These include the obligation of politicians and public officers to declare their assets and liabilities. Notably, as detailed in the Declaration of Assets and Liabilities, Law No 1 of 1975, this includes not only movable and immovable properties inside or outside Sri Lanka owned by the 'declarant' but also any such properties in which there is a 'beneficial interest.'
Further properties in the name of the spouse or child are included (Section 12). Technically, such a law should have enabled disclosures and framed a legal regime where accountability is strictly enforced. Certainly the reference to 'beneficial interests' in a law crafted well over four decades ago pinpoints the exact question that has surfaced now. In a world where tax havens and secrecy jurisdictions have mushroomed into a global club that benefits the rich and the corrupt, the core question remains tantalizingly simple. Who is the beneficial owner of these shadowy shell companies or trusts?
In other words, a country's laws should ideally not only have public disclosures of assets and liabilities but also 'beneficial ownership' registers. On that standard, we claim a dubious distinction in South Asia by having an outdated legal regime that clings to the prohibition of disclosure in general terms. For example the prohibition against disclosure of assets declarations is relaxed only in specified circumstances of alleged wrong doing. That too is limited to disclosures only in prescribed legal processes.
Sri Lanka's outdated legislative wisdom
These include proceedings under the Bribery Act, the Exchange Control Act and the Inland Revenue Act (Section 7 (2). The Attorney General, the CIABOC, the Commissioner General of Inland Revenue and the Head of the Exchange Control Department are included among the officers given the right to 'call for and refer' to any such documents (Section 5(2)). In fact the clauses of this law are so tightly drafted that any person tasked to 'preserve and aid' secrecy in terms of the law 'shall not' be required to produce the document even in a court of law except in regard to prescribed legal processes (Section 8 (3)).
And in line with familiar Sri Lankan legislative wisdom of giving with one hand and taking away with the other, the law allows 'any person' to obtain a certified copy of the document upon the payment of a marginal fee but bans its public circulation and discussion with criminal sanctions. In fact, an amendment of 1988 makes it an offence to even make a public statement concerning a person to whom the law applies. Allegations that such person has made 'recent acquisitions of wealth or property, or recent financial or business dealings, or to have incurred recent expenditures not commensurate with the known sources of wealth and income' are strictly prohibited (Section 7 (4)).
All this may have been justified at the point that the law was passed in the House in an entirely different and perchance gentler era on the basis that character assassination of persons must be discouraged. But in practice through the decades, its objectives and purpose have been defeated. Even in the context of the not-so-pristine political traditions of South Asia, this law is unhappily singular in the protection of politically exposed persons. And so we come to a crucial point.
Miseries as great as in the ancient world
In a context in which the ability as well as the freedom of state institutions to act free from political influence has been degraded to the extent of virtual non-existence, where is the public confidence that a few state agencies entrusted with these legal processes, will work independently? In the absence of that confidence, where are citizens supposed to go when the law privileges the politically corrupt? The court of public opinion remains their only recourse.
This is why we cannot be indifferent when Pandora's box has been opened, heralding the release of truths as terrible as what the Gods let loose upon the ancient world. There is a public duty in that regard.