Nail biting moments at Second Leg of Sri Lanka's inaugural SIM Formula 1 Championships
View(s):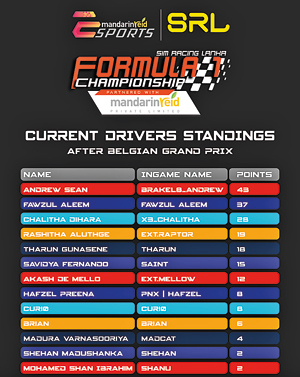 The second leg of
Sri Lanka's first ever Formula One e-championships organised by SRL in conjunction with Mandarin Reid eSports has resulted in an interesting twist opening the entire tournament for great rivalry and surprises. The previous week saw Fawzul Aleem lead the pack at Nürburgring, Germany with a commanding drive that left everyone a great distance behind. The power of his performance was such that most would have drawn the conclusion the championship was his and he would remain unchallenged. The second leg at SPA was held August 28 completely overhauled the leaderboard with Andrew Sean demonstrating a power pact and skilled driving performance to not just win the SPA leg, but also take the lead position on the leaderboard throwing the entire competition open.
Last Saturday's tournament at SPA had it all for the avid race lover. From a massive collision upfront involving several cars, to the skillful maneuvering through the rubble, to breath taking over takes and ever changing fortunes – the race was action packed and filled with many breathtaking moments. Everything a race should be.
Now with the competition wide open the entire championship promises to be an exciting one for fans who have to contend their anticipation until September 8 when the championship continues into its third leg at Mugello, Italy. The tournament was made possible with the support of Seylan Bank, Allianz Insurance Lanka, Mobil 1, Kärcher Tudawe, GamesHome (RJK), General Auto Works, Stanvo Swim Shop, Ayuwanna by Barberyn, Asian Security Group, Chinese Dragon, RYESIGHT (Tech Blender Labs), Yes FM and Yes 101 and Wijeya Newspapers.