Major Division begins
Inaugural Online Rapid National Chess Championship Cycle 2021
View(s):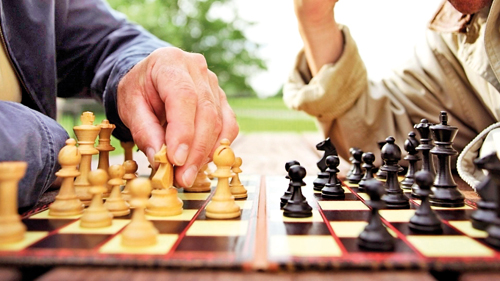 The Major Division competitions of the inaugural Online Rapid National Chess Championship Cycle 2021 began with under four segments of Open and Women's competitions.
Accordingly Open events will be held for Western 1 and Wayamba sectors in addition to Women's events for Western 2 and Southern regions. The Chess Federation of Sri Lanka (CFSL) organised a comprehensive Online Rapid Chess Championship Cycle for the first time in Sri Lanka beginning from the first week of June.
All seven Novices Division events and seven Women's Novices Division events were completed by August successfully. This was also served as the selection event for the International Online Rapid Chess Championships this year.
"The event will help all chess players to stay at home at this difficult time with supporting to grow their strength. Events are held on the chess.com platform with all the fair play regulations approved by FIDE. The time control will be 15 minutes plus a 10 second increment for each move played," Lakshman Wijesuriya, the president of CFSL, explaining the guidelines of the event, said.

Players who progressed the ended initial rounds advanced to the Major Division events which will be held during three weekends. The Open events of Western 1, North Western, Uva and Kegalle divisions and the Women's events of Western 2 and Southern divisions were held on August 28 and 29.
The continuation of the events is currently taking place with the Open events for Western 2, Central and Kegalle divisions and the Women's events of Western 1 and Northern divisions, this weekend. Competitions will continue on September 11 and 12 with the Open events of Northern, Southern and Central divisions and Women's Kegalle, North Western, Uva and Ratnapura divisions.
Overall players for the National Online Majors Division Chess Championships were picked from competitions staged from the Western 1, Western 2, Central, Kegalle, North Western, Ratnapura, Southern and Northern divisions.
Eligibility for the competition was counted on ratings greater than 1199 and less than 1899 from Novices while ratings greater than 1099 and less than 1599 were considered for Women's division.
During the first round, a round robin event of first 16 players of National 'B' Chess Championships 2021 were held, followed by a knockout event among first four players who played a semi-final and a finals in addition to a consolation finals.
Trophies and medals were be awarded to the winners in all events and the championship title for the winner in age group. In addition a total of Rs. 180,000 will be awarded as the cash awards at the national finals and national premier division.
Players were allowed to use only laptops or desktop with a webcam to play the games. At all times of play in progress, players were advised to join in the zoom meeting with the screen and task manager shared with the tournament arbiters. The technical regulations were sent to the registered players individually.
All 'fairplay' measures were taken during the event and the games after each round are sent to the chess.com and FIDE exports for checking. Any player found guilty in any form from these checking will receive a ban from all types of chess for two years.
"We have advised all players and
we kindly request all players to compete the event in true sportsmanship and develop you chess skills even during this pandemic situation," Wijesuriya added.
Following players were the regional winners of the Inaugural
SL Online National (Novices Division) Chess C'ships 2021

  Saniru Nagahawatte (Lyceum International, Nugegoda): Western I Open
  Amaya Ransinghe (ViharamMahadevi BMV, Kiribathgoda): Western II Girls
  Daian Munasinghe (National Building Research Organisation): Western II Open
  Chenaya Ekaratne (Musaeus College): Western I Girls
  Sanija Galkotuwa (Dharmaraja College): Central Open
  Rithikashamy Rajinikanth (Singing Fish CC): Northern Girls
  Pamok Samaranayake (Rahula College, Matara): Southern Open
  Miyurini Gamage (Hillwood College): Central Girls
  Rishikaran Sivaskaran (Hindu College, Jaffna): Northern Open
  Minudi Ranasinghe (Dharmasoka Ambalangoda): Southern Girls
  D.R.M.R.S. Rathnayake (Maliyadeva College): Wayamba Open
  Pabasara Arunodhya (Dharmapala Vidyalaya, Ratnapura): Sabaragamuwa Girls
  Nisal Thilakaratne (St. Thomas College, Bandarawela): Sabaragamuwa Open
  L.H.M.G.S. Somaratne (Royal International, Kurunegala): Wayamba Girls