Sunday Times Deputy Editor Namini inducted to prestigious ICIJ
View(s):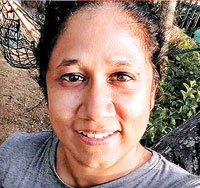 The Sunday Times Deputy Editor (Investigations) Namini Wijedasa has been selected by the US-based International Consortium of Investigative Journalists (ICIJ) as one of its distinguished worldwide members, the consortium announced this week.
She is only the second Sri Lankan journalist to be inducted to this prestigious body, the first being Sunday Times Consultant Editor/Political Editor and former Defence Correspondent, Iqbal Athas.
Officially announcing the selection of Ms. Wijedasa, the ICIJ stated that they have "boosted its network of trusted journalists".
The consortium will now have a total of 280 member-journalists in 100 countries. Thirteen new members, including four from Africa were selected by the consortium's Network Committee.
Ms. Wijedasa began her journalism career in 1994 at The Island and since worked at the Daily Mirror, Associated Press, Sunday Island and Lakbima News before joining the Sunday Times in 2012.
The new members have worked on several recent ICIJ projects including FinCEN Files, West Africa Leaks, Panama Papers, Implant Files and others. They bring with them expertise in investigating money laundering, corruption, government contracts, corporate malfeasance, national security and data journalism.
The journalists were selected by the ICIJ's Network Committee due to their record of collaborating with journalists in other countries, sharing their findings, adhering to agreed publication dates, and telling stories that expose injustice, inequalities, and international crime and corruption.