SLMA makes strong recommendations to save lives
Vaccination: Who should be given first priority and who should be administered 3rd dose
View(s):
Treat as the "first priority" vaccinating all persons over 60 years of age and those between 18-60 with co-morbidities as early as possible, while giving a 3rd dose with Pfizer, AstraZeneca or Moderna (Spikevax) to 'specific' categories, the Sri Lanka Medical Association (SLMA) Expert Committee has strongly recommended.
Urging that an active effort must be made to achieve vaccine coverage as early as possible in those over 60 years of age and those between 18-60 with co-morbidities, the SLMA Expert Committee has stated that these recommendations are made with the objective of reducing to a minimum, the number of deaths due to COVID-19, on the basis that all vaccines approved by the National Medicines Regulatory Authority (NMRA) are effective and will save lives.
The SLMA has given the categories of those who should be administered the 3rd dose as:
v   Those over 60 years of age who have received two doses of the Sinopharm vaccine. The 3rd dose should be administered at least 28 days after the 2nd dose.
v   Those over 12 years of age who are immune-suppressed and had been administered two doses of any vaccine. The 3rd dose should be given at least 28 days after the 2nd dose. Those between 12 and 18 years in this category, should be given Pfizer or Moderna.
The SLMA specifies who these "immune-suppressed persons" would be as:
Those receiving active cancer treatment for tumours or cancers of the blood;
Those who have undergone an organ transplant and are on medications to suppress the immune system;
Those who have received a stem cell transplant within the last 2 years or are taking medicine to suppress the immune system;
Those with moderate or severe primary immuno-deficiency (such as DiGeorge syndrome and Wiskott Aldrich syndrome);
Those with advanced or untreated HIV infection; or
Those on active treatment with high-dose corticosteroids or other medications that may suppress the immune response.
Among the Expert Committee's other recommendations are:
v   Giving two doses of Sinopharm (because it is currently the most widely available vaccine) or any other vaccine to those in the 18-60 year age group who are without co-morbidities and are unvaccinated.
v   Two doses of the Pfizer vaccine for unvaccinated children between the ages of 12 to 18 years, with co-morbidities (chronic kidney disease, cancers, diabetes, chronic lung disease, cerebral palsy, chronic liver diseases, uncorrected cardiac lesions and thalassaemia).
v   A 3rd dose (booster)of AstraZeneca, Pfizer or Moderna as a homologous/heterologous booster to all people over 60 years given AstraZeneca, Pfizer or Moderna, 6 months after completion of the primary schedule.
v   One dose of mRNA (Pfizer or Moderna) or AstraZeneca vaccine (as the second dose) to those who have been administered only one dose of Sputnik V, for the reason that the second dose of Sputnik V is unavailable currently (the second dose of Sputnik V is different in nature to the first dose as the vectors are different).
The committee explains that the 3rd dose is the dose given to some who may not have mounted a sufficiently strong immune response after the primary series and would need an additional dose to acquire protective immunity. A 'booster dose', meanwhile, is a vaccine dose to be given after the primary (2-dose) vaccination for the purpose of increasing immunity when the initial immune response wanes.
The Expert Committee comprises the SLMA's Council members, representatives of the Intercollegiate Committee and invited experts from specialties relevant to the subject under discussion.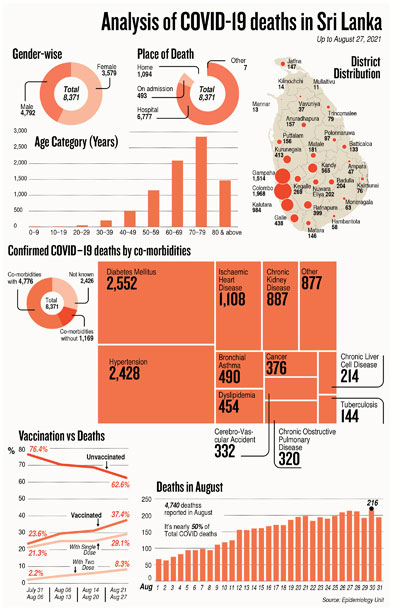 Sri Lanka's population breakdown as at 2019, according to the Department of Census and Statistics is:

Total Population – 21.8 million

0-19 years – 7.26m
(33.3% of the population)

20-29 years – 3.30m
(15.1% of the population)

30-60 years – 8.54m
(39.1% of the population)

60 years and above – 2.69m
(12.3% of the population)

Views on lockdown and  gradual opening up

The SLMA's Expert Committee stresses that taking into consideration the number of lives that could be saved by restricting movement of people even at the current level of stringency, the lockdown should be extended at least until September 18 and preferably until October 2.

"Reopening the country and the resumption of normal activities ought to be done gradually. While activities performed under circumstances which favour low transmission of the virus such as agricultural work and those events conducted in open, well-ventilated spaces such as outdoor markets and work sites may be permitted under strict public health guidelines," they state.

However, the experts are categorical that it would be essential to maintain stringency and disallow activities and events associated with a high risk of transmission such as the resumption of public transport systems, permitting wedding celebrations and re-opening of beauty salons, restaurants, clubs and bars, for a longer period of time.