Downtime in remote lessons becomes a drag for some parents
By Nadia Fazlulhaq
View(s):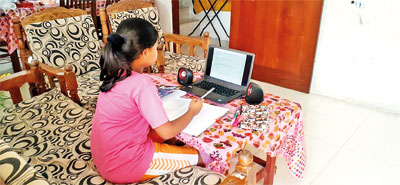 Some parents say they are baffled by the continuing suspension of online lessons by teachers who are campaigning to remedy salary anomalies.
The unions of teachers and principals have rejected counter proposals made by the Government.
Government school teachers have now boycotted online instruction for a 55th consecutive day. They also threaten to stay away from examination duties and from participating in provincial education level online meetings.
Samanthi Rajakaruna, a parent from Gampaha, said her children are gradually neglecting studies and she is struggling to teach them.
"Online education was successfully implemented in some schools. We provided data cards and even new phones. Now, they are playing games all the time," she complained.
Another parent in Colombo said her son, a student of a leading government school, is falling behind his peers at semi-government schools.
"Both the Government and teachers should come to a settlement without delay. The subjects missed this year cannot be covered next year," she said.
According to education sector sources, only 40 percent of Sri Lanka's four million student population are receiving online education.
While online education in private schools and international schools continues, government school students have been missing online lessons.
The Government appealed to teachers and principals to accept the recent Cabinet proposals.
The Cabinet this week approved salary revisions recommended by a sub-committee to be implemented in stages, through the 2022 budget.
The Cabinet also agreed to issue a gazette notice before November 20, 2021, declaring teacher service, teacher advisory service, and principal services, as closed services. A special allowance of Rs. 5,000 for teachers and principals who are on duty in September and October 2021, was also agreed.
The committee said the proposals will increase the salaries of the principal service III-I by 19.54%, principal service-II by 21.59%, principal service I by 25.95%, teacher service III-I by 13.52%, and teacher service III-IC by 16%.
"The government is to allocate an additional Rs. 32 billion for salary increments of teachers and principals through these proposals. At present, 85% of the government's income is allocated for government sector salaries and pensions and Rs 119 billion is allocated to pay to the education sector monthly," member of the sub-committee, Minister Mahinda Amaraweera, said.
Minister Wimal Weerawansa, said: "The amount offered is what the government can afford, a fair solution to the teacher salary anomalies and will not affect other government sector employees.''
However, teacher unions say wage anomalies have not been resolved.
"This salary revision proposed by the sub-committee is based on a 2018 report by the Education Ministry on salary anomalies. We want the 2018 year report made a part of the ministry's Subodhani Committee report that provides a broad solution. We accept payment in stages, but it should be clearly based on the Subodhani report," said Ceylon Teacher Services Union General Secretary, Mahinda Jayasinghe.
Minister Amaraweera said according to the Subodhani report, the government will have to pay an additional Rs. 71 billion for salaries of teachers and principals, a decision the government cannot make amid an economic crisis. He asked teachers and principals to accept the Rs. 32 billion allocation recommended by the committee.
According to Mr. Jayasinghe, unions will meet in the coming days to discuss the next step. Teacher and principal unions also took part in an online rally this week expressing displeasure over the Cabinet proposal.
He said teachers and principals are being pressured into being involved in this year's scholarship and Advanced Level examination duties.
"The Rs 5,000 allowance cannot distract us from our demand for salary increments. We request the government to allocate the Rs. 2,360 million the government plans to pay us as an Rs. 5,000 allowance, to put into purchasing technology equipment for rural school students, fix signal issues in villages, and provide free data and routers to teachers," he said.
The Ceylon Teachers Union's General Secretary, Joseph Stalin, said unions plan to meet the President and Finance Minister.