Govt. bets on Indian visitors rescuing a tourist industry in tatters
But some question whether it's a safe move
By Chrishanthi Christopher
View(s):
The Government's decision to lift the ban on arrival of Indian tourists has raised eyebrows.
Concerned citizens question whether it was expedient to bring in Indian tourists at a time when the country is overwhelmed with increasing numbers of COVID patients ill with the Delta variant.
On the flip side, others wonder whether Indians themselves would be willing to take a risk in coming to a country severely afflicted with the virus.   Sri Lanka closed its doors to Indian tourists on May 6 following a surge in number of cases and deaths reported in that country.
The Sri Lanka Tourism Promotion Bureau (SLTPB) said the decision to readmit Indian visitors was taken in keeping with Ministry of Health guidelines. SLTPB Chair Kirmali Fernando said the Government will open doors to all travellers except those from South America and South Africa.
India has been among the top 10 markets for the Sri Lankan tourist industry, with a record number of 89,357 Indian tourists visiting the country in the first three months of 2020.
The volume dwindled this year, with only 1,127 Indian visitors arriving between January and May 6.
In January, Sri Lanka opened its doors to most tourists but visitors only trickled in, with the highest number of arrivals, 4,168, recorded in April according to the SLTPB. Thereafter, again numbers diminished to 1,497 and 1,614 in May and June.
The country's efforts to vaccinate its people, softer restrictions on vaccinated tourists and consumer confidence marked a slight increase in arrivals in July and August with 2,429 and 4,238 (up to August 26) arrivals respectively.
For the entire period of six months, only 23,575 tourists arrived to the island whereas in 2020, 507,704 tourists arrived just in the first three months of the year.
The rest of the year there were zero arrivals due to closure of airports in countries worldwide due to the pandemic.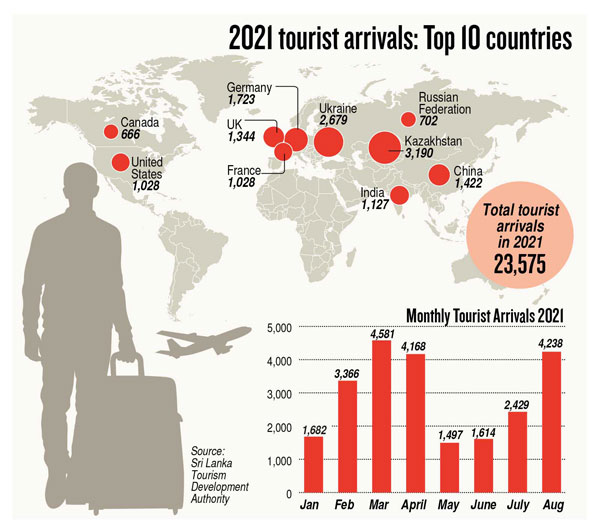 The tourism sector has heaved a sigh of relief at the decision to open up the country to foreign tourists. The Sri Lanka Association of Inbound Tourists Operators said it was good news for the 3 million people involved in the industry.
Past president Mahen Kariyawasam noted the tourists are being received under strict health guidelines, which protected the local population.
"We cannot keep our doors closed indefinitely," he said.
To encourage bookings, the Sri Lanka Association of Inbound Tour Operators (SLAITO) has teamed up with Sri Lankan Airlines and selected hotels to offer a "buy one, get one free" deal.
Under this special programme, purchase of a ticket to Sri Lanka will entitle the buyer to a free ticket. Tax on the ticket and insurance has to be borne by the traveller, who must also book one of the selected hotels.
The Travel Agents Association of Sri Lanka claims Indian tourists are now safe to travel as around 300 million of that country's population of 1.3 billion are vaccinated.
The association's President, Channa Wijemanne, expressed optimism that tourism will now take off soon, saying many frequent travellers were restless and wanted to get around again.
Meanwhile, Sri Lankan Airlines has announced it will resume flights to Indian cities including Chennai, Trivandrum, Cochin, Hyderabad, Trichinapalli and New Delhi.
Tourists who arrive at Colombo airport and are fully vaccinated will have to pass a RT-PCR test but will not be subject to mandatory quarantine. They will be allowed to travel anywhere in the country.
Those not vaccinated or have received only one dose will have restricted movement, allowed to visit 22 tourist destinations in a "bio-bubble" that will include wildlife sanctuaries and cultural, historical and Buddhist religious places.
They will be required to stay in the same accommodation for 14 days and cannot change hotels.
Tourists have to pre-purchase a RT-PCR test kit and have mandatory COVID-19 insurance at a cost of $US12 covering $US50,000 hospitalisation and medical bills for a month.
They should also produce a negative report of a PCR test carried out 96 hours before arrival.