Drug and essential food shortages send up prices
By Kasun Warakapitiya
View(s):
Rich and poor alike are finding it a struggle to buy essential food and medicines that have shot up in price, mainly due to shortages, while salaries and savings accounts have dwindled.
Private sector employee and housewife Tharangani Perera was angry when interviewed this week. "The company I work for has suffered losses because of the pandemic; so I am only being paid half my salary. With prices of essential goods increasing, I can't meet normal expenses," she said.
She finds it difficult to buy her mother's drugs for diabetes. "Some of the medicine brands I buy for my mother are not available and other brands are too expensive," she said.
Wasanthakumar Perera, a 67-year-old Royalist who lives in a gated community in the north of Colombo and finances his retirement from bank savings, says his income has halved due to double-digit bank interest rates falling to single figures.
Mr. Perera urged the Government to control prices of essential commodities.
Pharmacists and the ayurveda medicine shop owners said panic buying of medicines as well as shortages had contributed to an increase of medicine prices.
Kandaiya Prabath, who owns a pharmacy in the People's Park shopping complex in Saunders Place, Colombo, said most drug suppliers and local manufacturers had stopped or slowed down production during the lockdown; so drug deliveries to pharmacies had been interrupted.
"We learned that there is a shortage of the raw materials that are used to make medicines locally, and that too has led to shortages," he aid.
Mr. Prabath said there was panic-buying of vitamins and the high demand had caused prices to rise.
Another pharmacist, who declined to reveal her name, said vitamin C tablets, inhalers and paracetamol were in short supply in her pharmacy. Kothammali, Peyawa and Paspanguwa were also in short supply.
Injections used to treat pneumonia patients were in demand to treat Covid-19 patients.
Ayurveda doctor Roshan Witharana, who runs a traditional medicine pharmacy, said that most of the ingredients of ayurveda medicine, such as imported dried turmeric and ginger, have become scarce due to taxes and high consumption of these medicines as preventatives against COVID-19.
"Kotthamalli, thippili and ginger are mostly used in immune-boosting medicines, and prices of such medicines have more than doubled," he said.
Another ayurveda shop owner, who operates on the High Level Road at Maharagama, said new stocks of koththamalli had solved the problem of shortages but other well-known remedies had become more expensive.
"Previously, the price of Pas Panguwa was Rs. 60 but now it the price has increased to Rs. 70," the ayurveda medicine dealer, Sanka Wijenanda, said.
Meanwhile importers defended the increase in the price of sugar, saying the depreciation of the rupee against the US dollar had contributed to price increases of essential commodities.
A spokesman for the Essential Food Importers Association said importers had unsold sugar cargoes before the exchange rate changed for the worse, and had to recoup losses.
Sugar imported through orders placed months ago with 180-day letters of credit, had been partially sold at prices reflecting the then dollar rate of Rs. 182 but now the dollar had shot upwards to Rs. 225, which was the rate the importers faced paying in December when payments for their orders were due.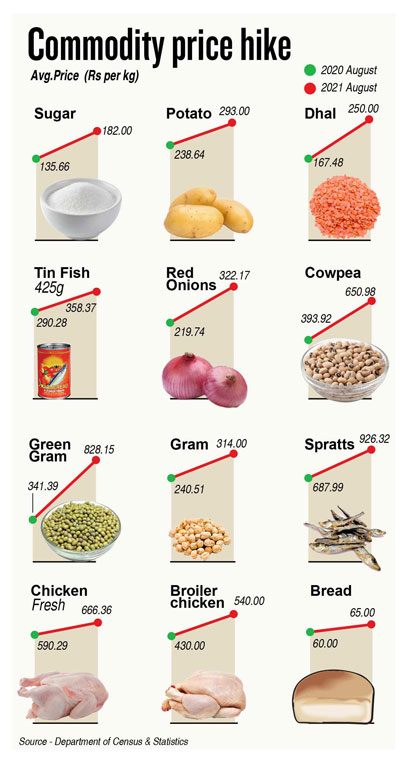 In order to average out losses, importers had increased the price of sugar.
The spokesman also said shortages caused by the current restrictions on sugar imports had caused a further increase in prices.
He said the association this week requested the Government to allow immediate sugar imports.
Retail shop owners claimed they were charging more because wholesalers were selling goods exceeding maximum retail prices.
Gayan de Silva, owner of a small retail shop in Wattala, said the price of kilo of sugar had shot up to Rs. 220 in wholesale shops. Prices of other essential items such as dhal, canned fish and sprats had also increased.
He claimed rice wholesalers were charging exorbitant prices and hiding this from authorities by asking for payments to be made directly into their bank accounts.