Doctors perform successful stent procedure on COVID patient
Pix and text by Reka Tharangani Fonseka
View(s):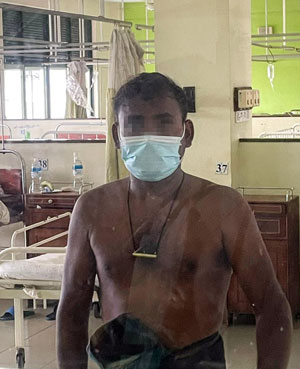 The life of a COVID-19 patient, who had suffered a severe heart attack, was saved after a medical team at the National Hospital successfully conducted a two-hour long heart surgery on Tuesday.
The team was led by Consultant Cardiologist Gotabhaya Ranasinghe, who said the patient's heart attack had been brought on by complications due to COVID-19.
The patient, a 41-year-old father of three, was admitted to the National Hospital's Emergency Treatment Unit in serious condition and a Rapid Antigen test conducted on him revealed him to be COVID positive.
An initial examination revealed that one main artery in the patient's heart had a blockage, which had to be cleared immediately, or the patient would die.
The situation was made more complicated as the patient was also COVID positive, Dr. Ranasinghe said.
Nevertheless, the team started operating on him to put in stents to clear the blockage.
Dr. Ranasinghe and his team performed the surgery successfully, and the patient has now fully recovered, from his heart attack. He is currently receiving treatment for COVID-19 at the National Hospital's COVID Unit.