At least 3 more weeks of lockdown needed to save lives, urge expert
View(s):

It is not a "perfect" lockdown/curfew but it is better than nothing, reiterated many experts, urging that it should be continued at least for another three weeks to save lives even at this late stage.

They emphasise that the impact of lockdowns takes at least three weeks to show. This was clearly seen when a lockdown was imposed in May-June.

Explaining the thinking behind it, they said: "This is because there is an incubation period between getting exposed and getting the disease and also between getting the disease and dying. Thus, the lag period between introducing an intervention and seeing an effect is many weeks. This is also why interventions have to be introduced early, when the signals of impending doom are very clear as they were three weeks ago."

"Many experts warned of this. Intervening three weeks ago would have saved thousands of lives," they said.

"Even this imperfect lockdown/curfew will save some lives. It was imposed late but to accrue some benefit, it needs to be extended. The impact of the current lockdown will be seen at least in a slight reduction of COVID-19 infected people in about two weeks," one expert who declined to be named told the Sunday Times.

Conceding that too little may have come a little late, the expert said, whatever impact has come from this needs to be built on, by extending it at least for another three weeks. This is because the COVID-19 rampage being caused by the Delta variant – huge numbers of positive people, many the victims of severe disease and a high death toll – is like a great flood.

Sri Lanka, meanwhile, needs to push ahead with its vaccination programme, "fully covering" those who are at high-risk such as the elderly population. The death toll from COVID-19 shows that the elderly (over-60s) are the majority who are succumbing, experts said, quoting data indicating that more than 70% of the dead are those over-60.

Another critical issue raised by these experts was the need to have a strong system for the provision of home-based care which has become the norm, with hospitals being flooded by patients.

The home-care delivery system should be watertight without any gaps, one stressed, while explaining that there have been several incidents where family members of an infected person in home-care have gone about their business outside their home.

They need to be strongly advised that they too should be quarantining themselves from others, as they can spread the virus easily and should not leave their home under any circumstances, the expert added.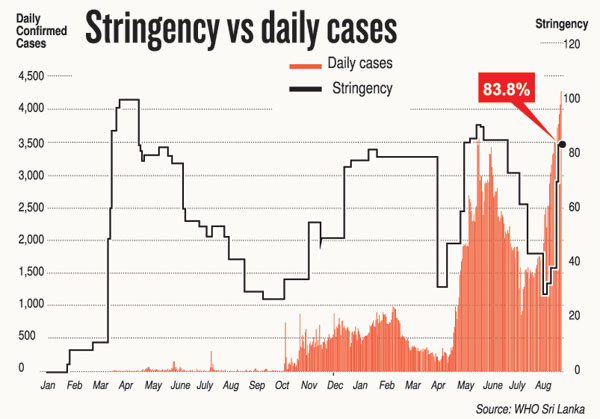 The 6th Independent Technical Expert Group Meeting facilitated by the World Health Organization (WHO) on Thursday (August 26) focused on the COVID-19 situation in Sri Lanka and the way forward.
The experts recommend as an "urgent" response – the enforcement of stringent measures with compliance of the public to reinforce accelerated vaccination and a social support system for the vulnerable population.
"Maintaining stringency to reduce transmission, caseload and deaths will enable quicker economic recovery," they add.