UWL Alumnus rises in her career as a Member of the Management Board of a Fortune 500 Company
View(s):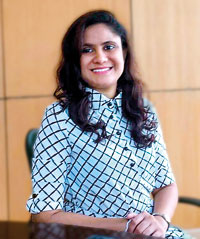 Highlighted for her remarkable achievements, Jayani De Silva is an outstanding alumnus of ANC School of Postgraduate Education. She became the 1st Sri Lankan to obtain a Distinction in the University of West London (UWL) Masters of Law programme, and achieved the highest average under the LLM programme, and in the Dissertation Component.
Jayani is the perfect example of what a hardworking ANC postgraduate can achieve. She talks about how her Master's in Law has impacted her career and shares advice for those who are considering doing their Master's degree during the pandemic.
Jayani completed her LLM in International Business and Commercial Law at ANC School of Postgraduate Education in 2016 and received a record-breaking number of awards at the ANC Awards Night & Graduation Ceremony. She became the first Sri Lankan to top the batch in both Sri Lanka and in the UK of the University of West London LLM Programme.
Moving on from education and jumping into the workforce, Jayani has continued to be exemplary. Jayani started her career in 2014 when she obtained her LLB degree from the University of Colombo, Faculty of Law with a Second Upper Class and took oaths as an Attorney-at-Law. She became a member of the Bar Association of Sri Lanka and worked at her current company as a Legal Officer. It didn't take long for her to climb the ranks in her career.
In 2019, Jayani advanced in her career to become the Head of Legal at Hitachi Digital Payment Solutions Limited and made history by being the first and youngest female appointed to the company's Senior Management Board.
"The UWL LLM in International Business and Commercial Law gave me the confidence to perform at a high level in an international organisation. The knowledge also offered a strong footing to work alongside high caliber professionals from around the world, and enabled me to progress in my career" she stated.
Hitachi was recently ranked as #95 under the Fortune 500 companies in the world making it to the Top 100 companies in the world.
Jayani is currently heading three legal departments, one based in Sri Lanka and two in the Philippines under the Group of Companies of Hitachi.  She is also a Member of the Singapore Sri Lanka Business Association (SLBA) and currently volunteering as its Digital Content Creator.
Here are the excerpts from our interview with Jayani De Silva.
Why did you choose to do a UK LLM qualification?
I obtained my degree at the Faculty of Law, University of Colombo. Therefore, I always wanted to gain foreign exposure for my LLM studies and obtain a foreign qualification – yet, I had various commitments in Sri Lanka.
By that time, I had already established my career and I did not want to break that momentum. That's when I came across in 2015 about the LLM degrees offered at ANC, which are British qualifications that are equally good. The ranking of the UWL is also impressive. Hence, I opted to follow the programme.
What made you select this particular course?
LLM in International Business & Commercial Law provides a thorough framework about all essential key aspects. Focusing on my career aspiration in IT Law, I did my dissertation on the Impact of Sri Lanka's ratification of 'United Nations Convention on the Use of Electronic Communications in International Contracts' on the domestic Electronic Transactions Act.  I was also fortunate to be mentored and guided by Mr. Jayantha Fernando who is an International IT law expert in the industry as my LLM dissertation supervisor.
How did the UWL Master's in Law help you in your career advancements?
UWL Masters qualification helped me to thrive and achieve my career goals. It enabled me to perform at the seat of a senior management board, and in an international company where daily business operations are done with clients from around the world. The educational qualifications you gain will boost your confidence in the work that you do, and of course soft skills and leadership skills is of utmost importance when advancing in your career.
How relevant is your UWL Master's in Law degree to the type of work you do now?
I oversee IT and Corporate Law which is well in line with what I studied. IT Law is comparatively new to Sri Lanka and it is vital to receive a proper introduction and a foundation to carry out research and learn to negotiate with international clients and lawyers. At ANC, the LLM programme helped me strike a balance between theoretical knowledge and more importantly, its application in real world situations.
What is your advice for those who are planning to do a Master's degree?
A lot of young people have asked me if they should wait for the face -to-face lectures to start, for their Master's degree. My advice is, if you are ready to pursue your Master's degree, whatever the platform is, you should start it immediately. Potential students should build confidence in learning via virtual online platforms, and not think about it being a challenge. It's new to all of us; from juniors to CEO's we must adapt to the change. Work-from-Home is already being implemented across the world by corporations and it could be the ideal time to stay home and navigate with proper time management to complete your higher studies or Master's degree.
ANC School of Postgraduate Education offers the General MBA, MBA for CIMA/ACCA/CA, MSc in Clinical and Health Psychology and LLM in Business and Commercial Law. For more information call 077 67 67 837 to book a counseling session online. Or visit www.ancedu.com or follow us on Facebook: https://www.facebook.com/ANCpostgraduate/ and "ANC_Education" on Instagram.