Study Medicine in Belarus Vitebsk State Medical University FINAL Admission Call!
Recognized by SLMC (SL), GMC (UK), ECFMG (USA), WHO etc.
View(s):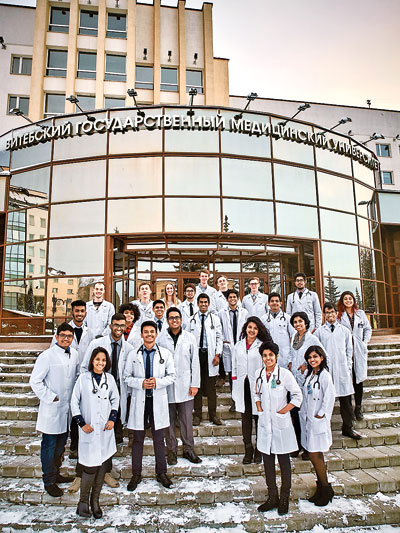 Are you looking for the best university experience with an academically rich programme, excellent clinical exposure in government hospitals which would allow you to work in Sri Lanka or in any country you desire as a Medical Doctor?
- Vitebsk State Medical University ranked as one of the Top 500 universities in the world for Academics. (Source – Rank Pro 19/20) with a  101-200th Impact rankings for (Health & Well-being) (Times Higher Education World University Rankings 2019) also considered as one of the oldest and most profound university is once again available for you to obtain  -
Special Zoom Session Invitation (Sinhala Online Event)
We invite all parents to join "A Special – Zoom Session (Sinhala)" – on the 10th of August 2021 on "Vitebsk State Medical University" with special guest appearance of Medical Officer – Emergency Treat Unit, Nephrology – Dr. Burhan Hamza (VSMU Graduate – Red degree holder (Batch Top) & one the Best Top 10 Merit performers of ERPM examination SL 2017) to speak to you on success story. Please dial below numbers to obtain the link.
About Vitebsk State Medical University
Established in 1934, Vitebsk State Medical University (VSMU) is one of the most distinguished higher medical institutions in the Republic of Belarus providing the 6 year Doctor of Medicine (MD) qualification to all passionate students. Since VSMU meets the International ISO 9001 for quality management systems, it is considered to be one of the European Leader in Medical Education and Research with more than 7200 students from 43 countries. Currently, many overseas medical students including more than 450 from Sri Lanka are currently studying medicine at the university. VSMU was recognized the longest in the SLMC list spanning to over 30 years. VSMU is the only state university which provides scholarships based on Academic Performances for excellent learning, active participation in research work and public life of the university ranging from 10% – 25%.
Unique Triple Qualification Pathway
If you are seeking to obtain an "Academically rich" medical degree, Sri Lankan students now has the opportunity to secure not just a "Medical Degree" within the 6 years of MD but a "Medical Degree" with "Two Additional qualifications".
This is an embedded programme which students can choose to do or not to do. This unique pathway of providing the additional qualification is an initiative advocated in 2019 by IMC Education, the official agent/representative for VSMU in Sri Lanka in partnership with Lincoln University College, Malaysia.
Within the 6 year MD (Doctor of Medicine) academic programme, completion from Year 1 to Year 6 – Students will obtain the original MD (Doctor of Medicine degree) on top of that during this 6 year time frame; if students request, you will be awarded with a BSc in Biomedical Sciences (1st – 4th Year) & a Master of Medical Sciences (4th or 5th Year). While the Doctor of Medicine (MD) is awarded by Vitebsk State Medical University, the Dual qualification of "BSc in Biomedical Science" & the "Masters of Medical Sciences" is awarded by the Lincoln University College, Malaysia. (Triple qualified pathway is exclusively for students placed by IMC Education)
Benefits of obtaining Medica Degree from VSMU with the Dual qualification
This initiative by IMC Education in partnership with the prestigious university in Belarus & Malaysia results in providing all Sri Lankan students with  3 International Qualifications within the 6 years of MD programme in its most affordable rates. It enhances the Academic portfolio of students who focus on foreign careers.
Since the Master's programme is a research based program students will have a comprehensive research behind their name when they graduate, Student will get the chance of publishing their own articles during the programme with the help of the Lincoln University Malaysia & the research orientation will present them a competitive edge over others during the postgraduate medicine program.
Why you should choose VSMU? And its significance over other state Medical education
With its moral to provide students with high academic exposure, VSMU becomes the top notch of Medical Education for its expertise in executing the Theoretical Learning & Practical Learning. In VSMU, Belarus, the Medical Degree is constructed in 2 Phases where the First 3 Years are of Pre-Clinical Training (Theory based learning) and Final 3 Years are of Clinical Training (Clinical based learning at State Hospitals). Medical Students are equipped with immense opportunity to study at Vitebsk in a city with 15 state specialized hospitals surpassing a 7000 bed capacity.
The levels of hands on experience & clinical training are well established, not only through the learning at State Hospital but also at VSMU experimental transplantation laboratory. The laboratory provides students hands on experience towards Surgery skill training on animals, Training the procedure of tissue and organs transplantation, piloting advanced training of medical personnel and Implementation of scientific projects.
Vitebsk State Medical University by no doubt evidently provides quality education delivered through modern learning facilities & up to date hands on experience in clinical training. Graduates of VSMU has shown a proven track record of performing well in the Sri Lanka Medical Licensing Examination of ACT16/ERPM resulting in producing high quality, well-mannered doctors for the Lankan future.
Support for Medical Careers overseas from IMC at VSMU. Work in SL, USA, UK, AUS
VSMU is determined not only for Academic program delivery but also providing medical graduates the facility to obtain careers overseas. While understanding that there is demand for doctors overseas, IMC Education as an official agent of VSMU provides the opportunity for students to train for Medical Licensing examinations for Sri Lanka & overseas destinations. IMC Education is partnered with Sri Lanka's No.1 ERPM/ ACT 16 trainers who would train Medical students either after completing the degree or could obtain the Continuous ERPM Education Programme (CEEP) which is structured to run in parallel with the MD in VSMU. Our partnership with KAPLAN Medical for USA (USMLE – Medical exam in USA) & partners in Australia for AMC Examination are equally incorporated for students to take up while studying at VSMU.
IMC Education is the only Sri Lankan organization to have a fully functional representative office in the Republic of Belarus and particularly in the state of Vitebsk to give post settlement services for Sri Lankan Students and look after their welfare needs for the entire study duration of 6-years.
Airports pick up by our representatives in Belarus |Arranging hostels before arrival
Arranging Private Apartments if they do not wish to occupy hostels (If students occupy either hostel or apartments, IMC Belarus office overlooks student safety & security) |Visa arrangements, accommodation and airport pickup for the parents during visits| Assist in purchasing essential items for on arrival to settle down in Belarus | Assist students to hospitals to complete initial medical tests, university registration process on arrival |Assist students medically (accompanying to hospitals) In case of medical emergency (24hour alert service)| Coordinating with the university and IMC – Colombo to assist the students to overcome any issues they face during the academic programme.
Assisting students in obtaining Internship in Belarus if they don't wish to come back to Sri Lanka and choose to work abroad straight after the medical degree |Any other services required by the students.
An opportunity extended by Vitebsk State Medical University as well as through IMC Education surpasses a boundary.
IMC Education is now opened in 154, Thimbirigasyaya Junction, Havelock Road, Colombo 05 for physical consultations (upon prior booking) or for online consultations. Please call
077 442 1597 / 076 826 8170 to book your appointment or for further insights to Vitebsk & its benefits for Medical careers in
SL and overseas.