ROTARACT in the forefront to stop the Spread again:
View(s):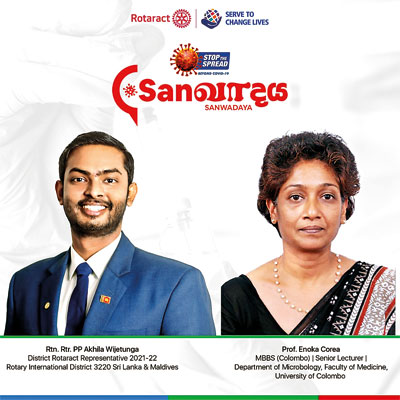 A knowledge first approach
One of the leading youth movements in Sri Lanka, Rotaract consists of nine thousand best youth brains launched a unique initiative branded "Sanwadaya".
This twice a month, thirty-minute programme will feature the experts in the field, with an aim to unveil the unknown truths of COVID-19 said the District Rotaract Representative, Rtn. Rtr. PP Akhila Wijetunga. In other words, it will be termed 'A truth well told' he voiced.
"The project will be carried out as a series of discussions with special invitees from the health, economy, social, environmental and education sectors to discuss the emerging situations, threats, complexities, and impact on each sector due to the COVID-19 pandemic. Rotaract in Rotary International District 3220 – Sri Lanka & Maldives core team, together with Rotaract Clubs of Faculty of Medicine University of Colombo, Matale, National School of Business Management and Royal Institute of Colombo came together for this task for the nation" stated the District Rotaract Representative.
In the backdrop of Sri Lanka being in a catch-22 situation, with around five thousand deaths and 345,000 infected with the COVID-19 virus, the first episode ofthe newly launchedinitiative "Sanwadaya", highlighted the importance of beingvaccinated. The key note speaker was Prof. Enoka Corea, a lecturer from the Department of Microbiology, Faculty of Medicine at the University of Colombo.
"The vaccine that you have access to is the best, and to be vaccinated as soon as possible is the best advice I can give to the country" was the key message by Prof. Enoka. Let's discuss the need for a booster later. Let's get that first and second jab, she further stated.
Rotaract is a part of the parent organization – Rotary that has a nonvoting seat in the United Nations General Assembly and has over 1.2 million members globally. In Sri Lanka, this entity conceptualised the 1st ever 'COVID-19 Control Environment Certification' which was the first the world has seen and it is being implemented by the Sri Lanka Standards Institute (SLSI), the Ministry of Science and Technology and the Government of Sri Lanka. Over three hundred companies have obtained the certification which is the only insulation that makes a company safer against the COVID-19 virus.
The second session of Sanwadaya, "The Frontline: Answering a call of duty" will be happening on 21st of August 2021 with Prof. Neelika Malavige, professor and the Head of Department of Immunology and Molecular Medicine of University of
Sri Jayewardenepura.