Lockdown announcement leads to "panic buying" once again; long queues seen outside many pharmacies and supermarkets
View(s):

Lockdown announcement leads to "panic buying" once again; long queues seen outside many pharmacies and supermarkets

When President Gotabaya Rajapaksa began his address to the nation at 8.30 pm on Friday, there were still long queues in front of leading supermarket chains in Colombo and other suburban towns across the country.

The quarantine curfew announcement by Health Minister and Cabinet Spokesman Keheliya Rambukwella at 2 pm on Friday, gave people an eight-hour timeframe to purchase essential items for the 10-day 'lockdown', with many speculating that it might be extended further.

People were standing in long queues in front of pharmacies and supermarkets for hours to buy groceries and medicines for their families.

The voluntary lockdowns by traders began early this week across many areas of the country where the virus spread was high, after the Government turned a deaf ear to full lockdown calls.

Last Sunday, at least 10 towns had their shops closed for a week, and more closures followed thereafter in other areas. Shops closed in Gampaha, Dankotuwa, Ambalangoda, Weyangoda, Dankotuwa, Serunuwara and Marandagahamula.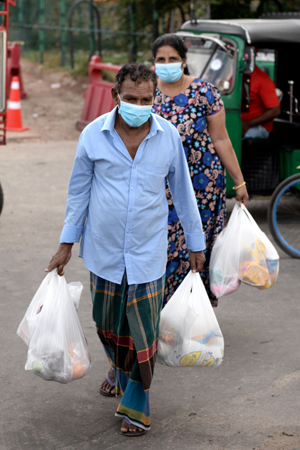 By Wednesday, shops in Puthukudiyiruppu, Kilinochchi, Badulla, Bandarawela and Hatton were also closed after a high number of Covid-19 cases were reported in those respective areas.
The move came as the Government announced a quarantine curfew from 10 pm to 4 am daily, effective from last Monday, and a string of other measures including a ban on weddings and functions.
However, traders said the nighttime curfew was not sufficient to contain the pandemic as trading takes place within the day and people gather at markets during this time.
In Hatton, locals lined up for hours on Thursday to get gas cylinders after two weeks of non-availability and many had to return empty handed after the main dealer in the city announced that only 75 cylinders were available for sale.
The traders associations' decision to close shops voluntarily due to the virus spread in their areas faced push back from Government authorities who alleged the decision would create difficulties for the people.
Opposing decisions by traders to close shops without prior notification, Nuwara Eliya District Secretary P K Nandhana said divisional secretariats and local government bodies should be informed about such decisions in advance.
Issuing a statement, Mr Nandhana said this is to ensure that people are not affected by these decisions and alternative facilities are put in place for them to complete their daily activities.