Critical to stop Delta from rampaging in other provinces as it has done in WP, says expert
By Kumudini Hettiarachchi and Ruqyyaha Deane
View(s):
Safeguard the other provinces from going in the same direction as the Western Province (WP) which is facing an onslaught from the rapidly-spreading Delta or the Indian variant (B.1.617.2).
This was the strong plea from Prof. Neelika Malavige, Head of the Department of Immunology and Molecular Medicine, University of Sri Jayewardenepura, who has been peering at the virus and all its variants closely.
"We should pre-empt and stop Delta from creating the same havoc that it is causing in the WP," she stressed, pointing out that genetic sequencing of samples from across the country are throwing up a "distressing" picture.
Following many appeals by different groups including the Maha Nayake Theras, the government on Friday clamped a curfew (nine full days and another six hours) from 10 p.m. to 4 a.m. on August 30 (Monday), allowing only essential services to operate.
During recent genomic sequencing, Prof. Malavige's team had found Delta in the WP and also in Kalutara, Ratnapura, Matara, Vavuniya and even in Matale and Nuwara Eliya areas.
She said that they did not get samples for sequencing from the Eastern, North Central and Uva Provinces, but given that Delta is in all the other provinces, it is "highly likely" that it would be all over the country. Therefore, inter-provincial restrictions were unlikely to have any benefit now.
"However, as Delta is now seen everywhere, it is absolutely important to reduce transmission in other provinces as much as possible, by imposing restrictions. There is possibly a time lag of 4 to 5 weeks in other provinces compared to Colombo and Gampaha, as Delta went to these areas much later. Therefore, if transmission is not slowed down as much as possible in other provinces, what we see in the WP could probably happen in 4 to 5 weeks in other provinces. Then these provinces too would be hit badly," she said, underscoring heavily that Delta spreads "rapidly".
Looking at the issue from a different angle, Prof. Malavige says that Colombo, Gampaha and Kalutara (the districts of the WP) have the best healthcare facilities in the country and the largest concentration of tertiary care hospitals and other hospitals including private hospitals. These areas, especially Colombo, have the largest number of doctors as well.
"Can you imagine the devastation that Delta will cause in other provinces where the health resources are not equitable to those in the WP," she asked, reiterating that there is a critical need to stop Delta from sailing into these provinces. With Delta, 2 in 5 people become symptomatic and if this happens in other provinces "it would not be a good situation".
Into the equation will also come the undeniable fact that WP is the "most" vaccinated province unlike any other, which makes it doubly important, to prevent Delta rampaging other areas, it is learnt.
Once a large proportion of adults in all provinces is fully vaccinated, then we can think about relaxing the restrictions. The premature relaxation of restrictions before vaccination is complete, only aggravates the situation as it takes time for vaccine-induced immunity to develop, said Prof. Malavige.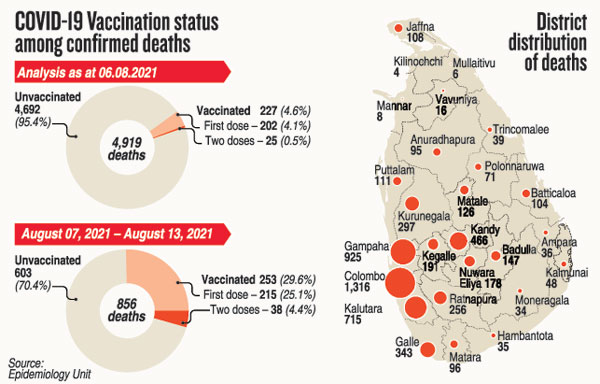 She pleaded: "It's not too late. Stronger measures will stop the buffeting of the other provinces by a Delta tsunami, which would otherwise leave a trail of severe disease and death."
Do we have to worry about any Delta variants?
Prof. Malavige explains that wherever there is a high transmission of an RNA virus (a virus which has RNA – ribonucleic acid – as its genetic material) like the COVID-19 causing virus, there is an "extremely" high chance of many mutations occurring. However, not all mutations are "bad" or would be "significant".
The "significance" or trouble comes if the virus mutant has the capacity for:
Increased transmissibility (infectivity)
Escaping vaccine immunity (the protection against the virus given by a vaccine)
Prof. Malavige says that there are signs that the Delta variant in Sri Lanka has mutated, with four mutations identified through the genetic sequencing carried out by her team at their laboratory on samples from the WP.
Allaying fears to some extent, she says that we should not be unduly worried because the "positioning" of the mutations "does not indicate a push towards them escaping vaccine immunity".
With regard to these four mutants of Delta being more efficient at causing a higher transmissibility, she says that they cannot state this for sure, as they have to carry out sequencing over a period of time and determine whether one of them becomes a 'dominant' player in the field surpassing all others.
"We are still studying them for the potential which indicates higher transmissibility, but it would take at least 2-3 weeks to determine it," Prof. Malavige adds.
A re-look at real world data on the vaccines

With many concerns wrinkling the brows of the people of Sri Lanka, the Sunday Times asked Prof. Neelika Malavige for an update on vaccines.

AstraZeneca – Studies in the United Kingdom have shown that both doses of AstraZeneca prevent severe disease (hospitalization) in 96%.

AstraZeneca both doses have to be administered within a span of 12 to 24 weeks.

Pfizer and Moderna have a similar efficacy as preventing hospitalization as AstraZeneca. The two doses of both have to be given within a month respectively.

Sputnik V – Studies done in Sri Lanka by Prof. Malavige's team show that one dose of Sputnik V helps develop neutralizing antibodies, but not to the extent of one dose of AstraZeneca.

Sinopharm – There is no data regarding efficacy against prevention of hospitalization with Delta. Sinopharm both doses have to be administered within four weeks. Prof. Malavige says that when looking at the Sri Lanka situation, Sinopharm seems to be preventing severe disease, two weeks after the second dose in Sri Lankans who have been administered the jabs.

When asked about a third-jab or booster, Prof. Malavige said that scientifically nothing has been proven in this direction. There is protection from vaccines for at least six to eight months. People can get infected, especially with Delta after vaccination. However, such infection is usually very mild and rarely leads to hospitalization. There is no data regarding the levels of antibodies a person should have to prevent infection and how important the other arms of the immune system are.

While America and some other countries have instructed that the elderly and those with co-morbidities should be given a third jab, Israel is already implementing such a programme for the same categories.

In brief: Health Promotion Bureau news conference

Here are the main points of Friday's media briefing at the Health Promotion Bureau chaired by its Director Dr. Ranjith Batuwanthudawe:

The Head of the Disaster Preparedness and Response Division of the Health Ministry, Dr. Hemantha Herath said:

3,806 new cases were reported on Thursday, while the death toll was 186.

95 ICU beds were occupied.

Of the 35,455 beds at the 224 treatment centres, 32,438 beds were occupied.

22,290 RT-PCR Tests and 6,437 Rapid Antigen Tests were conducted.

The total infected since the beginning of the pandemic was 373,165, the total recovered – 318,714 and the total deaths – 6,790.

The President of the Association of Sri Lankan Neurologists, Dr. Gamini Pathirana said:

With COVID-19 spreading very fast, those who are afflicted with neurological diseases such as agathaya (stroke), Parkinson's disease, dementia and myasthenia may be wondering if it is safe to go to hospital. If you have breathing difficulties, seek treatment at a hospital.

Adhere to the health guidelines – do not go to crowded places, when out of home wear a face mask, keep a distance from others and resort to hand hygiene.

Do not stop any medication that you have been taking

Do not smoke!

The Director of Non-Communicable Diseases (NCDs), Dr. Vindya Kumarapeli said:

Of 6,600 deaths 64% are among those who had NCDs and of 5,775 deaths up to August 14, almost 77% were among the over-60 category. In this group too, 85% had NCDs.

Those with NCDs such as diabetes, asthma, kidney disease, heart disease or cancer are at higher risk for complications if they get COVID-19.

It is important for those with NCDs to continue their long-term medication without interruption.

The Health Ministry has instructed hospitals/clinics to prevent crowding by getting patients on an appointment basis and also grouping the patients – some attend clinics monthly, others once in two months and still others once in four months.

If patients need to get their pressure or blood glucose checked, hospitals/clinics have been advised to allocate separate areas to prevent crowding and adequate digital blood pressure measuring equipment and glucometers have been provided by the ministry.

Instructions have also gone out to issue medications for two months to each patient at these clinics, while the system to send medications through the post remains active. This is while the Regional Directors of Health have been advised to get medicines delivered to the homes of patients in remote areas who find it difficult to access a clinic or have transport issues.

Patients have also been advised to keep in touch with their clinics while they could access the hotlines: 0720720720 and 0720606060 if they are unable to do so.

Those with NCDs should avoid excess sugar, salt and oil intake. Eat home-cooked meals. Avoid smoking and drinking alcohol.