Young and outspoken, their podcast breaks barriers
By Ruqyyaha Deane
View(s):
Unravelling the controversies behind the taboos, debating over what could be considered politically incorrect and connecting with their audiences over shared emotions such as grief, anger and confusion, The Real Talk is a podcast hosted by a few outspoken young minds who want to make their voices heard above the noise.
What began as an idea by two friends Sahan Dharmasena and Ronaldo Schokman, The Real Talk podcast was thought of during the beginning of the lockdown period last year as something to just pass the time by recording something new and different. Not wanting to rush it, they took the entirety of the period while confined to their homes to fully plan out what they would talk about and how they would begin a podcast inviting friends to banter with them and speak about various topics.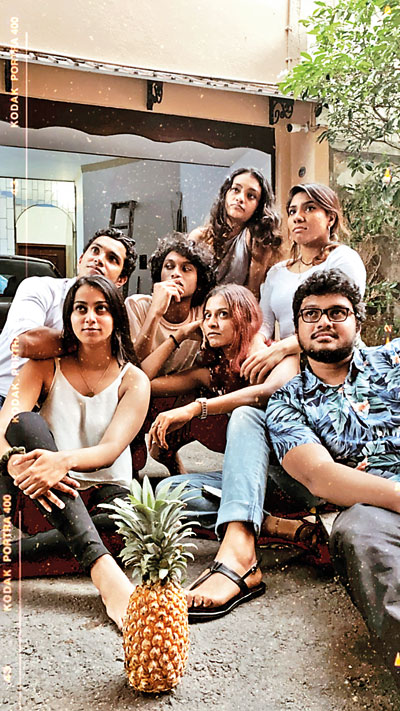 "After Episode 2 and 3, we realised people were actually listening to us and we began to focus more on taboo topics as those garnered a lot of attention. We wanted to talk about things people would rather not talk about," says sound engineer and editor Vishmika Suarez who is currently spearheading the podcast with Sahan.
The rest of the dynamic Real Talk team include Vishmi Silva, Himaya Perera, Yashodha Warnakula, Chandrika Manamendra, Anjalee Wanduragala, Jaimmy Nanayakkara and Afkar Laffar.
From racism, body shaming, consent, current affairs, mixed ethnic relationships and more, they tackle the issue by inviting guest speakers and panelists who have more experience and different views to join in on the podcast.
 "We did not want our episodes to follow a monotonous theme and we realised later on if we always spoke about doom and gloom, it would be disheartening. We included some lighter stuff as well because we wanted it to be fun as well as educational," says Sahan speaking about how they progressed from Season 1 to currently being on their fourth season. On these 'banter' episodes they just share amusing stories and poke fun at each other, on topics like online dating, hustling, etc.
Guest speakers have included Sharkshini Mathivanan on suicide, radio host Venuri Kalinga on Fake News, Secretary-General of the SLMUN Seth Ganepola on racism, while youth organisation 'Break the Chain' shared their view on campus ragging, etc.
Asked about how it feels to be the voices of the youth bringing to light topics usually left unspoken and encouraging others too to be vocal, they give the example of a Youth Parliament where youth are being trained to see how they in the future may lead the country. With Real Talk, "any podcasters who are part of our generation, have a lot of creative ideas. People are more eager to listen to someone of their age they can connect with rather than someone older who might bore them with their views," they say.
Of course this leads to their main challenge with hosting a podcast which is everyone's conflicting schedules whilst busy attending university, working and involved in various activities. However somehow with a constant rotation of podcasters, they make it work.
 " Our goal has always been pretty straightforward. If you check on Apple podcast and Spotify, we were number one in comedy interviews and comedy and number ten in all podcasts in Sri Lanka. Our end goal is to reach number one in all podcasts because we want to go international," Sahan says proudly of their vision for the future of The Real Talk podcast.
Check them out on Spotify, Apple Podcasts, and Anchor.fm! They also have an Instagram page @therealtalksl updating listeners on what to expect on their next podcast.
Meet the teamAn LLB undergraduate at the University of London (UOL), Sahan says he brings in the 'papare' vibe to the podcast with a touch of humour noting that when things get serious he adapts to that as well.A true ying to Sahan's yang, Vishmika is more reserved letting his work speak volumes in the background. Full of creative ideas and sage advice, Vishmika is known as the 'money-maker' of the group's social media with his enticing posters and video edits on Instagram that draw in their listeners.

Skilled debator Chandrika Manamendra, an LLB  undergraduate at the Kotelawala Defence University, is the man bringing to light opinions people stay away from or are afraid to vocalise .

'A gentle touch' is what UOL LLB undergraduate Vishmi Silva brings to the team. Known for her way with words and quick witted mind, Vishmi is the go-to host when addressing political and sensitive subjects.

Studying at the University of Colombo, Anjalee Wanduragala is brought in to handle the big guns, tackling the more serious podcasts with the required finesse.

Jaimmy Nanayakkara, is quite literally 'the voice behind Real Talk'. It's her voice you hear on all their title sequences welcoming listeners to the podcast. A team player since Season 1, she has been hosting since Season 3.

With politics and certain topics, you can never be too cautious. Afkar Laffar navigates those dangerous waters by being 'politically correct' as well as to the point. He is studying for an LLB at the University of London.

Yashodha Warnakula, the team's tech expert, who also hosts for a few episodes, is described by the rest  as someone who can turn his hand to almost anything.

Soft-spoken and versatile, Himaya Perera started out as their PR agent but has begun hosting as well.

One of their editors and main videographer, Bevan Perera is currently following CIM at the Dafedil Academy of Business & Marketing.

Co-founder Ronaldo Schokman is no longer an active part of the team due to other commitments.