Soul Sounds soloists win Gold at World Virtual Choir Festival
View(s):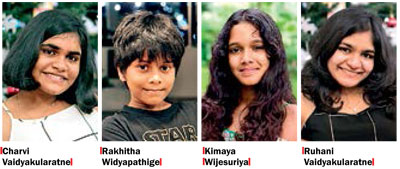 Talented young soloists of the Soul Sounds Academy have won gold medals at the 3rd World Virtual Choir Festival 2021 hosted by the Bandung Choral Society.
Charvi Vaidyakularatne was awarded a Gold Medal in the youth category, while Ruhani Vaidyakularatne bagged the Gold in the adults' category amid stiff competition.
In the children's category, nine-year-old Rakhitha Widyapathige won a Gold Medal and a Special Jury Award for sharing cultural heritage through song and dance, and Kimaya Wijesuriya was also awarded a Gold Medal in the same category.
"Beyond music education, Soul Sounds Academy believes in giving children the opportunities to perform, interact, and work with experts in music, as well as develop a passion to perform through international events of this nature. I'm thrilled that they're being recognized at this level by a world-renowned panel of judges!" said Soul Sounds Academy Founder Soundarie David.
The festival, which concluded earlier this month, featured participants from 18 countries including the USA, the UK and Wales, Italy, Malaysia, Netherlands, Nigeria, Philippines, Poland, Russia, Singapore, South Korea, Spain, Sri Lanka, Thailand, and Vietnam.