Jackson turns to 'Jathaka Katha'
By Susitha Fernando
Film Devi Sambula
View(s):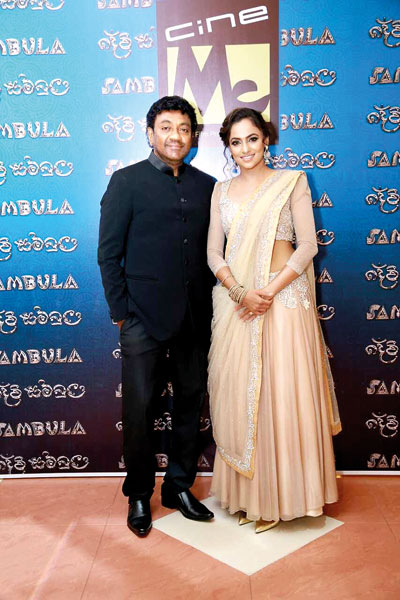 Actor, filmmaker and script writer Jackson Anthony is ready with his newest movie based on a tale from Jathaka Katha.
Planned to versions in Sinhala and English as 'Devi Sambula' (in Sinhala) and 'Sambula' (In English), according to Jackson this is the second film in the Sri Lankan cinema history where a film was made in to two languages. First it was in 1951 with Sinahala film 'Segawunu Pilithura' (Hidden Secret) which was made into Tamil as 'Kusumalatha'.
Having earlier directed films like 'Aba', a story based on the childhood of King Pandukabhaya ,'Address Naa', a lesser known story behind the city and its dwellers and 'Eka Gei Sokari'(yet to be released), Jackson over the years has made films on variety of issues. His fourth and the latest direction is based on a story from 'Sambula Jathakaya', the 511th tale of 550 Jathaka Katha.
"The woman has been portrayed in many different ways in Jathaka stories. But for me the most admired and greatest female portrayal comes in Sambula Jathakaya," said Jackson supporting his selection of Jathaka story.
Jackson said that in most of the instances in Jathaka stories, the woman has been presented with certain negativity. He cited Kusa Jathakaya and Illisa Jathakaya and also Sadhdharmalankaraya and Sadhdharma Rathnawaliya.
The three main and only roles are played by Udari Warnakulasooriya as Sambula Devi, Pubudu Chathuranga Prince Sothisena and Akhila Dhannudhara as Dhanawa Raksha.
Introducing a new producer to cinema Rohan de Silva of McLarens Group famed produces 'Devi Sambula' for CineMc Productions.
Behind the camera Harold Karunatileke-production executive, Dhammika Pathiratne- still photography, Venuka Yasas Sri Wickramarachchi-costume designer and Chatra Weeraman handles 3D animations.
To the lyrics of Professor Sunil Ariyaratne, Amarasiri Peiries and Madhavee Wathsala will do the playback singing. Art director is Dhamika Hewaduwaththa, make up is by Harsha Manjula, assistant director is Dinesh Lakdusinghe, and production executive is Dinusha Rajapathirana. Editor is Ajith Ramanayake, colour grading is by Dinudu Jagoda, cinematography is by Dhammika Rathnayake and musical score for the film is written by Chinthaka Jayakody.