A daring journey of a mother
View(s):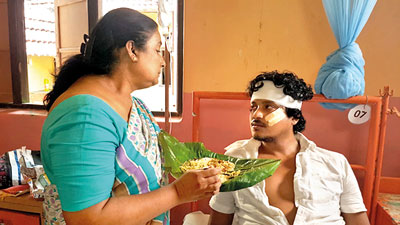 Christy Shelton Fernando's newest teleplay 'Sakuna Piyapath' is now being telecast at 7.30 pm on every weekday on ITN channel.
The cast include Wasanthi Chathurani, Janak Premalal, Grace Ariyawimal, Manohari Wimalathunga, Menaka Peiris, Jehan Appuhamy, Michelle Dilahara, Chathura Rajapaksa, Richard Manamudali, Anjana Premaratne, Sudara Randini, Berti Nihal Susiripala, Rupa Pathirana, Rinsly Weerarathne, Devinda Wickremasinghe and Anton Coorey.
The teledrama revolves around a courageous woman who has to suffer for a wrong decision she had taken as a youth and the it depicts how she struggles to change her destiny.
The protagonist, Muthumenika who runs off with a young man from the city, returns as a widow with two grown up children. As she returns to her village she finds that many things have changed. The main reason for her to return to her village was that her husband was a close associate of a leading underworld figure. He is killed as a result of a clash between two underworld gangs. Following this Muthumenika gets worried that her son would follow the footsteps of his father and end up in the underworld. Returning to the village she keeps the identity of her husband a secret. However Muthumenika's return also disturbs a few in the village.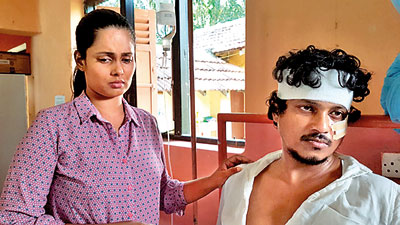 Her ancestral house is taken over by Tharanga, Muthumenika's step brother. Tharanaga has plans to take over the entire property of Muthumenika's parents. But all his plans are shattered with the entrance of Muthumenika and her two children. This leads to a clash between Tharanga and Muthumenika. In the meantime the two children who cannot get accustomed to the life in the village repeatedly request their mother to return to the city. Would Muthumenika have to get back to the city? What will happen to the clash between her and Tharanga? Await, until the final episode is released of 'Sakuna Piyapath'.
Produced by Wasanthi Chathurani and Shan Dissanayake, camera and lighting by Janaka Yahampath, editor Prasanna Kumara, screenplay by Aruna Premaratne, art director is Deepthi Mangalasoma and make up is by Shashendra Thumpaththu and music director is Kapila Poogalaarachchi.