Appreciations
View(s):

An illustrious career studded with endearing qualities as a human being

DR R.O.B. WIJESEKERA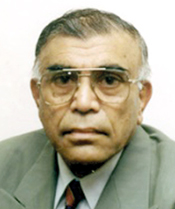 Dr R.O.B. Wijesekera, the doyen of Natural Product Chemistry, and a much loved figure among all those he worked with passed away on July 13, after a brief illness. He was 92. Knowing his abiding love of cricket, he would have said with a satisfied smile, "I have batted a good innings."  Dr ROB leaves behind his charming wife Marina.
Dr ROB's illustrious career as a natural product chemist and research manager is well known among the scientific community.  But not many know about his endearing qualities as a human being.
Dr ROB started his research career at the MRI in 1952 where he worked on indigenous medicinal plants. He proceeded to the University of Sheffield in 1955 for his PhD and returned in 1959.  He joined the CISIR in 1966 and built up a vibrant Natural Products Section producing research papers and patents at a prolific rate, gaining much fame in the field of spices and essential oils.  His immense contribution towards human resources development was the concept of a two-part Ph.D. system where several of his protégés were sent to spend brief periods in European laboratories by arrangement with his colleagues at foreign universities. Their work was then used for presentation of doctoral theses at local Universities. He was thus responsible for the conferment of PhDs on several of his staff, for which their gratitude is palpably displayed by their devotion to him.  Although scattered far and wide across the world they never fail to pay homage as it were to their beloved guru on their regular visits to their homeland. The words of one of his students L .N. Fernando, now in the United States, says it all: "Dr. R.O.B. Wijesekera, the man who changed the direction of my life, my mentor and my best friend".
For research in this sector and his leadership he was awarded the Guinness Award for Scientific Achievement in 1976 by the Commonwealth Science Council.
Dr. ROB's international career took off from here, when he served as a consultant to UNIDO-ESCAP on the essential oil industry. Thereafter he went to Guyana as Special Consultant to the Government and in 1978 he was selected by the WHO as Task Force Manager of their International Research Programme on Plants for Fertility. He was recruited by UNIDO in 1980 as a Special Technical Advisor to the Chemical Industries Branch and was responsible for the Industrial Utilisation of Medicinal and Aromatic Plants programme in several countries. He was instrumental in initiating major UNIDO projects in the areas of essential oils and medicinal plants in several countries, mainly in Asia and Africa. His extensive travels into exotic and little known areas is vividly described in his autobiography 'Clouds are not spheres nor mountains cones'  published in 2011.
Dr. Wijesekera came back to CISIR (then ITI) as the Chairman, in 1995, before taking over as the inaugural Chairman of the National Science & Technology Commission  (NASTEC), when the S&T Development Act came into force in 1998.  It would be remiss of me to omit the letters behind his name. Dr. Wijesekera was awarded an honorary D.Sc from the University of Sheffield, a D.Sc. Honoris Causa by the University of Peradeniya, was a Fellow of the Royal Society of Chemistry and a Chartered Chemist of the U.K., and Fellow of the National Academy of Science (Sri Lanka). He was a past President of both the Institute of Chemistry and the Sri Lanka Association for the Advancement of Science, and was also the recipient of the Presidential Vidya Jyothi Award.  He was much sought after as a consultant in both the private and public sector, and internationally. Almost till the time of his demise he served as Director/Consultant at Link Natural Products.
It is at Link Natural where I worked as the Editor of the Link Natural Digest with him as the Editor-in-Chief that I really got to know Dr ROB on a personal basis and learnt so much from him. His love for reading scientific material never abated, and his innate ability to just skim through an article and identify areas of research potential never failed to amaze me. He was a scientist with an incredible vision and uncanny insight into what subjects would interest readers.
Another unique characteristic was his phenomenal memory. He could recall childhood events as if they happened just the other day and even quote conversations verbatim.
His most endearing quality was his genuine concern for the welfare of his staff, professional and domestic, going to extraordinary lengths to assist them in any way he could.  As for me, he leaves an irreplaceable void in my working life as a mentor and sounding board. He influenced my thinking patterns immeasurably.
He was very much a family man – an amazing husband,  father and grandfather. He was so proud of his family's achievements and would talk about them so much that I felt I knew them personally.
He was an FRCS, not a medical one but a Former Royal College Student who distinguished himself both as a scholar and sportsman having represented his school in cricket and rugger. He would talk nostalgically about his schooldays and his Principal,  Bradby.
Dr. Wijesekera led a good life, and I know he will reach a place where his actions will be richly rewarded. May he attain the supreme bliss of Nibbana.
Dilmani Warnasuriya
---
Always courteous and gentle, he radiated an aura of goodness
Devaraja Somasundaram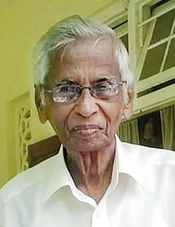 In 2008, my mother's school friend Aunty Sundari Abeywickrema took me to meet an extraordinary man. Aunty Sundari had been treated for breast cancer and had been introduced to the gentleman in her quest for an alternative treatment. I had just completed my chemotherapy and radiation for non-Hodgkins Lymphoma but had still not received the all clear from my oncologist.
She came bright and early, one Tuesday morning and off we went to a small bungalow tucked right in the middle of a quaint street in Wellawatte. We entered the gates of a property that had a style of house that is fast disappearing. The little garden in front was a haven with neatly cut grass and beautiful flowering plants. Sunbirds twittered and fed off the small bird feeders dotted about. An air of serenity was all about us.
We left our footwear at the base of the steps and climbed onto a verandah, where a dapper gentleman stood, wearing a white shirt and white trousers. Aunty Sundari introduced me but gave him no details about my ailment. Mr Somasunderam invited me into his office room that led from the verandah and asked me to sit on an upright chair placed in the middle of the room. From my cursory examination, he was a slight, neatly dressed man who had an expression of gentle amusement on his face.
After I was seated, he asked me to close my eyes and adopt a particular position; he said he was going to do a scan. I was curious because it was a room that was filled with books, a desk, and except for a laptop on the desk there was no nod to technology. I now know from having observed him at work that he was doing what he called a hand scan – which was to move his hands around the patient feeling for the vibrational aura field for any signs of ill-health. After what seemed like ten minutes, he asked me to open my eyes and began to recite a number of ailments that at that time, seemed quite minor – knee pain, back pain and headaches. I was not impressed. And then, he sat back in his chair and said very calmly that he didn't want me to get alarmed but I had some problem in my chest and needed to see a doctor rather urgently.
Of course, I told him that I was already under the care of an oncologist. He nodded in confirmation the minute I mentioned oncologist. Thus began a relationship of 13 years. For weeks at a time, I would visit the centre and receive treatment. Long after my cancer was in remission, I would continue to visit for ailments ranging from headaches to bronchitis. I always left feeling much better.
Mr Somasunderam ran the Pranic Energy Centre from his charming house. Using a philosophy that claims it is the energy field of any individual that first shows signs of illness, he and his team of Pranic healers used a system of non-physical cleansing and energising the chakras and energy fields to address various physical problems. His ability to diagnose was uncanny and each time, my friends whom I had introduced to him, as well as myself would come away very impressed. Needless to say, I got to know Mr Somasunderam, his wife and the other healers fairly well. He was always courteous, gentle and radiated an aura of goodness.
While my relationship was formal – I always called him Mr Somasunderam, I believe that we genuinely liked each other. He was a wonderful human being who gave the twilight of his years to the service of alternative medicine. He will be missed not only by myself and my family but also by the many people he helped in their time of ill-health.
Thank you Mr Somasunderam. May you rest with the Divine in eternal peace.
Ameena Hussein
---
The tough cop who was mentor and role model to many of us
Sumith Silva
It was way back in the early 70's that I asked for a transfer to the Mount Lavinia police station after a short stint at Eheliyagoda due to personal reasons.
The Headquarters Inspector in Charge of the Mount Lavinia police station was Justin Upasena, a mild-mannered officer who later migrated to the US. After Justin, came a hulk of a man with a rugged personality. I remember how he strode into the police station dressed in khaki trousers and short-sleeved shirt with massive forearms on display. He was none other than Sumith Silva, a six-footer who played rugby for the police team in the mid-50s.
He was the brother of Inspector of Police Rahula Silva – the most feared policeman in the 60s for that matter. Sumith however, was a different man with a knowledge of many subjects, be it police work or other social issues. He was a mentor and role model to many of us on many issues apart from police work.
Although he had a tough exterior and a temper, he was a kind person.  Above all he was honest to the core and fearless. A tectonic shift was witnessed by policemen after he assumed duties as HQI Mount Lavinia -as to how policemen should do their duty fearlessly. Inspite of the political interference that prevailed during this period he stood firm in the execution of police duties. Ultimately even politicians realized that he was an honest man and supported him in policing the area. The area was beset by crime plagued with robbery and thuggery that time.
Sumith also had done heroic acts when he was HQI in Embilipitiya according to policemen who served with him. Once disguised as a tractor driver he drove the tractor to a notorious hooch den in the area and asked for a drink. When liquor was served to him he pounced on the man, and arrested the owner who ran the illicit hooch den putting an end to what had been in operation for a long time.
An incident I recall was when two policemen boarded a SLTB bus at Dehiwela and had an altercation with the conductor who alleged that they had manhandled him. Later that evening the SLTB Ratmalana depot stopped operating buses. Transportation came to a grinding halt. Sumith however was able to convince the Member of Parliament Mrs. Vivienne Goonewardene that action will be taken against the policemen and the matter was settled forthwith.
May he attain Nirvana.
A retired police officer
---
She is with us forever
Gene Pullenayagam
She is not gone
For she left us great memories
Of remembered joys, and of courage and persistence
She lives in our hearts, and in our constant thoughts
Of things we remember, and of times we shared.
She breathes in our lingering thoughts and in our conversations
Her love of God and her faith, her belief in eternal life
She is in our senses, as we taste a spicy crab curry, or sumptuous lamprais
And as we trace the patterns on the patchwork quilts she so meticulously stitched with love.
She is not gone, she smiles at us when we see the sparkling stars
On a summer night, and when we see that moonlight glow
She speaks to us in the echo of words, through her dazzling smile.
We hear her gentle voice again and again encouraging us to constantly pray,
And pray for others in their times of need.
We see her move in the rhythm of flowering plants
That nod in the wind, and in the smell of curry leaves, mint, and lemon grass
She is not departed, her memory is always there to warm our hearts
To comfort us in our sadness, as we miss the days gone by.
She is not apart from us
For love of family and of friends is eternal
Even though she is sorely missed
She is with us
Forever.
Charmaine Candappa
---