Join CA Sri Lanka's internationally reputed BSc. Degree in Applied Accounting and be a sought-after finance professional
View(s):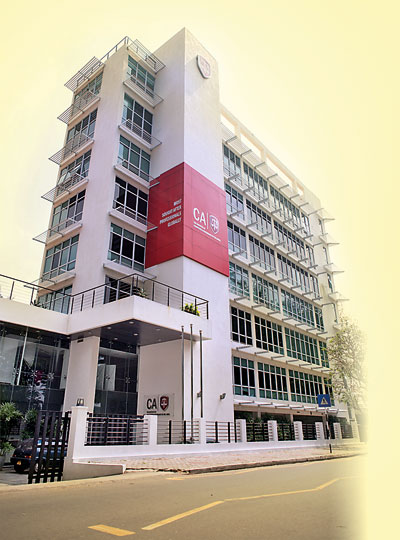 Completed your A/Ls?
Students who wish to pursue a successful career in accounting and finance can now register for the internationally reputed Bachelor's Degree in Applied Accounting offered by the Institute of Chartered Accountants of Sri Lanka (CA Sri Lanka), a world class professional body with a history spanning over 60 years.
Students who have successfully completed the GCE Advanced Level exam or the London Advanced Level (Edexcel/Cambridge) examinations with three passes can register for the CA Sri Lanka degree programme.
Additionally, professionals who are employed and have fulfilled the basic entry requirements can also follow the degree programme on a part time basis. Students with pending A/L results also can register for the degree.
The BSc. Applied Accounting degree offered by CA Sri Lanka is approved by the University Grants Commission and the Ministry of Higher Education
of Sri Lanka
The degree is designed to impart quality academic education specific to the existing and emerging requirement of the financial sector and has been developed with the objective of creating employable graduates with the required skills, competencies and industry knowledge to fulfill a successful accounting and finance career, both in Sri Lanka and overseas.
Meanwhile, students who follow CA Sri Lanka's BSc. Degree in Applied Accounting also have the added advantage of interning for a period of two years with leading corporates in the country. The Internship and skills development component help students to reach their full potential as they pursue their training at prestigious firms in the country, while gaining sufficient practical exposure in technical areas. Graduates of the BSc. Applied Accounting Degree of CA Sri Lanka, who have completed the four-year special degree programme will only have to sit for  the final level (Strategic Level) of the CA Sri Lanka programme while enjoying exemptions for the Business and Corporate Levels of the programme, thereby fast-tracking their route to become Chartered Accountants along with the academic qualification.
The BSc. Applied Accounting degree offered by CA Sri Lanka has also been internationally accredited from highly respected accounting organisations such as Association of Chartered Certified Accountants (ACCA), Chartered Institute of Management Accountants (CIMA) and leading Australian universities; Deakin and La Trobe, which offer credit transfer opportunities to students who wish to complete their second and third year of the degree in Australia.
Students who complete the degree programme successfully have an added advantage of securing a successful career locally and overseas in financial management and accountancy spheres, in the non-government and government sectors, apart from the private sector.
The degree from CA Sri Lanka is also a value addition when migrating, and when applying for permanent residency overseas and for a work visa.
The degree also guarantees a successful career in many countries including in the Middle East and Australia.
Registrations are now open for the August 2021 intake.