Appreciations
View(s):

He was a father figure to many of his students

Prof. H.Y. Ranjit Perera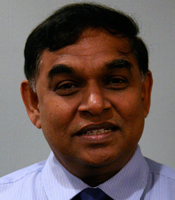 Impermanence is the law of life. This brutal reality was further underscored when my father, H.Y. Ranjit Perera, Emeritus Professor – University of Moratuwa (UoM), passed away very suddenly in the early hours of February 17. He had celebrated his 66th birthday just a few hours before.
Hettige Yasasiri Ranjit Perera was born on February 16, 1955 in the remote village of Angamuwa, in the eastern ebbs of Colombo district. The fourth of five children of the headmaster of the village school and his wife, he showed immense promise in mathematics from an early age. Having completed his primary studies at the Weragala school, he transferred to Hanwella Central College for his O'Ls and obtained the best results of the school. Joining Nalanda College, Colombo 10 for his A'Ls, he was ranked as island 7th in the mathematics stream at the 1973 A'L examination.
Peradeniya campus had the best Engineering Faculty of the country at that time. However, considering the economic state of his family (there was no Mahapola at the time) as well as ragging concerns, he chose to join the newly minted Katubedda campus and specialize in Electrical Engineering. Having graduated top of his field, he worked briefly at the Kelanitissa powerplant before being invited back to UoM as an Assistant Lecturer by his mentor, Prof. Samarajeewa Karunaratne.
Another turning point in his life came when he was offered a scholarship by the German Academic Exchange Service (DAAD). Having spent his first few months in Germany learning the language, he went on to obtain a Dipl-Ing (equivalent of bachelor's and master's) and Dr-Ing (equivalent of PhD) from the prestigious RWTH Aachen.
On his return, he became a very popular senior lecturer at the Department of Electrical Engineering (EE) with his friendly and approachable nature and common-sense approach to life. Throughout the 90s, he put his heart and soul into developing EE and helping UoM thrive. Our home would often host students and I cannot count the number of times I've overheard him advising them even on their love lives. He went beyond the call of duty and was the go-to mentor for many as he genuinely cared about the well-being of his students.
He was a strong proponent against ragging, and there was a period in the late '90s where he would often come home late after going on patrol with his colleagues to bust ragging. However, that did not mean he gave his students an easy time in his subjects. He was highly committed to increasing the quality of education.
I recall how surprised he was when he was promoted to Professor. He had applied for a promotion expecting to be promoted to Associate Professor, but the reviewers' responses showed that he had underestimated himself. Additionally, he possessed this unbelievable state of Muditha – the Buddhist teaching of being happy of others' joy. He rejoiced when the people around him made progress and always aimed to encourage them to surpass him.
When heading EE, he introduced two new MSc degrees from the department (in Industrial Automation and Electrical Installation). He also spent a stint at the Public Utilities Commission of Sri Lanka as its Director General/Chief Executive Officer and was instrumental in passing the Sri Lanka Electricity Act. He had a very practical vision on establishing a cost effective and reliable power sector in Sri Lanka. Rural electrification and alleviating energy poverty held a special place in his heart.
Prof. Perera then functioned as the founder Dean of the Faculty of Engineering at the General Sir John Kotelawala Defence University, pioneering the introduction of several new undergraduate degrees while improving the resource pool of the faculty. This was followed by a stint as Chairman of the Sir Arthur C. Clarke Center for Modern Technologies. He recorded numerous academic publications and patents till his untimely demise.
He enjoyed spending time with his loved ones, travelling, farming, playing chess or FreeCell on his computer and watching the occasional Sinhala soap opera. He enjoyed life to the fullest. His simplicity was unparalleled. Upon his retirement, he began writing a book on Buddhism from a scientific lens. Unfortunately, he could only complete one chapter.
He was always proud of being an academic. He saw free education as an opportunity for communities to grow. His belief was that when a student gets a degree, she/he finds an income source that supports the upward mobility of an entire family. He strongly believed that higher education opportunities must be expanded. He was extremely proud of his 40 years' service at UoM and considered it a privilege to have been part of the development of thousands of engineers. I remember him proudly telling me many times on how the power sectors of some foreign nations are dependent on Sri Lankan engineers and how that is an indication of the quality of UoM and the potential of our human capital.
My beloved father's demise made me realize that he was a father figure to many of his students. A true mentor yearning to see his students thrive, he opened doors for many without expecting anything in return. His joy in life came from contributing to others than in enjoying power, prestige, or luxuries in life. The torrents of messages we have received since that heartbreaking day stands as evidence to that. Aptly, Prof. Perera became the first UoM Engineering Faculty graduate to attain Emeritus status after completing his tenure with the university.
My parents had a very loving family life for almost 38 years. My mother was a pillar of strength behind his success as an academic, supporting him in all aspects of life. As their only child, my father engineered my life from teaching me English after work using comic books to discussing current events. He always treated me like a peer rather than a child! We were the best of friends, and he was my role model. He was thrilled when I chose to follow his footsteps into academia. He leaves behind a massive void.
We are in the process of compiling a felicitation issue in his honour and invite anyone interested in sharing memories of my father to write to hnilesp@gmail.com.
Dr Niles Perera 
---
Memories of a wonderful uncle
Ranjit Goonetilleke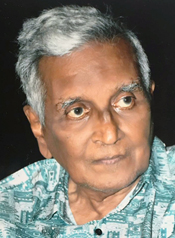 Joseph Leonard Ranjit Goonetilleke, my mother's younger and only brother was born at home shortly before midnight on December 31, 1936. Home births were not uncommon then, but in that instance, my grandmother had contracted chickenpox and that was why he saw the light of this world in his parental home. It is therefore ironic that he left his earthly abode when the country was in the grips of the third wave of the COVID-19 virus, having spent the last few weeks of his life at ICU 2 of the Kotelawala Defence University hospital, reserved for COVID patients.
My memories date back to the early '60s… and as my sister recollected he was a benevolent uncle who lavished us, his nieces with generous gifts. I still have the walkie-talkie doll, now a collector's item that he brought me his only niece at the time, when he returned from training in the UK. Ranjit Uncle joined the Air Force when it was still the Royal Ceylon Air Force and rose to the rank of Air Commodore in the Sri Lanka Air Force. I recollect the holidays our family spent at Air Force holiday homes, Air Cottage in Diyatalawa and Bambara House in China Bay in the late '60s.
Five decades later, memories of his service wedding are still vivid.   In 1970, our family was blessed with yet another daughter, and my uncle produced a son, our one and only maternal first cousin.  I recall the enjoyable holiday in 1972, when us three sisters, the youngest was too young, emplaned at Ratmalana, seen off by our parents. There was our uncle on the tarmac at China Bay to welcome us. Although a mere 45 minute flight, it was a momentous journey for me – barely a teenager entrusted with the care of my younger siblings. We had an extended stay with my uncle, aunt and cousin as the flight that we were scheduled to return on had been cancelled.
Birthdays and Christmas were a time of fellowship. After I met my soulmate and we spent the mid-1980s pursuing our postgraduate studies in London, my uncle made it a point to break journey there to visit us. He and my late husband enjoyed each other's company. My uncle was most concerned and supportive when my husband fell ill.
Tragedy struck in 1990, when his dear wife succumbed to cancer. Strangely he lost his sister, our mother, almost to the day, a decade later. He was a daily visitor to see Amma during her prolonged stay in hospital and sacrificed a trip to England when he realized that she had not long to live. The poignant tribute he delivered at her thanksgiving memorial service, recounting his memories brought tears to many present. Just last year, two decades on, he reiterated his appreciation of her life.
After the demise of our parents, my father following my mother within a space of two years, the venue of Christmas lunch moved to the home of Aunty Chitra and Uncle Ranjit, where in the company of Rajiv, his son and family, we would be treated to their generous hospitality.  A particular memory that I cherish is that of Christmas evening 2004 when my Uncle and Aunt hosted the annual get-together of extended family, that of my mother's cousins, their children and grandchildren. It was an unbroken tradition continued over many decades, with Santa paying a visit and joining in the carol singing and distribution of gifts. Enjoying that evening none of us ever anticipated the devastating tsunami that would occur in the next few hours.
I recall numerous occasions that my husband and I stopped by on our way back from trips to Colombo and enjoyed a chit-chat and cups of tea at their Havelock Town home. Whatever time of day, we were always made welcome.
Ten years ago, Ranjit Uncle was very keen to celebrate his 75th birthday in a special way, particularly because neither of his siblings had made it thus far. Making the customary speech that night, he used cricketing parlance to refer to his second marriage. If I may use the same jargon, his second innings lasted longer than his first and he completed a quarter century, a few weeks prior to his departure from the earthly pitch.
May God grant him the eternal rest that he richly deserves.
Premini Hettiarachchi
---
He did so much service to humanity, side by side with the noble profession he chose
Dr Ashley Senarath-Dassanayake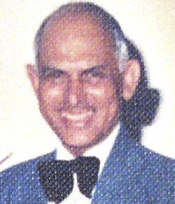 Ashley became my brother-in-law when I married his youngest brother, Shelton. However, I looked up to him and respected him as my own brother and always called him Ashley Aiyah.
His father was Proctor Frederick Senarath-Dassanayake who resided at Katuwellagama Walawwa, close to Katana and his mother, Caroline Meraya Jayathilleke, hailed from Debaraliyadda Walawwa in Pannala. Together they had six children and Ashley was second in line. He spent his childhood in his ancestral home, while attending school at Maris Stella College in Negombo. Later he joined St Joseph's College at Darley Road, Maradana from where he entered the Medical College. He passed his finals with a class and later went to UK to complete his postgraduate studies. He chose the field of Obstetrics and Gynaecology to specialise.
Returning to Ceylon armed with a F.R.C.S and F.R.C.O.G, he was posted to Anuradhapura General Hospital as VOG. After serving there for five years, his next term was at Badulla General Hospital. Finally, he was able to get a place in Colombo at the Castle Street Women's Hospital as VOG.
He was a practising Buddhist who never touched any alcohol or tobacco. When he was on leave, he would make use of it for meditation at the nearest Aranya. He also joined hands with his friend and colleague, Professor Nandadasa Kodagoda, to promote the Temperance Movement and other Buddhist activities.
I was a live-in patient at both Anuradhapura and Badulla Hospitals, and I remember seeing him speaking to young, pregnant, first-time mothers and older women with other complications who generally feared hospitalisation. He would say "baya wenna epa. Hema dema hari yai" (do not fear anything. Everything is going to be ok). These were words that soothed them and gave them confidence. He would chant the Angulimala piritha at deliveries. These patients almost worshipped the ground he walked on. He was kind, patient and understanding. When I requested a caesarean at childbirth, he obliged me both times, understanding my anxiety. If not for his understanding and concern, I would not be alive today to pen these lines of appreciation. I often tell my family that I owe my life to him.
He did so much service to humanity, side by side with the noble profession he chose. We all miss him and remembered him on his 24th death anniversary which fell on August 3. May he attain Nibbana — which he richly deserves.
Pearl Senarath-Dassanayake
---
Her life was a melody
Mala Chellappah
Childhood memories overwhelm us as the endearing unity among the four sisters enriched our own lives. They supported one another, loved, prayed, cared and gave unreservedly through the best and worst of times. Faith and trust in God were central, translating in ways that impacted each one of us indelibly.
Mala's life wove its own colourful and unique thread through a tapestry of experiences that marked both our youth and adulthood. As the weight of time and ill health began to take their toll, Mala's physical frame weakened. After she lost her beloved Babi, we were gladdened to have Mala in the care of our mother Esther who took her 'little' sister into her home and under her wing with utmost love and tenderness. The two were inseparable and together with Queenie overseas, forged close bonds as a threesome.
Mala's courage shone through her frailty, as she held on to life despite many a health crisis. Her voice, now fragile and tremulous would rise up dauntless to join in, as we sang her favourite hymns and songs over her…
'Hide me now under Your wings, Cover me under Your mighty hand, When the oceans rise and thunders roar, I will soar with You above the storm Father, You are King over the flood!I will be still; know You are God.'
Yes.  Mala's life was a melody. An infectious melody of love, laughter, joy and simplicity. A melody that touched our lives. A melody that sometimes modulated through minor keys and cadences, before finding the way home to its final chord, at rest with the God she so loved to worship.
Soar high and free our lovely Mala; where your song and melody blend with the eternal, unceasing songs of Heaven.
Chris, Michael, Naomi, Christine and David
---
Thank you for the amazing 17 years we shared as mother and son
 Shayanka Abeyratne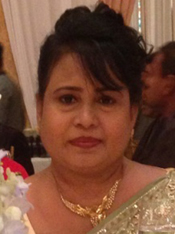 One year ago you left us on that fateful day. It's difficult to lose such a great friend and the best mother ever. You meant so much to my life. With your sudden departure, our lives have been empty, filled with nothing but sadness.
There were times where you told me that the best thing in life was just spending some time with me – talking, and those are golden memories for me too. I'm blessed to call such a brave and strong woman "my mother". Some day I would say that it's my mother who taught me that nothing is impossible in this cruel world. It was an amazing 17 years of my life that I spent with you; what you taught me in life, the knowledge you imparted to me. I never got an opportunity to say "thank you".
There were times my mother wasn't able to walk straight, but still she was the person who went to the supermarket to buy the essentials. Most people stay home when they are disabled, but my mother never wanted that title (disabled) added to her name. She always wanted to be a great example to me.
Right now I feel the absence of a great mother, but I will still smile thinking of those beautiful memories, that are a treasure to me. No matter what her situation was, she still smiled and made friends around the world.
Herr name will always be remembered and respected. It's going to be a hard journey in my life to make decisions and survive without the best woman who supported me. I miss you a lot Amma. You will always be in my heart. Till we meet again in that beautiful shore.
Rest in peace Amma!
Shavinda Abeyratne (son)
---