Rejuvenate your career path with a Global MBA from Top Ranked University at MSU
View(s):
There is no doubt that 21st-century economic dynamics have changed the landscape of business at home and abroad.
Global organisations and establishments at all levels of management in corporate and industrial sectors seek cost-effective ways to stay afloat in the red ocean. One vital question remains: is the current human capital or talent resources able to adopt and adapt to the megatrends of disruptive changes?
The combined approaches of Management & Science University (MSU), Malaysia to 21st-century learning and industry-driven education have built strong traditions that enhance current and future pools of human capital assets to address the challenges of 21st-century Knowledge Economy.
The MSU Master of Business Administration (MBA),centred at the Graduate School of Management (GSM) is geared towards producing highly competent professionals who are globally competitive in the relevant fields and contribute to the socio-economic development of the country. The school provides opportunity for executive careers to be boosted with expanded global perspectives. Focused on real-world practices, students can go up the corporate ladder as competitive individuals.
MSU offers an affordable MBA, meeting world-class standard in teaching and leading, with industrial collaborations that create a sustaining network of graduates and managers who are well prepared to face the demands of 21st business borders.
This programme aims to enhance students'credentials and knowledge to perform effectively in a cutting-edge business environment. The curriculum provides a comprehensive grounding in general management theory with focus on strategy, decision-making, entrepreneurship and leadership.
MSU's MBA remains high in the priority list of 21st century education for professionals and leaders in generating business-centric skills to meet human capital demands of new business perspectives around the globe.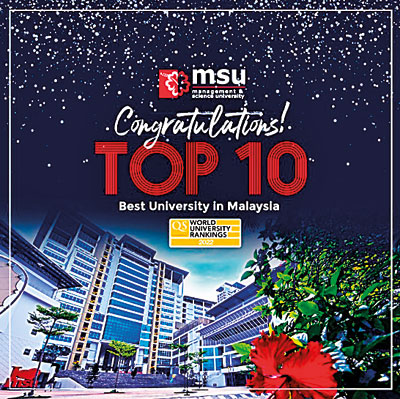 Features of the MSU's MBA programme;
Industry-based Dissertations: The research work is an integral part of the Masters programmes and is closely supervised by faculty members from MSU-Malaysia and MSI- Sri Lanka. Students are encouraged to complete an industry–based dissertation that is directly relevant to their work. In addition, personal supervisors are also assigned in relation to their dissertations.
MBA Modules: Adopting global standards of industry best practices, MSU's MBA modules pioneer new direction in building capacity and enhancing key abilities for all levels of management spectrum in business innovation, strategy, and decision-making skills across entrepreneurial, management, finance, ICT technology, governance, and human resources spectrum.  MSU MBA seeks to transform the real-world practice into classrooms for an immersive 360-degree experiential learning excitement.
Awards and Accreditation: MSU achieved Excellent Status University thrice on the national university-rating system SETARA by the Ministry of Higher Education Malaysia University Rating for Teaching, Employability, Facilities, Social Responsibility, and Inclusiveness. It is Winner of The Most Entrepreneurial Private University by MOHE, Malaysia. MSU has also been awarded Platinum 5 Crowns by the UK's Accreditation Service for International Schools, Colleges and Universities (ASIC).  MSU is Asia's first to be recognised by Netherlands-based ACEEU as an Entrepreneurial and Engaged University and is the Asia Pacific Best Brand in Education for Leadership and Human Capital Development.
International recognitions: MSU is member of the Association of Commonwealth Universities (ACU), UK and recognised by University Grant Commission (UGC) Sri Lanka. MSU accreditors include the Malaysian Qualifications Agency (MQA), the United Kingdom's Accreditation Services for International Schools, Colleges & Universities (ASIC), the Japan's Alliance on Business Education and Scholarship for Tomorrow (ABEST21) and the Accreditation Council for Entrepreneurial & Engaged Universities (ACEEU).
Academic Faculty: MSU Graduate School of Management has an excellent panel of lecturers both part time and full time who offer a stimulating and challenging learning experience. Our full-time faculty is supplemented by visiting lecturers, experienced industryleaders and experts.
Excellent Student Support Services: The MSU Graduate School of Management provides a supportive environment in which individuals can flourish and grow in their pursuit of knowledge. Students are provided with individual assistance on academic matters through our mentoring system.
Flexible Programme Delivery: The programme is designed to help students with work life balance.
MSU currently ranks in the Top 100 among the world's top young universities, Top 200 among Asia's best universities, Top 301+ for Graduate Employability Ranking and Top 401+ for University Impact. Ranked by both Quacquarelli Symonds (QS) and Times Higher Education (THE), MSU's world rankings place it in the Top 47% of the world's best universities in QS World University Ranking 2021 and Top 200 for impact on quality education, gender equality, and decent work and economic growth in THE University Impact Rankings 2020).
Besides MBA and PhD programmes, MSU's offers key degree programmes that students can complete in Sri Lanka, MSU Malaysia or partner Universities worldwide including, Australia, UK, Japan and Germany.
MSU through their local learning center, Management & Science Institute (MSI) offers students with a wide range of Diploma programmes with aims to develop knowledge and skills of students while preparing them to obtain employment or continue their higher studies. MSI currently offers diploma programmes in a wide range of interests including Hospitality and Tourism Management, Biomedical Science, Event Management, Business Management, Accounting, Dialysis Technology.
Further information on the programmes can be obtained from Management & Science Institute (MSI) at No 300 Galle Road , Colombo 03 or  contacting  us on   0112576644, 0112576700, Hot Line 0770777880, email  enquiry@msi.edu.lkwebsite www.msu.edu.my