Nippon Paint Announces Winners for Asia Young Designer Awards 2020/21 International Finale
View(s):

Futuristic designs that accommodate the growth of sustainable communities and cities with a human-centred approach took centre stage during the virtual awards ceremony.

AYDA 2020/21 saw Ironi Padmaperuma & Dilik Abeyakoon from Sri Lanka emerge as the competition finalist.

The latest instalment of Asia Young Designer Awards (AYDA) International Finale organised by Nippon Paint came to a successful conclusion following the announcement of Dayana Aripin and Evva Lim Fee Yah, both from Malaysia, as Asia Young Designers of the Year 2020/2021.

The winners were announced across 23 finalists from 13 participating locations including Ironi Padmaperuma & Dilik Abeyakoon from Sri Lanka. The budding designers, whose empathetic instincts to envision spaces that are both innovative and sustainable grabbed the attention of the judges in the international competition this year.

"Congratulations are in order for local winners at AYDA 2021. Nippon Paint is humbled to be part of such an iconic event that serves to platform and recognise exceptional talent in disciplines of architecture & design. This year's event was carried out entirely virtually given the prevailing circumstances.

Nippon Paint has been and will continue to be a brand that is committed to empowering emerging talent in design & architecture locally as well as globally" said Nemantha Abeysinghe, General Manager, Nippon Paint Sri Lanka.

Held virtually, this year the international design competition revolved around the theme of Forward: Human-Centred Design, setting the stage for aspiring designers to create spaces that are socially conscious while being innovative and sustainable. This train of thought is a much-needed aspect to designing, especially in growing economies like Asia that sees a steady population growth.

However, this growth is also tied back to rapid innovation and technological advancements in the region giving architects and designersan opportunity to design visionary cities with spaces that reflect the local culture and serve the many needs of its people as we move toward smart and sustainable infrastructures. This theme of Human-Centred Design was prominently displayed in the work of the finalists who represented their countries at the global design platform.

In the Architectural category, the Sustainable co-living community hub presented by IroniPadmaperuma won the Nippon Paint Colour Award. A student of the City School of Architecture, Padmaperuma proposed a design to empower the tea sector of Sri Lanka by introducing a secondary industry – tourism – in order to create a 'mixed income community' to diversify income & empower locals.

Meanwhile Dilik Abeyakoon also from the City School of Architecture bagged the Nippon Paint Colour Award in the Interior Design Category for his journey through a zero waste to energy plant project.  The waste to energy plant serves as a sustainable solution to Colombo's municipal solid waste management system. It is a renewable energy method which converts post recycled waste into electricity.

Commenting on his achievement, Abeyakoon noted: "We are grateful to AYDA & Nippon Paint for providing local talent a global platform. AYDA is a brilliant opportunity to align our standards and thinking with international counterparts. Sri Lankans have performed exceptionally in the past years and we are truly glad to have been able to continue to winning streak this year as well notwithstanding the pandemic."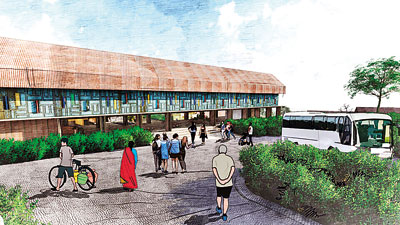 "We are very impressed with the work that was put together by the participants and winners of AYDA this year. As we speed toward creating cities that support sustainable living, we will be challenged to create out-of-box designs and spaces that are able to support commerce and community and are able to withstand the many winds of change we are likely to face in the future. This forward-thinking outlook to design was reflected with great precision in many of the final submissions, making our roles as judges all the more challenging but interesting, nevertheless. My heartiest congratulations to the winners and I look forward to the same outcome for the next year as well," said Ar. Sibarani Sofian, one of the judges for the Architectural Category and founder and director of Urban+.
"The entries that we received this year clearly show that participants are much more than designers and that they understand the human nature and construction of modern-day society. It excites me greatly to see how young designers are portraying a sustainable future through art and I wish all the participants good luck in their endeavours. Kudos to Nippon Paint and Asia Young Designer Awards for creating such a great platform for young creatives," said Ar. Jabeen Zacharias, one of the judges for the Interior Designer Category and chief architect at Jabeen Zacharias Architects.
Adding a unique experience to the AYDA journey, this year the international design competition organised by Nippon Paint took special care to include several digital interactions and virtual coaching sessions to ensure that all the participants were able to interact with recognised industry mentors and coaches. The event proceedings even included online workshops for participants to sharpen their creative storytelling skills before the virtual awards ceremony that was held live and garnered over 700 views during the event. To watch the full recorded award ceremony, watch it on AYDA's YouTube channel at:https://youtu.be/uyVuF6Q0Eng.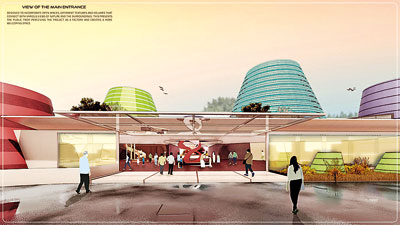 "The past year has shown the importance of innovation, sustainability and empathy as we continue to brave the global pandemic. This edition of AYDA therefore holds a great significance in our journey forward and I am proud to have come across great entries that were visually stunning and focused on creating innovative space and design solutions with a human touch. As we move ahead, we will continue to nurture this platform for young designers and motivate them to create impactful spaces and designs for generations to come," said Mr. Wee Siew Kim, Group CEO of NIPSEA Group.
Keeping the flame of creativity going, AYDA by Nippon Paint has begun the journey toward its 14th edition, bringing together young designers, mentors and industry professionals under one roof.
Themed Amplifying Empathy through Design, AYDA 2021/22 is open for entry submissions and will push the boundaries of ingenuity even further. Information on the 2020/21 edition of AYDA could be obtained from asiayoungdesignerawards.com.