Shine as a Confident Communicator in New Normal
View(s):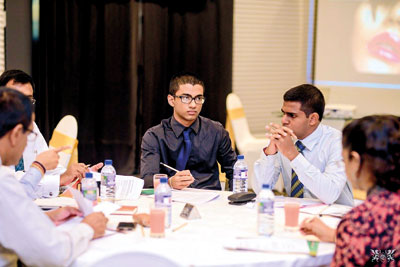 As the world is adjusting to the challenges of the Covid 19 era, only the smartest and most effective people will be able to make an impact and go forward.
The ability to speak out and make presentations in public will give you a cutting edge as you face new challenges in your life and career in the new normal.
PERSONAL AND PROFESSIONAL DEVELOPMENT
The Rainbow Institute of Communication and English, a centre for excellence in Communication, English and soft skills, has introduced new teaching delivery methods and revised curriculum to meet the new needs of the post covid 19 challenges.
As Rainbow Institute completed 10 years of service last year, we are strengthening our mission,   to empower children, youth and adults with communication skills.
Rainbow Institute training adhering to internationally endorsed benchmarks is distinctive in that it is offered with Sri Lankan warmth and hospitality and adapted to meet the needs
of Sri Lankans.
All Rainbow Institute instructors and have rich experience and high qualifications with international exposure. They are passionate in empowering their students
PERSONAL ATTENTION AND ACTIVITY BASED TRAINING
Rainbow has resumed physical training for small groups and individual coaching adhering to health regulations in the class room. We are also continuing our online training that we launched successfully in March last year.
We use the latest interactive and participatory methodology, to ensure that the learning experience is enjoyable and impactful.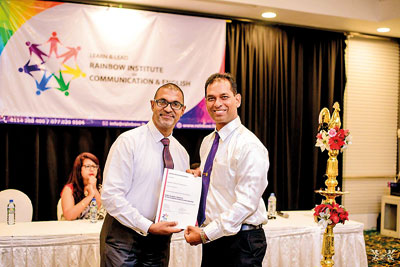 We   provide personalized attention to each student and provide ample opportunity for each individual to practice the skills that are being imparted,
PUBLIC SPEAKING AND SOFT SKILLS
Our training includes the following subject areas: Public Speaking and Presentation Skills, Business English, Spoken English, Academic Writing, Writing for Project Management. , Oratory, Debating, Speech Craft, Elocution, Grooming and Etiquette, Soft Skills, Train the Trainer, IELTS, English for Expatriates
CORPORATE TRAINING
We also carry out training for groups of employees in organizations. This training is designed in collaboration with training departments to meet specific needs of organizations and meet training objectives.
We are honored to count amongst our corporate clients many top companies  and diplomatic missions in Sri Lanka.
SINHALA FOR EXPATRIATES
We also offer training in basic Sinhala with insights to Sri Lankan culture for expatiates who want to fit in well to
Sri Lanka.
CONVENIENCE OF CLIENT
For those who opt for individual training on a one to one basis, a personal instructor will work closely with the student and conduct training according to times suited to client.
Act Now.  Call   Lovelyn,   on 077 509 0400 or Yash on
077 857 0897  or  for further information to arrange personalized coaching  or join a small group class to suit your specific needs and convenience.
RAINBOW INSTITUTE OF COMMUNICATION
30 Amarasekera Mawatha, Colombo 5
Web: www.rainbowinstitute.lk
Facebook: Rainbow Institute Lanka Pvt Ltd
E mail : Info@rainbow.lk
Tel: 0114380400, 077 509 0400, 077 857 0897