Orientation Session for New Postgraduate Students of University of West London at ANC Education
View(s):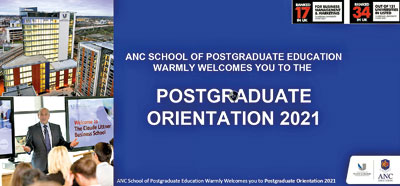 Enrolments Open for Next intake in August 2021
ANC School of Postgraduate Education successfully concluded the New Student Orientation sessions on 25th June and 23rd July 2021 for the General MBA, MBA with Exemptions for CIMA/ACCA and CA, MSc in Clinical and Health Psychology and LLM in International Business and Commercial Law programmes to commence their Postgraduate studies at ANC in the Summer 2021 intake.
Over 200 students attended the University of West London (UWL) Orientation program virtually via Blackboard Online platform. Guest speakers of the programme included our UWL alumni from Pearson Lanka and Sri Lankan Airlines who spoke about how they took up their MBA in the midst of the pandemic period yet how ANC Education & UWL facilitated their programmes seamlessly with the infrastructure in place to support students with online learning.
Live from UWL in London Mr. Chandra Basham – Head of Global Partnership Development (Business and Management) spoke to the new students and it was a highly interactive session with students introducing themselves and their career goals with Mr. Chandra Basham. Prof. Anne Manyande – The Collaborative Link Tutor for MSc Clinical and Health Psychology programme joined the MSc Orientation session while Dr. Philipp Elliot-Wright – The Deputy Head of the School and Associate Professor from UWL School of Law joined the LLM orientation session to welcome the new students of the Summer 2021 batch.
ANC School of Postgraduate Education and University of West London (UWL) attracts students from diverse backgrounds in Business, IT, Engineering, Medicine, Law and Sciences. Among them there are Top Executives, Entrepreneurs, CEO's and Middle Managers looking for a globally recognised MBA/MSC/LLM to further their career opportunities in Sri Lanka or migrate for career advancement overseas.
The University of West London offers reputed Master's degree programmes that are industry focused and caters to the changing global requirements.  With an up-to-date curriculum that is industry relevant, The UWL Masters programmes are designed to enhance your skills and knowledge while networking with the best in industry for a rewarding learning experience that offers career advancement. UWL has secured the 17th rank in UK for Business, Management and Marketing and UWL ranks 34th out of 121 universities overall. UWL Law School has been ranked Top 15 in UK by The Guardian League Table 2021.
ANC School of Postgraduate Education invites applications for its August 2021 intake for the following University of West London Postgraduate Education programmes offered at ANC:
n  MBA General
n  MBA for CIMA/ACCA/CA passed finalists
n  MBA with Hospitality Management
n  MBA with  PMP (PMI U.S.A)
n  LLM International Business and Commercial Law
n  MSc Clinical and Health Psychology
Students enrolling for the August 2021 intake will enjoy Rs 75,000 concession on their fees.
We also help students take student loans funded by supportive banks that offer financial solutions for those who need financial assistance for their studies. The banks facilitate students to pay the loan in installments (up to 60 months) with a minimum monthly commitment starting from *LKR 15,000. 12 Month Credit Card payment plans are also available. *conditions apply
For more information contact the ANC School of Postgraduate Education on 077 395 7070 to book a counseling session online. Or  visit www.ancedu.com or
follow us on Facebook:
https://www.facebook.com/ANCpostgraduate/ and
"ANC_Education"
on Instagram