Earn RIC's International Economics and Finance degree to embrace a world of opportunities
View(s):
A new contender for the most contemporary and innovative Undergraduate Degree has entered the higher education arena of Sri Lanka.
Discover Your True Potential!
Every student who enters the halls of Royal Institute of Colombo (RIC) is given the opportunity to become the best, in both Sri Lanka and in the world. Over RIC's storied past of over 40 years in higher education, the unique factor that has prevailed throughout is common, i.e., success is guaranteed to those students who wish to take on a challenging course of study, with determined effort and focus.
The UGC approved four-year IEF degree programme unveiled
The Bachelor of Business (Honours) Degree in International Economics and Finance unveiled at the will offer RIC undergraduates a unique opportunity to acquire expertise in both finance and economics. This UGC approved four-year study course in the Bachelor of Business (Honours) Degree in International Economics and Finance (IEF) Programme is challenging yet stimulating and offers an unparalleled practical depth. The objective of the BB (Honours) IEF Programme is to gain an in-depth understanding of the economic, trade, financial, political, and other forces that have driven the processes of economic globalisation and integration, as well as of the private and public sectors and the institutions that shape the international economic environment, and its developments and policies. It also prepares students to analyse the most important issues in today's globalised economy, including the macroeconomic and microeconomic causes and consequences of international economic and financial policies and trends.
A Transformative Curriculum at the Forefront
By continuously updating and evaluating the BB (Honours) IEF curriculum, we encourage our students to utilise major current trends in the global economy and apply their learning and analysis to practical situations. This constant process of revitalisation ensures that the BB (Honours) IEF programme remains at the forefront of educational excellence.
Robust Education and Career
Path with RIC's IEF degree
RIC's BB (Honours) IEF Programme has been established to cater for the interests of students seeking both a broad scholarly understanding of the way the world economy and financial markets and institutions work. The programme is also an ideal platform for those preparing for a variety of employment options related to international careers with solid theoretical knowledge and analytical skills in this field and to move onto graduate programmes in International Economics, Monetary Economics, Political Science and International Relations if desired.
The coursework in theory, policy, skills and research methods, as well as the interim training experience are designed to prepare students for careers in government agencies, industry associations, financial institutions, multinational corporations, economic consulting firms, think tanks, multilateral institutions, and non-governmental organisations – whether in Sri Lanka or abroad.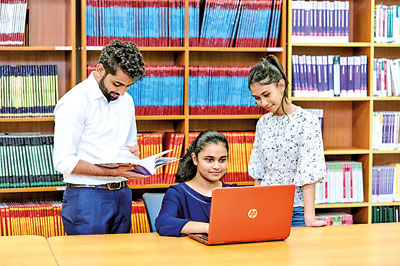 Reflection on RIC's Commitment to Academic Excellence
The Degree programme underlines RIC's mission of providing high-quality education to the greatest number. As the pioneer non-state university (higher education institute) for the University of London degrees and the leading private institution for the University of London LLB degree programme, RIC is recognised for the quality of its graduates, world class results, qualified lecturer panel and state of the art learning facilities. The reputation gained through the years also led RIC to partner with Deakin University Australia to offer BSc Engineering, Science and Environmental Science degrees.
Diversity | Multiculturalism | Equal Opportunities
Currently, RIC has a multi-cultural, multi-ethnic student and staff population studying and working in harmony. RIC's prime location enables our students the advantages of a 'metropolitan campus', with easy access to international information/resources centers, libraries, sports complexes etc, while also providing easy access to a wide range of cultural, entertainment and business facilities.
Join us today and discover your own potential. Call us for more details on 077 7774682 or visit our website to chat with a current student/Alumni/Lecturer.