CITY SCHOOL OF ARCHITECTURE (CSA) WINS TWO AWARDS AT THE AYDA INTERNATIONAL FINALE 2021
View(s):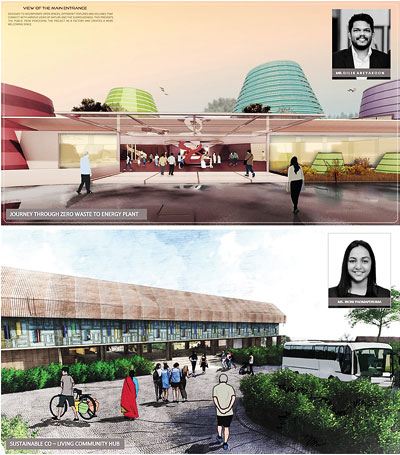 The Asia Young Designer Awards ("AYDA") was first launched in 2008 as part of Nippon Paint's vision to nurture the next generation of design talents across Asia. The event serves as a platform to inspire architecture and interior design students to develop their skills through cross-learning opportunities and networking with key industry players as well as fellow architecture and interior design peers in the region.
AYDA has since grown in terms of reach and stature and has now established itself as one of Asia's premier design award across 15 countries namely Bangladesh, China and region of China (Hong Kong & Taiwan), India, Indonesia, Iran, Japan, Malaysia, Pakistan, Philippines, Singapore, Sri Lanka, Thailand and Vietnam.
This years' design theme was how human centered design can be used to solve problems in Asia. With more than 8,000 entries submitted to this year's AYDA International, the participants had undergone a rigorous refinement and mentorship process. The first stage is to select a national winner from each country amongst so many entries submitted by students from all Architecture and Design schools under Architectural category and Interior category. In Sri Lanka Ironi Padmaperuma and Dilik Abeyakoon from CSA were the National winners under Architecture and Interior Design Category respectively. After a series of discussions by the two panels of judges, 13 participants from the Architecture category and 10 participants from the Interior design category were selected as finalists, across all the national winners in the Asian Region. The two students from the City School of Architecture (CSA) Sri Lanka were in the short-listing, and were selected as winners in the sub category, "Nippon Paint Colour Awards"
The AYDA 2021 International Finale award ceremony was held virtually on the 8th of July 2021 from 5:30 pm to 8:00 pm (+8 GMT Singapore Time), and was sponsored by Nippon Paint.
The distinguished panel of judges for the Architecture Category were:
Arash Ahmadi
Founder, Ahamdi Studio
Daniel Lim
General Director, RSP Architects
Lillian Tay
Vice President, VERITAS Design Group
Sibarani Sofian
Founder and Director, URBAN +
The distinguished panel of judges for the Interior Design Category were:
Chu Chih-Kang
Founder and Creative Director, Chu Chih-Kang Space Design
Hideji Kanamori
Director, Super Potato
Jabeen Zacharias
Chief Architect, Jabeen Zacharias Architects
Joey Ho
Design Partner, PAL Design Group
Peter Tay
Founder, Peter Tay Studio
The CSA Students won the below Sub Category Awards:
The Nippon Paint Colour Award for the Interior Design Category (worth a cash prize of 1000USD)
Mr. Dilik Abeyakoon – Project – Journey through Zero Waste to Energy Plant
Nippon Paint Colour Award for Architectural Category (worth a cash prize of 1000USD)
Ms. Ironi Padmaperuma – Project – Sustainable Co – Living Community Hub
The event concluded upon congratulating the winners.
Devuni Goonewardene – July 2021