A teacher who was an example to other teachers: Vijaya Weerasinghe
View(s):

In an era where strikes by teachers and issues over the inability to keep the schools open gets prominence, it is with gratitude that the services of a devoted teacher could be recalled.

Former Deputy Principal of Royal College in Colombo, Vijaya Weerasinghe's service is one that should be remembered, as he served his school with great dedication. He was associated with Royal College for more than 70 years; first as a student, then a teacher and finally with the Old Boys Union office.

He was born on September 17, 1926 to Ms C. Amarasinghe from Hambanthota and Mr D. Weerasinghe from Panadura. He passed away on October 31, 2007.

Mr Weerasinghe was educated at Royal College and as he was completing his education he began teaching English language at the college and served in the staff until he retired. Even after retirement he continued to serve the school. He was known to teach English language, English Literature and Latin and almost all students passed in these subjects with distinctions.

He also was a strict disciplinarian, but also served as a bridge to resolve any disputes that would arise between the teachers and principals thereby playing a key role in maintaining unity.

Mr Weerasinghe was known to enter the school daily at around 6.30 a.m. and leave the premises after 4.30 p.m. He made use of his spare time in school to teach any student who was weak in his studies. His compassion towards students was high.

All statements issued at prize giving ceremonies attended by the President or at other special events needed the clearance of Mr Weerasinghe on the instructions of the principals. This was to ensure accuracy and maintaining the dignity of the school.

Mr Weerasinghe who came to school after his breakfast at home, skipped his lunch drinking only a plain tea. An offer from the mothers union to offer free lunch was politely turned down.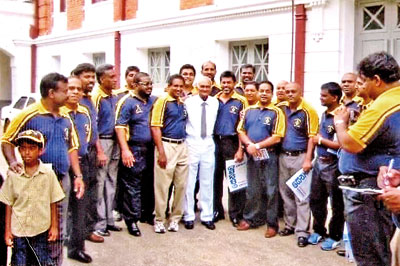 Former Principal Buddadasa Suriyaarachchi recalling Mr Weerasinghe's contribution said he was never worried about promotions and other benefits. He travelled by bus to school and turned down an offer to send a school vehicle to pick him up from home. An old boy involved in the import of vehicles offered him a vehicle, but he turned down the offer saying he would continue his journey by bus. At times when there were no buses he would walk to school from his residence at Jambugasmulla in Nugegoda and walk back home.
According to Mr Liyanaarachchi, when Mr Weerasinghe retired at the age of 60 and the parents-teachers association was making a small payment to continue his services, then Education Minister Ranil Wickremesinghe was approached by the school to make an appointment where a reasonable salary could be paid. Mr Weerasinghe was not happy that Mr Wickremesinghe had been approached and said he did not want a special appointment and would continue his service as much as possible.
Mr Weerasinghe was an example to many teachers.
- Heras Fernando,
Former Deputy Principal, Royal College, Colombo