Tehani, Aniqah bow out, Niluka crashes to heavy defeat
By Shehan Daniel reporting from Tokyo, Japan
View(s):

Niluka Karunaratne's late set heroics could not produce the end result with the three-time Olympian losing in straight sets to Tzu-Wei Wang in their Men's Badminton Group Play match at the Musashino Forest Sports Plaza in Tokyo, Japan yesterday.
Karunaratne, ranked 107 places below Wang, slipped to a 10-2 deficit in the first set before stepping into gear and pushing his opponent before going down 21-12 in an 18-minute exchange.
There was more of the same from Wang who jumped to another quick lead in the second set, but again, Karunaratne fought back again, this time going down 21-15.
That Wang had 13-point leads in both sets underlines Karunaratne's strong response, with the Sri Lankan badminton star even winning six straight points in the second set.
"I am glad that I was able to challenge and push the world number 10 like I did," Karunaratne said of his performance yesterday, adding that he was hoping to do one better against his next opponent, Nhat Nguyen of Ireland.
"He's ranked 53rd in the world, but I am confident I can give him a similar challenge," he also said, adding that he hopes to continue between Tokyo 2020.
"I am hoping to continue till the Commonwealth and Asian Games", Karunaratne added.
Karunaratne's match against the Irishman will be on Tuesday at 4:30 p.m. Sri Lankan time.
17-year old swimmer Aniqah Gaffoor meanwhile, who came second in her Women's 100m butterfly heat said she was pleased with her swim and only motivated her to come back stronger.
"It wasn't my best performance, but I am happy especially since I was coming out of Covid and I wasn't able to practice," she said.
Having had her first taste of the Olympics, Gaffoor said she was keen for another opportunity.
"There were so many great swimmers and it made me really excited to be a part of it. As soon as I got out of the pool I called my coach (Miguel Lopez) and said I want to go again," Gaffoor said.
Gaffoor's time of 1:05.33 secs was well short of what she needed to make the semi-finals, missing out on bettering her personal and national record of 1:04.58secs.
She was the second fastest to react off the blocks, hitting the water in 0.70 seconds, and it was a position she held onto till the end.
She could not get close to Mariam Sheikhalizadehkhanghah of Azerbaijan who won the heat with a time of 1:01.37 seconds, but was unchallenged by Yusra Mardini of the Refugee Olympic Team, who finished a second and a half behind Gaffoor.
At the top end of the event, Yufei Zhang of China and Emma McKeon tied for the fastest time, both clocking 55.82 in the fifth and final heat, the latter setting a new national and Oceanian Record.
World record holder Sarah Sjoestroem of Sweden finished with a time of 56.18 to win the fourth heat, though it was short of her best of 55.48 secs from Rio 2016.
Earlier in the day, Sri Lanka's first competitor at the Tokyo 2020 games Tehani Egodawela finished 49th out of 50 shooters in the Women's 10m Air Rifle event at the Asaka Shooting Range. Egodawela shot a total score of 611.5, and was classified behind Kanykei Kubanychbekova of Kyrgyzstan, with 612.8 points, and ahead of Luna Solomon of the Refugee Olympic Team, who came last with 605.9.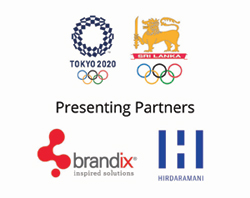 The event was won by Qian Yang of China, who set a new Olympic Record in the event with scores of 628.7 in the qualification round and then 251.8 in the final, claiming the first gold medal of Tokyo 2020.
Anastasiia Galashina of the Russian Olympic Committee won silver with a score of 251.1 in the final round, while Nina Christen of Switzerland took bronze with a total of 230.6.
Egodawela scored a total of 611.5 points, with 102.9, 103.8, 100.9, 102.3, 100.8 and 100.8 during the six rounds correspondingly, to record her second career best score. The Sri Lanka Navy shooter was placed in a healthy position after her three rounds, but could not improve on her scores during the final three rounds.
"She could have added at least six more points. But with the training she received prior to Olympics back in Sri Lanka, Tehani performed well beyond expectations, which was eventually not on par with the international standards," her manager Pradeep Edirisinghe stated.
Egadawela had her best score of 615 points coming at the Asian Shooting Championship in Qatar in 2019, the year she made her last international appearance before the Covid-19 pandemic caused heavy restrictions around the globe. The gold medal of the event was won by Chinese shooter Yang Qian, which incidentally was the first in Tokyo Games, while Russia's Anastasia Galashina secured the silver and Switzerland's Nina Christen winning the bronze. Egodawela is set to return to Sri Lanka next Tuesday.
Gymnast Milka Gehani will be the only Sri Lankan taking part in the Olympics today. The 18-year old, who has been on a Olympic Solidarity Scholarship in Japan since 2019, will feature in the Women's Qualification in the Artistic Gymnastics event at the Ariake Gymnastics Arena beginning at 8:25 a.m. Sri Lankan time.
Meanwhile Sri Lanka's other swimmer, Matthew Abeysinghe, will be in action on Tuesday, July 27, beginning from 3.30pm, Sri Lanka time. Abeysinghe will compete in the Men's 100m Freestyle Heat 5 on Lane 1. His competitors will be (in lane order) Samy Boutuil of Morocco, Ari-Pekka Liukkonen of Finland, Artur Barseghyan of Armenia, Ian Yentou Ho of Hong Kong, Nikolas Antoniou of Cyprus, Khurshidjon Tursunov of Uzbekistan and Peter Wetzlar of Zimbabwe.