Strong vaccine studies in SL
By Kumudini Hettiarachchi and Ruqyyaha Deane
Team headed by Prof. Neelika Malavige looks at the different jabs, comparing and contrasting their immunogenicity
View(s):
With different vaccines being brought to Sri Lanka, crucial 'vaccine studies' are underway, comparing and contrasting one against the other. Some of the findings of these studies were announced this week.
The vaccines currently used in Sri Lanka are AstraZeneca, Sputnik V, Sinopharm, Pfizer and Moderna.
Prof. Neelika Malavige, the Head of the Department of Immunology and Molecular Medicine, University of Sri Jayewardenepura, states that she and her team have been carrying out studies since the vaccination programme began in late January, with the initial jabs being given to healthcare workers.
Before focusing on these studies, Prof. Malavige takes up what people seek to know with regard to vaccines.
What is a vaccine?
Quoting the World Health Organization (WHO), Prof. Malavige says that vaccines reduce the risk of getting a disease by working with the natural defences of a person's body to build protection.
"When you get a vaccine, your immune system responds by recognizing the invading germ (in this case the virus which causes COVID-19); produces antibodies to fight the disease; and remembers the disease and how to fight it," she says, explaining that if the person gets exposed to the same germ (the virus), his/her immune system can quickly destroy it before the person is affected by the disease and becomes unwell.
How will a vaccine protect me from COVID-19?
A vaccine protects a person from a particular disease (in this case COVID-19), by producing antibodies which are proteins produced naturally by the immune system to fight the disease. Apart from antibodies, another arm of the immune system which are T cells also help.
What are antibodies?
Antibodies, also called immunoglobulins, are protective proteins produced by the immune system in response to the presence of a foreign substance (in this case the virus), called an antigen.
Antibodies recognize and latch onto antigens to remove them from the body. The five primary types of antibodies are: IgG, IgM, IgA, IgD and IgE.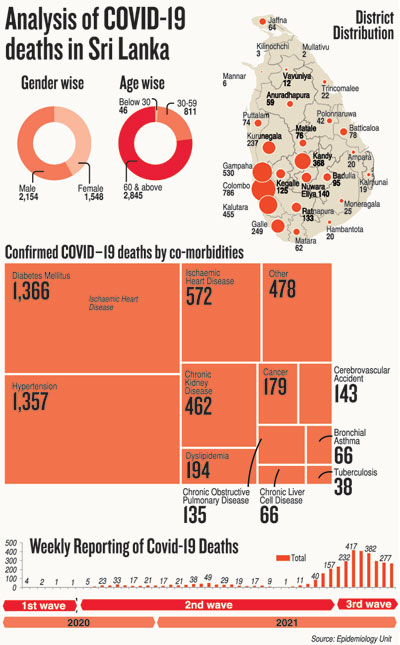 Antibodies provide immunity in three ways:
They prevent pathogens (organisms that cause disease) from entering or damaging cells by binding to them (neutralization);
They stimulate the removal of pathogens by macrophages (specialized cells) and other cells by coating the pathogen (opsonization);
They trigger the destruction of pathogens by stimulating other immune responses.
Next Prof. Malavige lays bare the findings so far of her team's immunogenicity studies (the ability of a foreign substance such as an antigen, to provoke an immune response in a person) with regard to these vaccines.
This is while she explains that to check the efficacy of a vaccine, however, a clinical trial needs to be carried out.
In the study on the Sinopharm vaccine, there had been 282 participants in three age-groups. But the team had to take out 12.7% of the initial study participants (41 out of 323 people) because by the time they came for the first jab they had already got the infection.
In the AstraZeneca/COVISHIELD study, the participants had been healthcare workers (629 people).
The Sinopharm study was done in the Colombo Municipal Council area, while recruitment to the Sputnik V (one dose) and Moderna studies were in the Kandy area. The team has not been able to include those who got the Pfizer jab in these studies as there was no indication where it had been given, it is understood.
Explaining how they carried out these immunogenicity studies, Prof. Malavige says that they took blood samples just before these participants took their first dose of vaccine (baseline study), then four weeks after the first jab before they got their second jab and thereafter two weeks after the second jab (when they were considered fully vaccinated). In the future, they are hoping to do follow-up studies on these participants in six months and also one year after the second dose.
"All these data would enable Sri Lanka to have a strong scrutiny of the different vaccines available around the world which would also be of immense value globally. These studies will help us to make the right decisions on vaccine policy," adds Prof. Malavige.
Since Sri Lanka is a rare country which administers different types of WHO-approved vaccines, the data flowing forth will enable a strong head-to-head comparison.
Upswing of Delta, while Alpha is also around  

There is an upswing of the Delta variant while Alpha is also doing the rounds, genetic sequencing has confirmed.

We have not performed sequencing from a representative sample from around Sri Lanka to give a 'proportion' for Delta infections in the country or a given area, said Prof. Neelika Malavige, the Head of the Department of Immunology and Molecular Medicine, University of Sri Jayewardenepura.

While doing sequencing of samples from the Colombo Municipal Council (CMC) area, they have also conducted tests on samples sent from areas where there has been unusual virus activity, she said.

So far, Delta has been detected in many areas in Colombo, Jaffna and a very few samples from Karapitiya.