A timely booklet packed with detail
By Kumudini Hettiarachchi and Ruqyyaha Deane
View(s):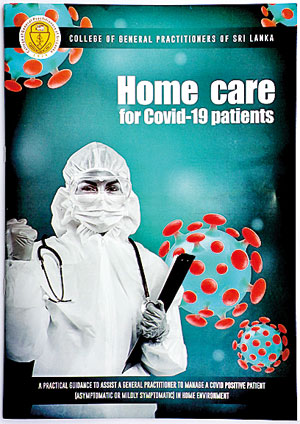 A colourful and detailed booklet titled 'Home care for COVID-19 patients' has been published by the College of General Practitioners of Sri Lanka (CGPSL).
This practical guide to assisting a General Practitioner (GP) in the management of a COVID positive patient who is asymptomatic or mildly symptomatic in the home environment is in all the three languages of English, Sinhala and Tamil.
With sketches dotting literally every page, the booklet goes into meticulous detail from who is eligible to enjoy home care facilities in the introduction; how to decide on who can be safely managed at home until they are to be transferred to an intermediate care centre; the three stakeholders in home care; items needed by the patient for home isolation; needs to be looked at when converting the home environment to suit home isolation; guidance for medical personnel; home-based isolation & care by GPs; to documents to be given to the stakeholders.
It clearly states the three stakeholders in home care as the patient; other family members including the caregiver; and medical personnel [GP, Public Health Inspector (PHI) and Medical Officer of Health (MOH)].
The booklet also includes a very specific home monitoring chart to be filled out for eight days, three times each day and ample space at the end for notes.
A timely, reader-friendly publication not only for GPs but also for patients, put together under the guidance of CGPSL President Dr. D.K.D. Mathew and conceptualized and authored by CGPSL Past President Dr. K. Chandrasekher.
The expert reviewers of this publication are Consultant Physician Dr. Ananda Wijewickrama of the National Institute of Infectious Diseases, Angoda; Prof. Suranjith L. Seneviratne of the Institute of Immunity & Transplantation and Health Services Laboratories, London, United Kingdom; and Consultant Paediatrician Dr. Jayantha Weeraman of the Epidemiology Unit, Colombo.