Appreciations
View(s):

You were our pillar of strength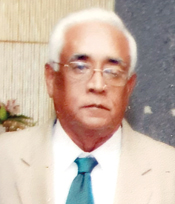 Mahinda Somathilaka Bandara Ilangaratne
Though three months have passed, my heart is still heavy with sorrow and my tears have not yet dried. My dear Mahinda, you were a great husband, wonderful father, joyful father-in-law and loving grandfather. We lived a wonderful life together for 54 years. We shared all our ups and downs, and got through every hurdle and achievement, sharing an undying love.
Throughout your life, you took great pride in your careers upholding them all with honesty and dedication. Your determination shone through in your role as a Founding Member, Director of the Plead Foundation, in which you helped low-income families. You gave us a life full of memories to cherish in your days in the plantation sector. As the Director of Social and Welfare, you carried out your duties to the best of your abilities. You never failed to prove that you could do any task in an exemplary and methodical way, and this was appreciated by all your peers.
You led a simple, happy life, surrounded by your children and grandchildren. You were always proud of all what they achieved and this was our main source of happiness. You were our pillar of strength. Words cannot explain how thankful I am for all the love and care you showed during all my sicknesses.
Your sudden departure was a shock to us all and you left me, our children and grandchildren with a void that can never be filled. We miss you every day.
May you attain nibbana!
Your loving wife,
Seetha Marambe Tikiri Kumari Ilangaratne
---
A medical philanthropist loved by many
 Dr E.L.T. De Silva
Dr E.L.T. De Silva, MBBS, passed away peacefully on May 10 in Wattala, just three weeks prior to his 81st birthday. He was the beloved husband of late Dr Merle De Silva (nee Vincent), beloved father of Mihiri, Millindu and Malintha and the loving patrirach of the family.
Egodage Lalith Tissa De Silva hailed from Ambalangoda from a much respected family of educators. His father, late E.P. De Silva was a distinguished principal of Devananda Vidyalaya, who started his career as a graduate teacher at Dharmasoka College, Ambalangoda and served as principal of several schools. He rendered yeoman service to raise the standards in education, extra curricular activities and discipline in these schools.
ELT's mother Amitha, an old girl of Visakha Vidyalaya was gracious, kind and accomplished. She was the anchor of the family.
ELT, the eldest of seven siblings was fondly known as Sunil by his family and friends. He had his primary education at Teldeniya Maha Vidyalaya where his father was principal and Kingswood College, Kandy. He thereafter joined Ananda College and this is where we met and became lifelong friends.
He entered Medical College and passed out as a doctor in 1965. His internship was at Badulla Hospital and his first medical appointment was at Gampaha Hospital.
ELT and Merle were batchmates and also interns together at Badulla Hospital. Merle the charming, elegant young doctor became his life's partner and dedicated mother of their three children.
After marriage they were both posted to Avissawella Hospital where they served with dedication for four years- a popular medical couple well respected in the town. After serving in the State sector for two to three years they resigned and started a private medical practice in Avissawella. In 1978, the young family migrated to Australia and settled in Victoria. Merle looked after the children while ELT continued practising medicine.
Although well established in Australia, they returned in 1981 and reconnected to their past enjoyable life in Avissawella with great success.
In the mid-1990s ELT and his medical colleague started a small private hospital named 'Kelani Valley Hospital' where medical specialists could be channelled to serve Avissawella and its environs.
ELT served the community for four decades and was highly respected. Patients thronged to KVH and had utmost faith in him as a professional with kindness and charity at heart.
He was well known for his generosity towards his patients and provided free care and medicine to many – the poor, university students, clergy of all faiths, members of the forces and police. He constantly updated himself on medical science and had excellent clinical diagnostic skills which made him a much sought after GP. He also had good surgical skills and carried out minor surgical procedures for his patients.
He was generous to his staff as well and saw to their welfare. He was also their dedicated teacher so that all who visited KVH got the best medical care.
When I met ELT after three decades, I found him to be the same person I knew before. Witty, smiling and happy, he told me he was just a country doctor. He wanted to know about the American health care systems, social benefits and pension care system.
ELT was gifted in many ways and also a political scientist- he could talk about the origins, development and operation of political systems.
ELT never lost his ideals of charity, kindness and compassion- the model passed on by his parents. He had a highly developed sense of empathy and that is what led him to be a medical philanthropist.
He was my good friend. May his journey through Sansara be short.
May he attain the supreme Nibbana.
 Ranjit Santiago
---
An angel did live among us
Nirangani Perera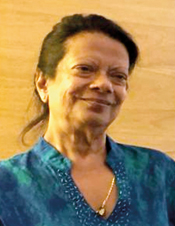 It is said that some people are angels sent from heaven to make our lives amazing. To make us strong, honourable, and decent human beings. They care about us and possess the inexplicable knack of being able to lift us up, reminding us of the best even when we are going through the worst. They show us the importance of loving ourselves, loving life, and appreciating what we have been blessed with. They inspire in us the virtues of discipline, sincerity, fairness and friendship.
Nirangani Perera, Nira to all of us, was one such angel. She was undeniably influential in making the many who worked with me at  Delmege Marketing the wholesome human beings we are today. We were all sisters/brothers to her, and she felt responsible for our wellbeing, as an elder sister would.
Perhaps heaven needed more angels and God sent for Nira. She was plucked from us in the most shocking manner. Most of us who knew her would insist that what she had to endure before passing was not merited, especially for this wonderful human being. She was strong and independent and would not have wanted to be dependent on anyone under any circumstances. But I believe, if Nira was here to interpret, she'd have said 'it is what I had to go through to earn the rewards that await me in heaven'. Such was her faith.
I recall her admonishing my conduct whenever I erred. Both on the job and in my personal life, she pulled me out of situations which would have led to dire consequences or serious damage to my reputation and social standing. At work, she was the glue that held the team together. She understood the strengths/weaknesses and the sensitivities of each one and, was able to guide/charm us to work together as the cordial and most productive team/family we eventually became.
She was fearless and commanded the respect of the whole team; from our genial boss Nihal Wijeratne down to the peon/messenger. Even Mr Wijeratne was not spared from her opinions and recommendations. She was mostly instrumental in creating one of the most pleasant and cheerful working environments I've experienced in my long career; I miss those times and the colleagues of that time to this day, though the team still stays in touch, despite being spread across different parts of the world.
Etched in my mind are the moments she used to storm into my cubicle to caution me about smoking within (every time I had a cup of tea, which were many and frequent!!). Nonstop guidance flowed on matters like which agents I should trust, what I should or shouldn't have said or be saying in different circumstances, how careful I should be when riding/driving, how important it was to go for the novena at Fatima Church nearby, et al.  For me, who I'm today and the good place I'm at today are partly due to the care and guidance of Nira; and my colleagues will say the same. She will be sorely missed by all of us, but we acknowledge we have to let her go; that is life. Our hearts broke with sadness when she left us, but we know she's gone to a better place. We take comfort in knowing that we'd soon meet her. For now, we hold her in our hearts and cherish the memories of her in our minds. May God grant her eternal rest and bliss.
Sunil Lakshmanasinghe on behalf of the Delmege Consumer Marketing Team
---
He was a well known versatile and skilful advocate
SIVA RAJARATNAM
Sivakumaran Rajaratnam, son of D. Rajaratnam, MBE,Crown Proctor Trincomalee who was later elected as the first Chairman of the Urban Council, Trincomalee, passed out as an Advocate of the Supreme Court and took his oaths as an Advocate in September 1955. Siva Rajaratnam enjoyed a lucrative practice in almost all fields of law – civil, criminal, Labour Tribunal and/or Appeals. His versatility as a counsel who appeared in every court in the island most specially Colombo, Hatton, Badulla, Jaffna, Batticaloa and Trincomalee his birth place was well known.
Mr. Rajaratnam was the attesting witness at my marriage and his first cousin Justice C.V. Vigneshwaran (then District Judge of Chavakachcheri) was the attesting witness on behalf of my wife. My wife worked as his junior in cases filed in the High Court of Colombo then functioning at the Queen's Club.
It is 29 years since he passed away on March 20, 1992 after a brief illness.
He had the command of all three languages and was able to address court and/or the jury in the language court requested him to do. So much so that in Jaffna, if I remember correctly, in the High Court he addressed the jury in Tamil and in the Hatton Magistrate's Court in a non-summary inquiry he addressed the jury in Sinhala during the period when I was practising there.
My acquaintance with him began in Hatton. It continued even after I switched over to Colombo wherein he encouraged me to do cases with him as an Instructing Attorney which I enjoyed thoroughly. Whenever I went to his chamber for consultation he made it so interesting with the case he handled. Once the consultation was over he entertained junior counsel sometimes along with the clients if the client was well known to him. There were times he took us out for drinks and dinner ending at 1 a.m. with his insistence on 'one for the road'. The regulars were late Advocate Karalasingham, Indrasigamany, rarely Mandaleswaran too. He was a great entertainer with his juniors.
His batchmates included late George Candappa PC, Justice K. Palakidnar who was the President of the Court of Appeal, late Mully Crossette-Thambiah who were uncrowned kings of Hulftsdorp along with Mr. Rajaratnam.
Siva Rajaratnam was versatile in his cross examination and put forward arguments with common sense so much so that the judges too were not confused with too much of the legal issues raised in cases. Because of his popularity he was unanimously elected as President of the prestigious Colombo Law Society and continued to hold this post for two years. With his commanding practice in civil work he applied for silk when J.R. Jayewardene was the President but was not granted this maybe for reasons known to J.R.  Anyhow his dream was fulfilled by his son Sanjay Rajaratnam who got his silk and was appointed to the prestigious position of Attorney General of Sri Lanka.
Mr. Rajaratnam would have been so very happy to see his son's prowess had he been alive. I am reminded of the saying of that great saint and poet Thiruvalluvar: "It is a joy to every man to find himself eclipsed in intelligence by his children and great is the joy of the mother when the child is born unto her: but greater far is her delight when she hears him called worthy". Also what is a duty of a son to his father? It is to make the world ask, "For what austerities of his has he been blessed with such a son?"
Siva Rajaratnam named his two sons following Indira Gandhi as Sanjay and Rajiv.
May he rest in peace with the blessings of the Almighty. In the words of the poet Laurence Binyon:
Age shall not weary them, nor the years condemn.
At the going down of the sun and in the morning
We will remember them.
K. Ganeshayogan 
---