SLR join hands with Schools Section to conduct virtual World Rugby Pathway Programmes
RUGBY
View(s):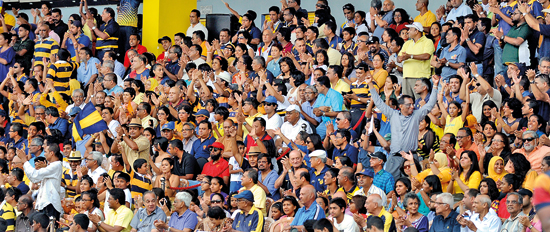 Sri Lanka Rugby (SLR) and Sri Lanka Schools Rugby Football Association (SLSRFA) conducted a meeting, which ended in a productive environment with regard to conducting virtual courses and programmes by World Rugby (WR).
The meeting took place via zoom technology with SLR being represented by its Development Chairman, Fazal Mohamed and SLSRFA headed by B.A. Abeyratne with other officials of the two entities.
"We had a fruitful meeting on the subject of how to conduct Virtual World Rugby Courses under a special programme with the Ministry of Education," Fazal Mohamed stated.
The virtual meeting took place via zoom on two days where the SLSRFA representation had high officials including Susantha Mendis – Deputy President, Nirodha Wijerama – General Secretary and Oshara Panditharathne – Development Committee Chairman.
Panditharathne explained that there are over 3500 Sports Officers appointed by the Ministry of Education to develop sports activities all over the island and that they have already requested them to apply for this programme where over 20 percent of them are females who are also keen sports enthusiasts.
"This pathway will train them to become World Rugby qualified coaches, referees and officials while taking the game to the rural areas of the island. So far there are over 450 registrations for the programme and this will be a huge boost to the sport in the country," stated Pandithrathne, the Chairman of Rugby Development at SLSRFA.
"We wanted to offer them a professional qualification in Rugby with the SLR's World Rugby Educators," he added.
This will be the first time in the history that SLR and SLSRFA have partnered to deliver such a programme virtually, mainly at a time where the country and the sports have been hit by a global pandemic.
"We had a good meeting and I am glad that the SLSRFA came forward for our professional support to deliver World Rugby certified courses to the Sports Officers and to introduce the Get Into Rugby (GIR) programme to rural schools," explained Jude Pillai, the Secretary of SLR.
Sri Lanka Rugby, established in 1879, is one of the oldest rugby unions in the world and has one of the biggest fan bases in the country for the sport particularly for schools rugby. It is an encouraging fact that a school or a club rugby game in Sri Lanka attract more fans than to other sports and many of these rugby players have their own set of followers.
"Our plan is to introduce rugby starting from coaching children, World Rugby Online prerequisites such as Rugby Ready, GIR and Law Exams as it's important to know all elements, such as the values of the game before you start to become coaches, referees or officials," elaborated Dilroy Fernando, a well known referee who is presently being contracted by SLR as their Training and Education Consultant to head the Rugby Development Programme.
Special emphasis to start rugby in girls' schools in the Western Province with a structured programme also has been finalised with the support of the Ministry of Education.
"It will be a good start for us achieve in forming a XV-a-side national women's team in the near future," said Nirodha Wijerama, the Secretary of SLSRFA.
World Rugby too is keen in promoting the sport among girls and women with a wider angle to create opportunities for females and provide them equal status as players, officials and coaches.
"Our ongoing and unwavering commitment to advancing women in rugby both on and off the field is in line with our ambitious strategic plan. Unintentional gender bias in sport is an ongoing issue. As a global sporting federation we need to be leading from the front on the issue of equality," Sir Bill Beaumont, the chairman of World Rugby had stated in a recent press release.
Overall SLR will take this opportunity to provide opportunities and new avenues to those who are involved with rugby promising a better future besides being a player.
"This is an excellent start and we are extremely excited to start this programme together with SLSRFA and the Ministry of Education to take the game to the next level. I am sure we can go a long way by joining hands together as schools is the foundation of the Sri Lanka rugby team," concluded Mohamed.