'Nice guys' can also win!
By Malcolm Knox
cricket
View(s):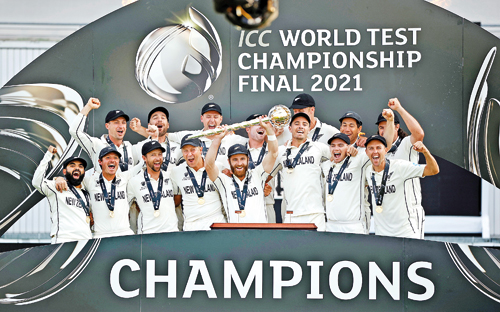 New Zealand have won the world Test cricket championship; the nice guys finished first. But what if they won because they were the nicest guys? A preposterous idea, but what if the Kiwi victory, sweetly redemptive after the outrageous misfortune they suffered in the last one-day World Cup final, was not just heart-warming? What if there was a causative link between their niceness and their achievement? Surely that would be the most profound legacy they could leave.
It's not completely far-fetched. New Zealand's left-arm fast bowler, Trent Boult, was your typical obnoxious paceman early in his career. His then-captain, Brendon McCullum, described him, unflatteringly, as "a pretty cocky young fella". When his bowling coach, the Australian Damien Wright, suggested changes to his action, Boult told Wright (according to an excellent profile in The Cricket Monthly by James Borrowdale) to "F— off" and walked away. Boult told his brother that Wright was a "muppet".
This attitude, only to be expected of a Test fast bowler, coincided with Boult copping repeated hidings from the world's batsmen. He breathed fire but bowled sparklers. He strained too hard to bowl too fast, sent down too many thunderbolts in the nets, and injured himself in the effort to rage his way to the top.
What changed was that Boult decided to be true to himself. With maturity, he realised he didn't have to pretend he was a scowling Glenn McGrath or James Anderson and, in his words, "stand there like a psycho and scream my head off". He listened to Wright and changed his technique. He could be the humble grinning "Lovely Trenty" known to his family and friends … and, WTF, success followed.
"I definitely play my best cricket, or I bowl my best, when I'm, well, I'm definitely smiling, I'm running around a bit, I'm doing bloody funky circles and appealing and whatever it is," he told Borrowdale. His success has been "a flow-on from that kind of energy".
Boult is not the only New Zealand cricketer to make this elementary discovery. Under McCullum, the Black Caps were liberated to play nice and not be shy about it even when Australian opponents tried to belittle them. The New Zealand team leaders, such as Ross Taylor, Tim Southee and BJ Watling as well as Boult and captain Kane Williamson, set about enjoying cricket for its own sake. Astonishingly, it led not to them being the stereotypical nice-guy losers but the best in the world in two formats.
World champions can change the sport they play. They set the tone and teach those who strive to take their place. The West Indies, unbeaten from 1980 to 1995, taught Australia to be hard and confrontational. Australia, mostly unchallenged until 2008 or thereabouts, set India a similar example. India shed the passivity of their past and became more assertive.
But it's a tantalising possibility that New Zealand can teach the cricket world that good sportsmanship, a joyful spirit and general good-blokeness is not just pleasing to the soul but also an effective pathway to victory.
Australia has not covered itself in glory in this regard. Back in 1995, as Mark Taylor's team wrested world supremacy from the West Indies in the Caribbean, Steve Waugh took a series-changing catch to dismiss Brian Lara for 65 in the first Test match in Barbados. Lara, having recently set new world and first-class records, was threatening to crush Australia, but Waugh took the vital catch. Only, he probably didn't. He fumbled it against his chest as he hit the ground and, if video referrals had been in operation, the dismissal would have been reversed and history might have taken a different road.
The interesting thing was that another personality might have felt so bad about the "catch" that it affected their performance. They might have been troubled by the criticism of their ethics. They might have lain awake at night worrying about their reputation. Not Waugh, who went about dominating the series, physically confronting Curtly Ambrose in Trinidad before seizing the moment with his fabled 200 in Jamaica. The grit, or fight, or competitiveness, or claiming dodgy catches, or whatever you want to call it, was fuel to Waugh's fire, as it was for the other dominant Australian personalities of that time. Whenever they lapsed into agreeable behaviour, their performance also waned. They needed conflict and a bit of a stink to bring the best out of themselves. They knew what worked for them.
But it didn't suit everyone. And this is where today's team comes in. Anyone watching the Australian team over the past summer might have noted that the aggressive posturing led by Tim Paine while losing to India looked more like Australian cricketers trying to live up (or down) to the role of "Australian cricketers". Perhaps intimidated by the culture they had moved into, many of Paine's team looked like nice people who had been bullied into the ways of a "winning culture" that used to rely on boorish behaviour. The obvious case in point is Mitchell Starc, who has had to put up with years of Shane Warne taunting him about being "too nice" – and, equally corrosively, congratulations when he acts mean. Starc is not the only one. Many of us might wish that Australia's current representatives outgrew the unsolicited advice of their elders and start playing cricket their own way instead of following some dated version of "the Australian way".
That old Australian way, while productive for one clique, was never everyone's way. Many extremely talented individuals went to waste during the golden Australian era because they did not assume the one-size-fits-all personality that the dressing room required. Some, like Glenn McGrath and Jason Gillespie, wore the mask unconvincingly for a while. Perhaps the saddest story from that era is that Adam Gilchrist, far from feeling proud about his high ethics and sportsmanship as a "walker", was made to feel embarrassed and even ashamed of his actions, and had to temper his natural decency because it risked making his teammates look bad. If that was all he'd left, what a disappointing legacy it would have been.
The incentive – the key to persuasion – is success. New Zealand couldn't make the case for sportsmanlike behaviour unless they won. Now they have won, the world might care to pay attention. Professional cricket can be played with a smile, and the smile can lead to relaxation and self-expression and the kind of freedom that produces wickets and runs.
We can all have a laugh along the lines of "How good is Australia? How much better is New Zealand?" But what if the Black Caps are showing a new "Australian way"? It's not like Australia to be humble enough to follow New Zealand's example, but they need to be big enough to make themselves small. They might start by acknowledging that New Zealand are the best, better than Australia. They might stop hiding behind selective statistics, stop denying the facts, and see how much they can learn. The first lesson, as shown by Boult, Williamson and company, is to be true to themselves. - The Age