'Believe' sponsor Sri Lanka Athletics team for India
athletics
View(s):
National track and field athletes, who left the island on Wednesday to compete in the 65th Inter-State Athletics Championship in Patiala, India, were geared with new competition kits by 'Believe' sportswear.
'Believe' is the sports and active wear arm of Ceylon Sports, which is to be launched in the near future. The groundbreaking initiative by Ceylon Sports will see international style running gear manufactured in Sri Lanka for the first time. The trendy and modern collection include a wide range of sports gear seen in International competitions in the likes of two-piece running kits, one piece running kits, stylish calf wraps, headbands, warm-up wear which are specially manufactured with consulting experts.
With the help of experts and athletes, 'Believe' has created customised collections for each athletic discipline named 'Run', 'Jump', 'Throw' which will cater to specific needs of the respective events.
"We are grateful to 'Believe' sportswear for providing kits for the national athletic team who will be competing at the 65th Interstate Athletics Championship in Patiala, India. The athletes will be pushing for Olympic qualification, and we are thankful to 'Believe' for coming forward to support are athletes. We hope to continue this partnership for all future national team involvements," said Maj. Gen Palitha Fernando, the President of Sri Lanka Athletics, expressing his admiration.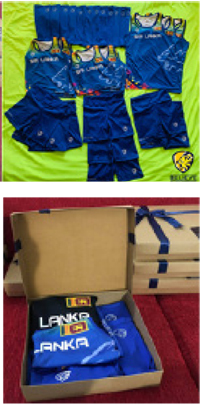 The team which took wing to India consists of four athletes who are on the borderline of the Olympic qualification quota. Nilani Ratnayake, who is already within the Olympic quota, is also part of the team. The addition of Women's 4x100m relay team is a notable move making it the first time in a long time a Women's 4x100m relay team will feature in an overseas competition apart from South Asian Games in 2016 and 2019.
The team comprises of the first five athletes at the last National Athletics Championship. Four of the five athletes are below 21 years. Amasha de Silva, Shelinda Jansen, Medhani Jayamanne and Safiya Yamic will compete in the relay, while senior pro Lakshika Sugandhi is included as the fifth member.
"It's brilliant that Ceylon Sports have come up with the 'Believe' sportswear, as a young female athlete it's very difficult to find trendy comfortable running gear in Sri Lanka for a decent price, I ran in 'Believe' gear at the Nationals, and it was a perfect fit. I am excited to don this gear in India," young sprinter Shelinda Jansen of youth Olympic fame also expressed her admiration of 'Believe' sportswear.
Ceylon Sports provided running kits for athletes during the National Athletics Championship and National Trials held at Sugathadasa Stadium earlier this year and are hoping to join hands for upcoming international events such as World Junior Championship, Asian Athletics Championship, Asian Junior Championship and World Athletics Championship 2022.
Ceylon Sports and Ceylon Athletics was Sri Lanka's first web and social media platform which provides much needed context and awareness on Sri Lankan athletics aiding in the upliftment of the sport at a time athletics in the country was experiencing a dip in popularity.
With several campaigns and coverage which included live streaming of all national and major international events and unique coverage methods it was able to increase athletes' interest and desire for better performance while was able to bring fans back to athletics.
Extending beyond popularising the sport, Ceylon Sports identified that Sri Lankan athletes did not have an avenue to get affordable international style running gear with technology which will provide comfort during the events apart from paying hefty sums for major global brands.
'Believe' is eyeing to fulfil this requirement in the local market and will soon be available for purchases online. National athletes will receive special discounts while a percentage of the income will be used to create a charity fund which will help underprivileged athletes, a service Ceylon Sports has been engaged in silently for many years.
Team: Sumedha Ranasinghe (Javelin Throw), Kalinga Kumarage (400m), Nadeesha Ramanayaka (400m), Nimali Liyanarachchi (800m), Nilani Rathnayaka (3000m St. Ch)
4×100 Relay Team: Amasha de Silva, Shelinda Jansen, Medhani Jayamanne, Safiya Yamic, Lakshika Sugandhi.