Appreciations
View(s):

An outstanding clinician

Professor David Chanmugam

At the time I started my undergraduate clinical work in the late '60s, Prof. David Chanmugam had the reputation of being a brilliant academic clinician.  He was highly respected by the members of the profession as an extremely clever young clinician with great potential. As I got to know Prof. Chanmugam over the years I realized increasingly why he earned this reputation.

I was first exposed to Prof. Chanmugam when I started my two-month clinical attachment at the academic medical of the General Hospital Colombo in 1970. Later, while working as an intern medical officer, I had the opportunity of observing Prof. Chanmugam more closely as he took care of patients in half of the female ward, the Consultant Physician whom I worked with being in-charge of the other half of the ward, and these patients therefore being under my direct watch. After I joined the Colombo Medical Faculty in 1974 as a junior colleague, when he was a senior staff member of the Department of Medicine, I also had the good fortune of interacting with him on academic and clinical matters.  Finally, when he lived overseas I had a number of opportunities of meeting him during his visits to Sri Lanka, because we lived in the same neighbourhood in Jawatta Road.

Though my relationship with Prof. Chanmugam was episodic spanning a long period of time, these interactions left a deep and lasting impression on me at a crucial period of my professional life. He struck me as a unique individual with rare qualities, which the profession could be proud of.

What struck me most was that Prof. Chanmugam was a quiet man of few words with sharp intellect, integrity, a person who acted in a fair and humane manner with great respect towards others. He was of firm conviction. He had a very scientific mind and a humane approach – a somewhat rare combination. His dedicated and conscientious approach to work was well recognized and he was well respected by members of the medical profession, although he had little contact with most. I remember a number of occasions when he asked me for an opinion on mental health issues related to his patients even though I had been his student only just a few years earlier.

As a clinical teacher he emphasized the need to have a comprehensive approach to clinical practice by combining scientific medical facts, clinical competencies and patient-centred care at a time when biomedicine was dominating the clinical practice. He was, therefore, ahead of his time. Many students saw this approach as very refreshing.

He had the unique ability to combine the disease model and person-centred care approach for the benefit of the patient,  in the process gaining satisfaction from the clinical encounter. He was sensitive to patient needs and treated his patients with compassion and empathy.  As an academic he had a very sharp and perceptive mind with a special interest in Haematology.

I consider it a privilege to have had the opportunity of interacting with a person as unique as Prof. Chanmugam who had many qualities attributable to a "good doctor".  May the unique attributes of Prof. Chanmugam be a leading light to our profession in Sri Lanka.

Nalaka Mendis
---
A guiding light not only to his family but friends and relatives too
 Mahinda Jagoda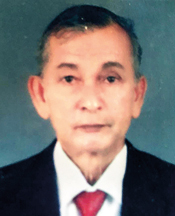 Mahinda bade farewell to his kith and kin and departed this world on May 10, 2020. He was cremated at the Kurunduwatta crematorium the next day. His wish was also to have his funeral soon after his death.
Mahinda who hailed from Mabotuwana, Wanduramba, Galle was the second in a family of six children. His father Daniyale Jagoda, was a landed proprietor and his mother a housewife. His two sisters were teachers of English and his brothers were landed proprietors.
Educated at Wanduramba Central College, he passed his BA Hons (London) and gained a diploma in education from the University o f Peradeniya.
He was a teacher at Richmond College, Galle during the Welikala period and then joined Mahinda College. He served as the Principal of Wanduramba Central College, his alma mater from 1978 to 1986 and was then appointed Principal of Rahula College, Matara where he worked from 1986-1988.
He also served as Secretary to the Chief Minister of the Southern Province M.S. Amarasiri for some time and after that was appointed Director of Education of the Southern Province. He held that position until his retirement in 1994.
Many well known personalities were produced during his tenure as a teacher and principal in the college he served. Politicians Vajira Abeywardene and Lakshman Yapa Abeywardene were from  Mahinda College  and Buddhika Pathirana from Rahula College Matara.
He was a dedicated social worker too. He was Chairman of the Wanduramba Co-operative Society in the 1970s and '80s,  served on the committee of the Karapitiya Hospital and was secretary and member of the School Development Society of Richmond College from 1994-2006, and in the Richmond and Mahinda College Past Teachers' Associations. He was also a member of the Ganegoda Seelawansaramaya Dayaka Sabha.
I knew him for about 45 years and our friendship grew when he married my cousin Indrani Abewickrama Gunasekera in 1981. They lived at Ganegoda, Akmeemana. Their son Harsha Ruwan is a Chartered Marketer.
What I admired most about him was his love for his fellow human beings. Always smiling, he  would listen patiently to all who sought his help. The word 'no' was not in his vocabulary. He would try his best to help.
He was a guiding light not only to his family but his friends and relatives as well.
I thank his wife and son for caring for him till his last breath. His first-year almsgiving was held in a simple manner at Seelawansaramaya, Ganegoda.
May he attain the Supreme Bliss of Nibbana.
O.P. Dudley L. Amarasiriwardene
---
He took our national carrier to soaring heights in the Gulf
 Rajeewa Jayaweera
For a fleeting period, Air Lanka (before its change to SriLankan) lit up the Oman sky, but it was all too brief, as was the life of the initiator of this success.  We commemorate the first death anniversary of Rajeewa Jayaweera and recall with pride the achievements of this dynamic individual who left a significant imprint of Sri Lanka's landscape among those living in the Gulf states.
As a journalist my association with Rajeewa spanned over a decade in the '90s. He was a stoic and principled administrator who was forthright and considered in his views. As Manager of Air Lanka in Oman, he delivered exceptional service not only to our community in many ways but also to those travellers visiting our island. I was amazed at his dedication, determination and discipline. He did not waver in his search for perfection.
When Rajeewa arrived in Oman in the second half of the '90s, Sri Lanka's national airline was in the doldrums and was considered "just another airline" competing for a share of the Gulf's travel market catering mainly to Sri Lanka's workforce. Rajeewa's vision was different. His desire was to raise the standard of the airline to be on par with the best, but he had to contend with the bureaucrats in Colombo – and he stepped up to the challenge. Not afraid to speak his mind and to take a firm position on issues that were important to him and for the airline, his persistence to lift the image of the airline succeeded, commencing with the shifting of the office premises after 13 long years to a prestigious and prominent location and displaying the airline's logo for all to see.
This was followed with familiarization tours to our Emerald Isle for foreign journalists and travel agents. Rajeewa accompanied them mesmerizing them with his in-depth knowledge of Sri Lanka's history and attractions to leave them in awe! Rajeewa was a true ambassador for the country just like his late father, Stanley Jayaweera, a career diplomat of repute.
In 1997, to coincide with 50 years of Independence, Rajeewa hosted Air Lanka's first-ever "Top Agents Awards" ceremony at the Muscat Holiday Inn. The invitees were treated to an extravaganza of what Sri Lanka had to offer interspersed with a cultural show, traditional dancing, and authentic Sri Lankan cuisine courtesy of Jetwing's finest chefs. Rajeewa's positive charm instantly propelled the airline into the limelight, winning the hearts and minds of the Gulf's expatriate community resulting in Air Lanka becoming the preferred carrier of choice for their holidays.
As a disciplinarian he may not have endeared himself to many, but he stood tall with his direct and no nonsense approach which provided the basis for the airline's success in the Sultanate.
After completing his term in Oman, Rajeewa was transferred to Madras and then Paris continuing his drive to lift the image of Sri Lanka's national airline.
In later years Rajeewa bemoaned the plight of Sri Lanka's national airline. He had a fierce loyalty to the airline and represented his country with pride– he would have been an ideal member to serve on the SriLankan Airlines board with his vision and experience. Unfortunately, those with vested interests thought otherwise and the island nation's loss was Qatar Airways gain.
For those who associated closely with Rajeewa, he will be remembered as a strict disciplinarian with a strong work ethic and an abundance of skill. He was an outstanding role model for young people in particular. He was a beautiful, kind and much-loved friend.
We are sad beyond words and extend our deepest condolences to Rajeewa's family.
Clifford Lazarus
---
She is not here to wish her a happy b'day like I did every year
Manel Watawala
She may not be my sister. She may not be related to me by blood, but when this beautiful young girl married our nephew, Sunil, in August 1971, she became our niece and part of our family. Since then and up to her departure, she really lived as one of us.
She was there when her husband needed her. She was beside him in all his activities and travels, both local and overseas. She was the strength behind his Lionism and behind the lives of the two children they brought into this world — Kanchana and Malsha. She looked after helpless uncles and relatives- saw to their needs. She always was brave enough to appear for the sake of the family when they needed her support. Her home was open to friends and relatives alike. She never failed to serve a meal at any time of day.
She braved and battled a "war" and ultimately fell, as a fearless, gentle giant. Whenever I spoke to her over the phone, which I did quite often, from thousands of miles away, in Auckland New Zealand, I heard a happy "Hello Nenda", and this still rings in my ears. Every year I call on her birthday–June 23 to wish her, but this year she is not around.
We all miss her. May she attain Nibbana.
Pearl Nenda
---
Till the end of the world you will be mine
 Tissa AriyaRatne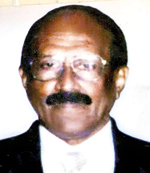 Till the stars in the sky cease to shine
Till the sands of the desert grow cold
Till the last petal falls from the rose
Till the sun and moon hide in darkness
And we wait for that great light to shine
Oh! my dearest how long will I love you
Till the end of the world you will be mine
Everloving wife Ranji and daughter Anoja
---
We miss you more than 100 times
Linnette de S. Wijeyeratne
June 18, this year was more special than ever; as had you still been alive, we would have celebrated your 100th birthday surrounded with our love.  Having completed your time here on earth, heavens opened up for you on March 27, 2019.  So let's spend a moment remembering a mum who was the prettiest rose in our garden on her 100th birth anniversary.
Mummy you were as beautiful as a rose so rare
So precious to the dozen you nurtured with care
You were a perfect rose that stood straight and tall
Without thorns and not a petal was torn
You survived the worst kind of weather
Yet were so delicate as ever,
You had a special fragrance,
Which no one other than your dozen will know
You were handpicked from heaven
And given to the dozen to be their mum
God saw you getting tired and put you to rest
Your beauty forever will be in our hearts and will never die
As you celebrated your birthday in heaven with family and friends gone before us, the angels would have  sung happy birthday for us.   We are sending you 100 greetings, 100 balloons, 100 candles and miss you more than 100 times.
Vinodini Jayawardena
---