'These majestic creatures do not deserve such horrific deaths'
By Nadia Fazlulhaq
Agonising death for sea life burned, poisoned and choked to death
View(s):
Bloodshot eyes, bleeding gums, burned and discoloured shells show that the final moments of more than 50 sea turtles and some dolphins were filled with pain, experts said, fearing that hundreds of sea creatures lie dead in the ocean following direct exposure to the chemicals from the sunken X-Press Pearl.
The container ship sank on June 2 after catching fire in late May, spilling tons of toxic acids, chemicals and plastic into the sea off the west coast, creating Sri Lanka's worst maritime disaster.
"About 50-55 bodies of mostly green and olive sea turtles have been washed ashore since the fire in the ship erupted," Thushan Kapurusinghe of the Turtle Conservation Project said.
Tragically, as the world marked World Sea Turtles Day on Wednesday, dead turtles were found on beaches in Negombo, Wadduwa, Panadura and Moragalla, he said.
"Daily, there are sea turtle bodies washing up on beaches. All of them are adult sea turtles, which are known to be strong sea creatures that normally live for decades. These majestic creatures do not deserve such horrific deaths," Mr. Kapurusinghe said.
He said though it is normal to spot a few injured or dead sea turtles during the rough monsoon season, the nature of these deaths are suspicious.
"The bodies had no cuts from rocks or nets, the carcasses are pale and discoloured, so are the shells, There are burn marks. The mouths are opened as if they struggled to breathe," Mr. Kathurusinghe said.
He said emails are flooding in from foreign sea turtle enthusiasts and tourists who have visited turtle hatcheries and sanctuaries here.
"We are clueless when these tourists ask for the cause of the deaths and why the authorities failed to avert a disaster. They are willing to come to the country once COVID restrictions are lifted to take part in turtle conservation programmes," he said, adding that most of the inquiries are from German and other European tourists.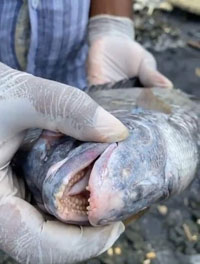 He said about 20 sea turtles died from the oil spill from the MT New Diamond crude oil carrier that caught fire, also off the west coast, in 2020, "but this is a catastrophe for sea turtles searching for a safe haven to lay eggs in our beaches".
Dr. Lalith Ekanayake, a marine turtle specialist and Chairman of the Bio Conservation Society of Sri Lanka, said the ship disaster happened at a peak nesting time of sea turtles, hence the high number of deaths.
"At least 300-400 adult turtles come to one nesting beach during this period. The west and south coasts of the country attract five species of sea turtles that lay eggs on a number of beaches, especially at Kosgoda and Rekawa. We believe only 10-15 per cent of dead turtles would wash onto the beaches," he said.
Surviving sea turtles exposed to the toxins would suffer weakened nerves and immune systems.
"This is a rare disaster for veterinary experts, even those overseas," Dr. Ekanayake said. "Most have dealt with oil spill effects on sea turtles but not such a combination of hazardous chemicals. The worst thing is that the cargo contained food items such as sprats along with containers of chemicals ranging from nitric acid to lithium batteries."
Environment Ministry Secretary Dr. Anil Jasinghe said this week that the ministry was waiting for the Government Analyst's Department to formally determine the cause of death of the sea creatures being washed up, and that the sea turtles bore traces of being exposed to fire and chemicals.
He said containers left in the ship would continue to be a threat to marine life.
About 1000 metric tonnes of plastic pellets (nurdles) have been collected by the Navy and Coast Conservation Department, the Central Environmental Authority (CEA)'s Chemical and Hazardous Waste Management Unit's Director Ajith Weerasundara said.
Maleesha Gunewardena, advocacy coordinator of Pearl Protectors, a marine protection organisation, said more than 200 volunteers have signed up to help the navy clear the beaches of the pellets. Numerous dead fish have been found to have choked to death with the pellets stuck in their gills, having mistaken them for fish eggs.
"We are building sieving tools to separate sand and pellets," Ms Gunawardena said. "Once travel restrictions are lifted we will deploy the volunteers following approval by authorities."