Lankan-British company has digitised solution for smooth flow of vaccination; but few takers here
By Namini Wijedasa
View(s):
A British-Sri Lankan company has created a digital tool that can cover 17.5mn people and send out 500,000 SMS messages a day to push forward the COVID-19 vaccination programme–but has found no interest for it among local legislators.
The application was recently used with success in several Medical Officer of Health (MOH) areas of the Galle Four Gravets Divisional Secretariat. This was after Himal Rathnaweera, the Divisional Secretary, reached out to Nisal Kooragoda–a university-mate and the founder of Surreytech Consulting and Surreytech Ltd–to help introduce a streamlined vaccination plan.
"When vaccines were first administered in Colombo, there were snaking queues and people were furious that they had to stand for many hours," said Mrs Rathnaweera. "Some waited that long only to be told vaccines were over. Others said they came to the line before dawn."
Mrs Rathnaweera is a fan of technology. One of the reasons she won the Transparency International Sri Lanka Most Respected Public Servant Award last year was her role in digitizing her Divisional Secretariat. Multiple services are now provided online and Surreytech also assisted that process.
So she asked Nisal for an answer. His company had been involved in the British National Health Service vaccination programme and he knew what to do. His team developed an English online application form for the Four Gravets DS which Mrs Rathnaweera got translated to Sinhala and Tamil. It gathered information such as age, address, ID number and whether a person was pregnant, disabled, etc.
"The two MOHs in my area immediately came on board," Mrs Rathnaweera said. "And the Public Health Inspectors (PHIs) said each of them could vaccinate around 50 people in 15 minutes. That helped us calculate the time slots."
The DS has active Facebook pages with a large number of followers and participation. Previous campaigns, such as distribution of rations, were organised using this platform. Now, it called on people to register for their shots. The message was also published through the DS website. People without web access were notified via Grama Niladharis (GNs) to hand in physical forms. The data was then fed into the system by DS staff.
"During this time, I was quarantined for 10 days after my driver tested positive," Mrs Rathnaweera said. "I did everything via telephone. When the GNs went on strike, I got the Samurdhi agents involved."
The vast majority of inhabitants had mobile phones which they provided to the DS. And once the vaccines came, staff sent out messages giving them time slots to get their shots.
"We faced some initial challenges," she recalled. "For instance, there could be a digit wrong in the telephone number in the ID card which we used to check that the location is correct and whether the owner was eligible for vaccination. But we have now ironed out all those glitches and found solutions to them. What's more, we were able to update our existing database with new information for future use."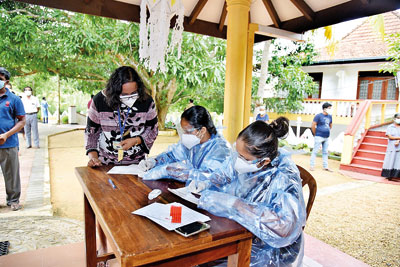 The Four Gravets vaccination drive received public praise on social media. There were no winding queues and no rush. There was also a help desk on site to iron out last-minute problems. Everyone from GNs to Samurdhi agents and health officials were involved. By now, 12,434 people in six GN divisions have been vaccinated. There are 44 left but, by now, the system is firmly in place.
Nisal is willing to roll out the programme to the rest of the country and has approached Ministers and officials, to no avail. He is resident in Britain for the past 20 years. Surreytech–where he is now Chief Technology Officer–has developed technology solutions for the European market and for Britain, mainly the State sector.
But Nisal was born and brought up in Galle, and studied at Mahinda College. After a first degree from University of Ruhuna in natural sciences, he completed a post-graduate and masters in Britain in computer engineering. He also studied management. His ties to Sri Lanka are strong and, before the pandemic, he would spend several months here.
His brother handled the company in Sri Lanka. In 2016, they helped digitize the Dickwella District Secretariat (DS), taking fees only to meet their costs. The system they introduced enabled the PS to record its operations in seven departments such as land, Samurdhi, human resources, etc. But even this took months of grappling red tape, power struggles, lethargy and "hundreds of emails" to get done.
It was later rolled out to five other local Government bodies: Galle, Akmeemana, Agalawatta, Kaduwela and Ratnapura divisional secretariats. The third generation of the application is now in operation, having been improved each time.
Nisal's brother passed away in 2018. When he met Mrs Rathnaweera at his funeral, she asked him to design a system for her DS to simplify the registration of births, deaths and marriages. These services alone attract 700 people per day. So he introduced a queue management solution using bar codes, reception counters, etc. It is also now used by several other local government bodies.
"Sri Lanka is around 10-15 years behind in digitization," Nisal said. "It doesn't have sustainable critical national infrastructure (CNI) covering the whole country. There is no single system servicing the whole nation like India's ID system or Britain's welfare system. What we (Sri Lanka) do have is something hanging irrationally, without national purpose or capability."
The vaccination tool to cover 17.5mn of the population took his team just 14 days. They had been closely involved in the NHS's track-and-trace initiative. "The technology used in Galle was cutting edge and the same as what was employed in Britain," Nisal said. "We met the cost of all that. Apart from Mrs Rathnaweera, nobody helped us, although we have seen a lot of people taking the credit for it."
Nisal even presented some of his IT solutions to President Gotabaya Rajapaksa in January 2020, having been part of a public administration group he had cobbled together. But he later made the Information and Communication Technology Agency the central point and it made matters difficult for third parties, Nisal said.
If the Government is planning a nationwide vaccination drive, he is ready to help, Nisal said. He has already alerted a variety of Ministers including Namal Rajapaksa, Ali Sabry and Pavithra Wanniarachchi. "They don't seem to see the value of this," he lamented. "Or they have other ideas but they haven't come out and done anything."
"I've done my part for my home town," he said. "My team worked late into the night. I would take calls even around 3.30am. It is sad the authorities and regional administrators have no clue how to run a campaign like this and don't want to learn."
Much of the work Nisal has done over the years was provided free of charge or at cost. "The experience in Galle gave me pride in my people," he smiled. "The community spirit is still there. If people collaborate, we can do marvelous things."