Sea life at great risk from 70bn plastic pellets
By Nadia Fazlulhaq
View(s):
For nearby marine life, the explosion and fire in the ship carrying hazardous chemicals that sank off Sri Lanka would have had an impact akin to an atomic bomb blast, with some sea creatures going into shock and others dying due to lack of oxygen from the chemical reaction, experts said.
About 19 turtle carcasses have so far washed ashore near the Rekawa area, including that of a critically endangered hawkbill sea turtle, Thushan Kapurusinghe of the Turtle Conservation Project said, describing the effect of hazardous chemicals including 25 tonnes of nitric acid and more than 40 containers of caustic soda on sea creatures after the MV X-Press Pearl sank off the country's western coast on June 2 following a huge fire caused by leaking nitric acid in containers stored on board.
"The sudden explosion and release of chemicals would have absorbed oxygen in the area causing sudden death to many sea creatures," he said. "Fortunately, the seas were rough during the past weeks, so the chemicals would have dissolved and been diluted faster, lessening the danger."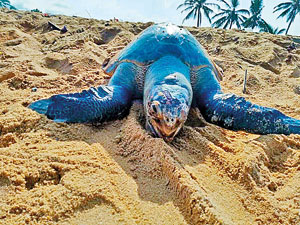 About 19 turtle carcasses have so far washed ashore. Pic by Reka Tharangane Fonseka
Mr. Kapurusinghe said while it was normal to find injured turtles during turbulent weather there was an unusually high number of dead turtles washing up along the coast. "There were endangered green sea turtles and Olive Ridley sea turtles found along the coast off Panadura, Kosgoda, Rekawa, Induruwa, Payagala, Dehiwala," he said.
Known turtle nesting beaches are being frequently cleaned to ensure nurdles (plastic pellets) from the sinking ship washing onto those beaches are being collected to prevent them being ingested by turtles.
The Wildlife Rescue Centre in Attidiya, has conducted postmortems on 14 turtles and three dolphins, veterinary surgeon Dr. Suhada Jayawardana said.
"Most of the carcasses were severely decomposed. Samples have been sent to Government Analyst's Department to determine the real cause of death especially any chemical exposure," he said. "Dolphins, when exposed to sudden explosions, become unconscious and later die," he added.
As satellite images of an oil slick from the sunken ship continue to appear, ocean activists and environmentalists are pressing the authorities for immediate measures to prevent further damage to the ocean and marine life from the sinking ship. Dr. Jayawardena said the oil spill would continue to kill more marine life and hinder their growth.
Marine biologist Dr. Asha de Vos told the Sunday Times that early removal of nurdles (plastic pellets) is essential before they are exposed to UV radiation and break down into invisible nano plastics with time.
"A nurdle tracker has been introduced so that the public can see where plastic pellets will wash ashore, and volunteer groups can remove them. The navy did an outstanding job to remove many of these pellets but millions of them will continue to wash to the beaches. Once they turn into nano plastics this can be easily indigested by fish. Microplastics absorb more toxins. Smaller fish consume the plastic directly while bigger fish will ingest the plastic by consuming small fish," she said.
The Centre of Environment Justice said about 70-75 billion plastic pellets have entered the ocean from the ship's disintegrating containers.
"It was reported that 46,960 bags containing 25kg each of plastic pellets and another stock of plastic pellets in 20 containers were in the ship. These are huge amounts of plastic that need to be removed as soon as possible. More than 40 containers of high-density and low-density polyethylene were in the ship," the organisation's Executive Director, Hemantha Vithanage, said.
So far, 41 20-foot containers of plastic pellets have been collected and stored pending legal action over the damage to the environment, Ajith Weerasundara, Director of the Central Environmental Authority's Hazardous Waste and Chemical Management Unit, said.
Dr. Vithanage said an oil spill would double the damage to marine wildlife, the ocean and to beaches in tourist hotspots. "We have concerns over the late response from the side of the salvage company. Now that stormy sea conditions have subsided, moves to minimise damage should be taken without delay," he said.
There are visible signs from bodies of fish, crabs, turtles washed onto shores that the deaths had been caused by chemical reaction or exposure to chemicals, environmentalist Ven. Matara Ananda Sagara Thera said.
"Still the public is waiting for reports on the nature of deaths of these sea creatures. If the country does not possess necessary equipment, technology or capability, they should not have allowed the ship filled with hazardous chemicals enter the Lankan waters without the permission or consultation of experts. The disaster assessment should be transparent," the thera said.