Let the true meaning of Vesak light up your homes
By D.C. Ranatunga
View(s):
We are in the month of Vesak – the month most precious for  Buddhists throughout the world. Vesak marks the Birth of Prince Siddhartha (later he became the Buddha), the Enlightenment or Attainment of Buddhahood, and the 'parinirvana' (death) of the Buddha. These events fall on the Full Moon Poya Day in the month of May.
This year, Vesak Poya day falls on Wednesday, May 26.
On Poya Day parents and their children would usually leave their homes early morning to reach the temple in time to observe 'sil' when a monk in the temple will recite Eight Stanzas as against the Six observed daily at home. Thus what is observed on Poya day is known as 'Ata Sil'. However with the pandemic restrictions this year, it will be not be possible to go to the temple.
Apart from observing 'sil' and following religious observances, Vesak is usually also a feast of lights. Pandals ('thoran') carrying colourful pictures depicting numerous episodes of the Buddha's life story are set up in strategic spots in main cities, particularly Colombo, drawing crowds who turn up in large numbers in the evening on Vesak day. Those who continue their 'sil' until the following day go round to see the pandals that evening. In fact the pandals are kept illuminated  for a few nights since the people from the outstations come to see them in later days.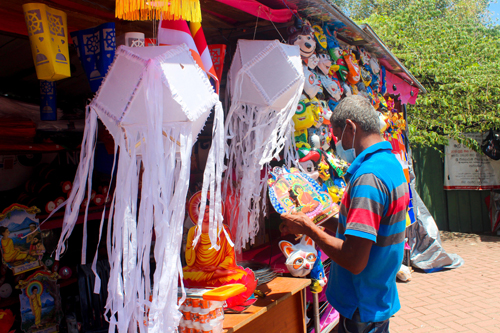 Another feature of Vesak in pre-pandemic times were the 'dansal' – where food is given free. Since large crowds get about visiting temples and other places of worship they are offered free food as they pass the 'dansala', sometimes invited to sit inside a temporary shed and enjoy it. Even those getting about in cars can't 'escape' since the cars are stopped and food offered.
As our pictures show  though muted given the prevailing lockdown, preparatations for Vesak are being made with Vesak koodu, 'buckets' etc being sold at wayside stalls.
'Pol thel pahan' – small lamps using coconut oil – will be lit in every home  and Vesak koodu' – hung on branches of trees bringing that Vesak glow to homes across the country.