'First he pleaded, then screamed and cried'
By Nadia Fazlulhaq
Heartbreak behind the COVID mortality stats
View(s):
Twenty-six-year-old Kavindu Perera's memories of his father's battle with the COVID virus are a living nightmare.
"My father's final words still haunt me," the young Moratuwa man said. "The day before he died he called me thrice from the ICU saying, "Puthe, mata wathura tikkak denna kiyannako" (Son, ask them to give me some water).
"First he pleaded, then screamed and cried. I had to explain to him that there is no way of removing the oxygen mask, and that he was suffering from COVID pneumonia, and that drinking water could affect his already-damaged lungs. I was helpless, listening to my father's pleas for a drop of water," Kavindu said.
His father died at the Karapitiya Teaching Hospital after a two-week struggle from COVID-19. Kanishka Perera, 56, was an old boy of Prince of Wales College and Ananda College (1982 batch), an engineering graduate of the University of Moratuwa, and worked as the Cargills Bank IT Assistant General Manager .
"My father developed a cough and high fever on April 27, and had difficulty breathing. A PCR test taken two days afterwards showed that he and my stepmother were virus-positive.
"He was really struggling to breathe and showing extreme fatigue. We were desperately calling every single private hospital but were told that rooms were full. Finally, we were able to send him to Club Koggala Village, a COVID intermediate treatment centre run by the army," Kanishka's son said.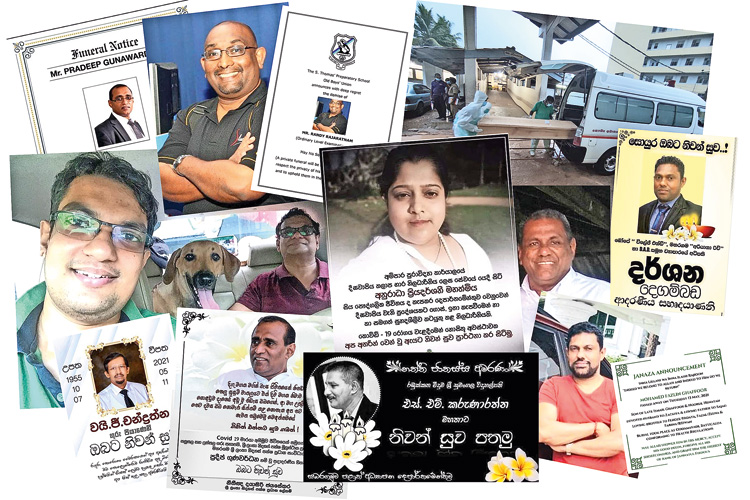 Within a few days, he was transferred to Karapitiya Teaching Hospital after showing severe symptoms.
Kavindu tested negative but as he had been exposed to his father he was instructed to stay quarantined at home.
"Thaathi called me frequently, saying he couldn't stay in the ward, had to walk to the washroom holding the oxygen mask, and was feeling dizzy," Kavindu said. "The ward was overcrowded. He was transferred to an ICU bed as soon as one became available. He called me to say that wearing the CPAP (a machine with pump and mask that delivers air pressure to those with constricted airways) was extremely painful," he said.
Kanishka Perera succumbed to the virus in the early hours of May 13.
"This pandemic proved that despite influential contacts, one can be really helpless," Kavindu said.
"We struggled to reserve a time slot at the crematorium. We couldn't get a priest in Colombo in time. We asked a priest in Galle we knew to say the last prayers. I watched from a distance as my father's body was taken into the crematorium," he said.
Kavindu suspects his father, a frequent visitor to the local fish market, contracted the virus there.
The wife of Randolph (Randy) Rajaratnam, Mihiri, is in grief and shock at her husband's sudden demise a week ago, family members said.
"Randy was a strong family man. He was the pride and joy of his parents, his mother's 'golden son'," his sister-in-law, Maithri Jansz, said. "He was a devoted husband who supported and nudged his wife into greater achievements academically and professionally. He was a loving father who spent quality time with his children. They as a family invested a lot of time together.
"He took care of people around him, not just his family, and never ignored their needs. He was also a hard worker who supported his junior colleagues," Ms. Jansz said.
Randy Rajaratnam, 58, an old boy of St Thomas' Prep and S. Thomas' College, Mount Lavinia, was the General Manager (Technical and Engineering) at MAS Silueta.
COVID-19 deaths are being reported from all parts of the country as the death toll passed the 1,000 mark this week. The casualties show there are no barriers to this scourge: age, wealth, profession or eminence in society have not spared the victims.
The Chairman of Laksala and Salusala, CEO of the Sri Lanka Freedom Party office and former consul-general of Sri Lanka in Los Angeles, Pradeep Gunawardena, was struck down this week.
Dharshana Degambada, a well-known businessman and social worker in Maharagama, owner of the DAD group of companies and the Ariyana Reach Hotel in Maharagama, also succumbed to the virus this month.
Air Lanka inflight instructor Fazlin Ghaffoor was yet another May casualty. "He was a wonderful colleague to work with. His sudden death is so painful to all of us. All the former Air Lanka crew members are really devastated," a workmate said. Mr. Ghaffoor died at the Nagoda Hospital in Kalutara.
While the government continues to publish statistics of COVID deaths, behind these numbers are loving fathers, mothers, devoted husbands,  wives, wonderful colleagues, known personalities, social workers, teachers, farmers and others whose lives were snatched unexpectedly by the virus.