Spiced to perfection
View(s):

Chaiwala Colombo offers a unique blend of two things loved by Lankans; tea and spice

Yes, we love our tea. Rain or shine, with milk or plain, we find ourselves craving tea at odd (or specific) moments of the day. Some of us need a warm cuppa when we wake up, or around late morning, but for some any time is tea time! "We used to go for a tea, a chai specifically, after a game of football," says Shehan Sameen, one of the Directors of Chaiwala Colombo, and an apparel industry professional. "There are several places that offer a chai on their menu, but not places dedicated to it. We saw a gap we could cater to."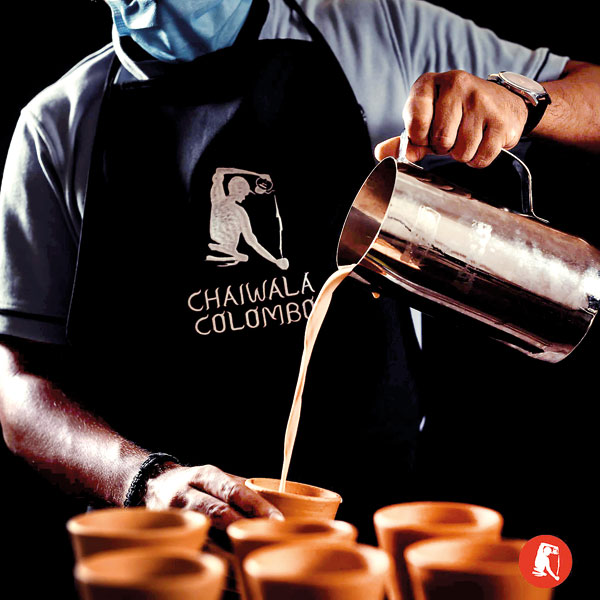 Having travelled a lot, and now based both in and out of Sri Lanka, these six friends had toyed with the idea of starting their own chaiwala concept for years. "None of us are from the Food and Beverage industry. This is our passion, we want to provide an authentic chai experience with 100% natural ingredients." But careers beckoned; textile, auto, IT, telco and marketing. The chaiwala dream would have just been a fond dream if the pandemic hadn't bestowed some with the gift of time on their hands. Usually busy people spent more time at home, catching up with friends online, or in kitchens experimenting. Passions and
hobbies took wing.
Home industries increased. "When Covid happened, we revisited our chai dream. At first we were very skeptical about the idea of selling tea to Lankans. I mean, every Lankan has tea at home, accessible 24/7, so would they come out for a tea?
"So we did some experimenting with recipes. Lots of trial and error. We got a team, did ground training, did some tasting. And on the 15th of March this year, when things looked like they were going back to normal, we launched Chaiwala Colombo – a food truck on Colombo's Marine Drive offering extraordinary chai."
"It was a totally different experience for us, and we did not expect such a positive response!"
"We are all about authenticity. We use fresh milk, not powdered. Actual spices grounded. For example, Cardamom Chai has crushed cardamoms in it. We used brown sugar, we offered less sugar and no sugar."
But catering to the unexpected response proved to be difficult. There were long queues. "Our recipes required us to have a tandoori oven in the truck, which was a converted three-wheeler." The team soon set up a centralized kitchen and started making batches of their recipes every 4-5 hours.
Another problem was foodware: Their Tandoori chai was served in a burnt clay pot. When served off a food truck, it simply didn't come back. So they were running out of those. Then there was the parking issue: "The moment we serve them the chai, and they have the cup in their hand, it was beyond our control."
People parked along the Marine Drive haphazardly. They wanted to enjoy their cuppa, dip a rusk, take in the panoramic ocean view, with no concern for others. Congestion happened. Extremely relevant health guidelines, in the time of a pandemic, were violated. Soon, Chaiwala Colombo was forced to close that operation.
And although healthy competition is, in theory, good for both business and consumer, competitors began to infringe on the whole experience. "There are many chai places now. I wish people would offer a product that complements what we offer, and not just rip off the concept we came up with."
"To avoid the chaos of that learning experience, we set-up a 100% drive through experience in Bambalapitiya, near the Majestic City open-air car park. We don't serve to anyone outside vehicles. This way we could ensure people are safe, and not obstructing or harming others."
But keeping people safe is often not a one-way street. It does require 'people' themselves to act conscionably, with regard for others. Here's hoping that the days of being able to enjoy a spicy cuppa chai outside may not become impossible.
 (NA)