Pramodya cracks whip as selectors look to 2023 World Cup
by Champika Fernando
cricket
View(s):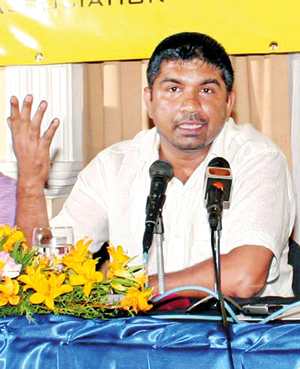 Sri Lanka cricket selectors are typically a secretive breed, reluctant to explain their decisions to players or the public. This has often left players deeply frustrated with some even announcing premature retirements.
It's admirable, therefore, that the current selection committee headed by Pramodya Wickramasinghe met with seniors who are facing the axe from limited over cricket to give reasons. The new selectors let go of Angelo Mathews, Dimuth Karunaratne, Dinesh Chandimal, Thisara Perera and Nuwan Pradeep this week in a major revamp as they focus on the future of Sri Lanka cricket.
Only Mathews has maintained an average of above 40 in ODI cricket while Chandimal, with nearly 150 ODIs under his belt, has an average of below 33. Hearing of the impending move, Thisara announced his retirement from international cricket this week although he was to be a part of the T20 team up until this year's World Cup.
Wickramasinghe's central argument is that Sri Lanka needs to look beyond the misfiring seniors and prepare a team well in advance for the 2023 World Cup, as England did in the run-up to their World Cup victory in 2019.
Since the World Cup in Australia and New Zealand in 2015, Sri Lanka have heavily relied on these cricketers to bring about a change in the game but with little success. And patience has now run out.
When the Sidath Wettimuny-led selection committee sacked Arjuna Ranatunga, Hashan Tillakaratne, Roshan Mahanama and Aravinda de Silva after the 1999 World Cup debacle, they too ruffled a few feathers – just like now.
But the decision paid off in the long run as Sri Lanka became one of the most consistent and formidable forces in world cricket for several years thereafter. This is the line of thinking of the new selectors which also includes Romesh Kaluwitharana, Hemantha Wickramaratne, Varuna Waragoda, Uvais Karnain and Thalika Gunaratne.
Under the revamp, as reported exclusively by the Sunday Times last week, Kusal Janith Perera has been appointed captain of the ODI team with Kusal Mendis as his deputy, ending Dimuth Karunaratne's 17-match stint as Sri Lanka skipper.
Dimuth was installed as captain ahead of the last World Cup in England, not purely because of his batting prowess in ODI cricket, but because Sri Lanka needed a leader accepted and respected by everyone at a time when player infighting was taking a huge toll on performance.
Sri Lanka had 10 wins out of 17 matches under Dimuth's captaincy – a statistically impressive record. But according to selectors, it doesn't warrant an automatic place in the side to hold onto the captaincy.
When the selectors met with the seniors on Thursday (Mathews due to personal reasons and Karunaratne owing to a communication failure did not attend), they had briefed Chandimal and Pradeep as to why they were not picked for the Bangladesh and England limited over series.
"We have taken into consideration the long-term prospects, especially for the World Cup in 2023," explained Chief Selector Wickramasinghe.
"We are at the lowest level in white-ball cricket and our interest is not to please anyone but to make Sri Lanka cricket great once again. So I told them not to get hurt."
Chandimal, a former Sri Lanka skipper, has argued that, as they are in their early 30s, they have a few years of international cricket left in them and therefore, the decision is unfair.
"True that players like Mahela Jayawardene, Kumar Sangakkara and TM Dilshan had long careers but they played on merit. Each time they went to the middle, they performed. But have we been able to witness the same with the current crop of seniors? I know this isn't a popular decision but this is what we think is the best decision going forward," he explained.
This doesn't mean the selectors have completely shut the door on these seniors. They could still make a comeback purely on merit if they maintain their fitness levels according to standards expected and perform in domestic cricket.
"If we think we need solidity at the top of the order, we could still recall Dimuth to the side or Chandimal or Mathews into the middle but to do that, we need them to be on par in performance and fitness with the young players. We are no longer chasing scores less than 300 for victory in ODI cricket. We are looking at scores in excess of 350 and we need players fitter, agile and aggressive," he insists.
It's not difficult to understand the urgency of the selectors in promoting young talent as they want to end a toxic culture that was brewing within the team contributing to the current sorry state of cricket. There had been many instances where players were at the centre of bizarre feuds on social media.
"We don't want to see any divisions within the team anymore. It was prevalent in the team in the past which is why the selectors had to bring in Dimuth to diffuse tension at the time. We need the captain to be a strong leader and if there are any disruptive forces within we are ready to deal with them," said Wickramasinghe, who was part of Sri Lanka's greatest cricketing success – the 1996 World Cup win.
Accordingly, they have advised both the skipper and his deputy to maintain a high level of self-discipline, setting standards for the rest. "We told them what we expect from them. They need to lead by example," he added.